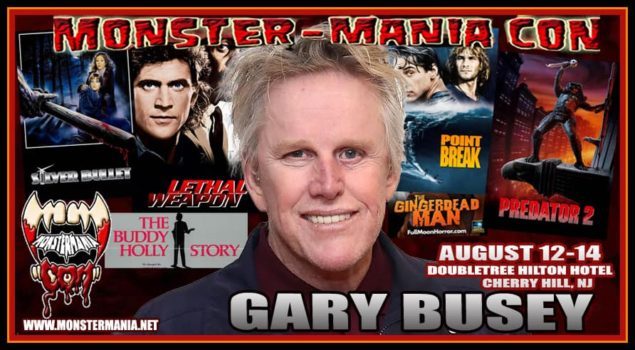 We are VERY excited to welcome GARY BUSEY back to MONSTER-MANIA CON after a very long absence! GARY BUSEY will be attending MONSTER-MANIA CON 50 which will be held the weekend of AUGUST 12-14 in CHERRY HILL, NJ!
GARY BUSEY will be appearing all 3 days of the show.
Please help us get the word out! Please LIKE and SHARE this announcement.
Clearly there's no need to tell anyone who GARY BUSEY is! Horror fans will remember GARY for his role as UNCLE RED in the 1985 film adaption of Stephen King's werewolf story SIVLER BULLET. GARY starred with our old friend Corey Haim in the film. GARY also voiced the lead role in the Full Moon GINGERDEAD MAN film series.
Sci-Fi fans will surely know GARY for his role as PETER KEYES in 1990's popular sequel PREDATOR 2.
Other popular film and television projects that GARY has starred in include LETHAL WEAPON, POINT BREAK, THE BUDDY HOLLY STORY, UNDER SIEGE, THE FIRM, BARBAROSA, THUNDERBOLT & LIGHTFOOT, A STAR IS BORN, CARNY, ROOKIE OF THE YEAR, SURVIVING THE GAME, BLACK SHEEP, LOST HIGHWAY, SOLDIER, SLAP SHOT 2, SHARKNADO 4 and many, many others.
Don't miss your chance to meet GARY BUSEY at the show! A LIMITED AMOUNT OF TICKETS ARE NOW AVAILABLE!
Visit our ticket webpage and order your tickets today!
https://purchase.growtix.com/eh/MONSTER_MANIA_CON_50
Please join us in welcoming GARY BUSEY to MONSTER-MANIA CON 50 the weekend of AUGUST 12-14 in Cherry Hill, NJ. For those attending the VIP Party, you'll surely be in for a treat when they bring out the chocolate ice cream!