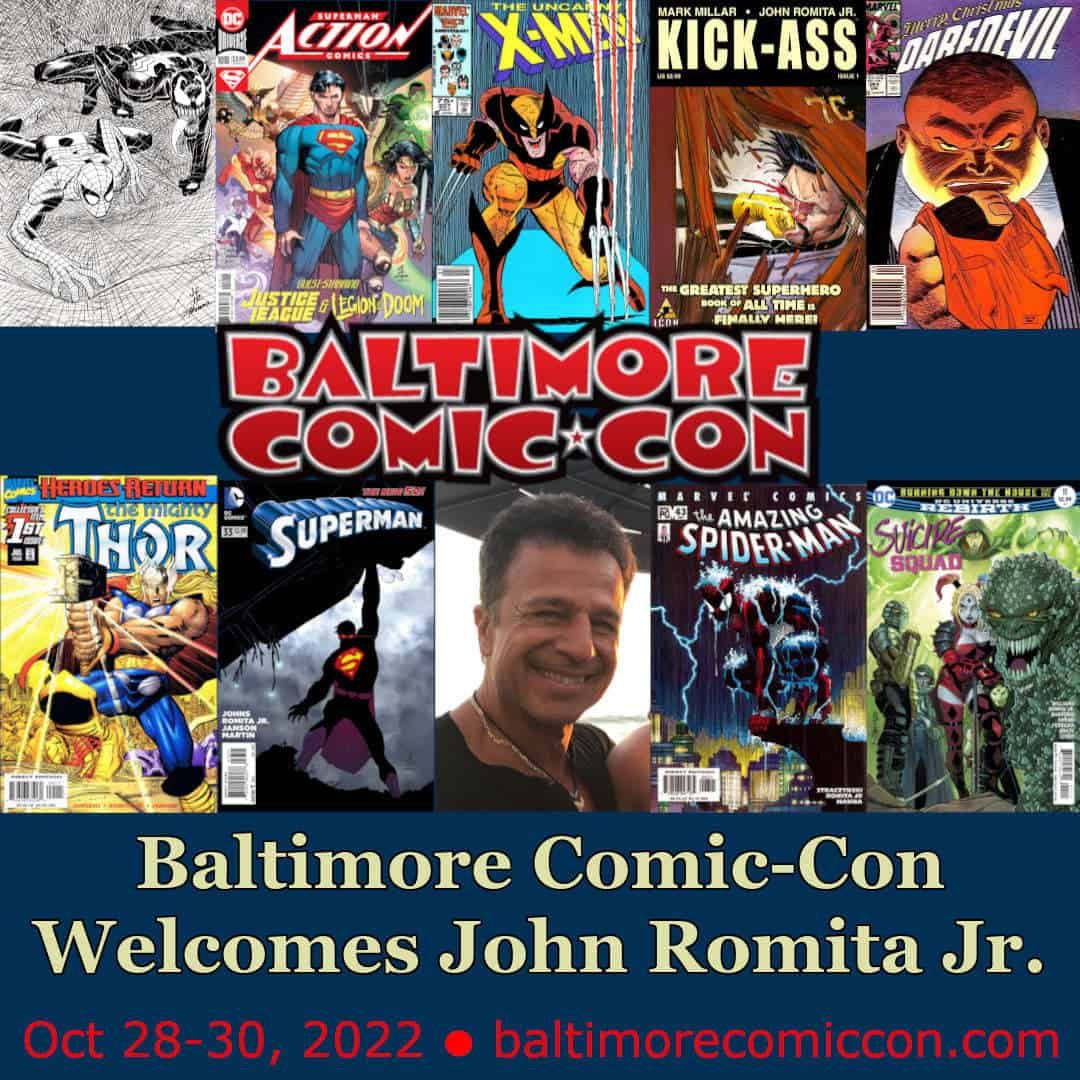 The Baltimore Comic-Con returns to the Inner Harbor on October 28-30, 2022 at the Baltimore Convention Center. The Baltimore Comic-Con is proud to announce the return of John Romita Jr. as a guest of the show in 2022. Buy your tickets now to avoid the lines!
4C Comics, in association with the Artist Choice is honored to be bringing one of the greatest creators of this generation to Baltimore Comic-Con, John Romita Jr.
JRjr has a career that spans decades, starting in the 70s and continuing to this day with the announcement from Marvel Comics that Romita Jr. will be doing the pencils for the reboot of Amazing Spider-Man in April, starting with Issue #1.
Bringing Romita, the co-creator of Hobgoblin, back to the ASM franchise has the comic collecting industry buzzing like we haven't seen in a long time. The Amazing Spider-Man will launch in April and Romita's story arc will be completed by Baltimore Comic-Con.
Attendees of the show will be able to get all of their book signed by Mr. Romita at the 4C Comics table, as well as Limited Private events!
"We have been talking about bringing John back for some time," said Marc Nathan, show promoter for the Baltimore Comic-Con. "He is such a dynamic force in the industry, having touched so many major characters at the Big Two, not to mention some significant creator-owned characters. We are so thrilled that we were able to arrange for his appearance again this year, and look forward to sharing event ticketing details as they become available."
Visit baltimorecomiccon.com/tickets for more information and to purchase your advanced tickets!
In the coming weeks, look for more announcements from the Baltimore Comic-Con. We are looking forward to highlighting our guests, the Ringo Awards, industry exclusives, and programming. The latest developments can always be found on our website, Twitter, Instagram, and Facebook pages.