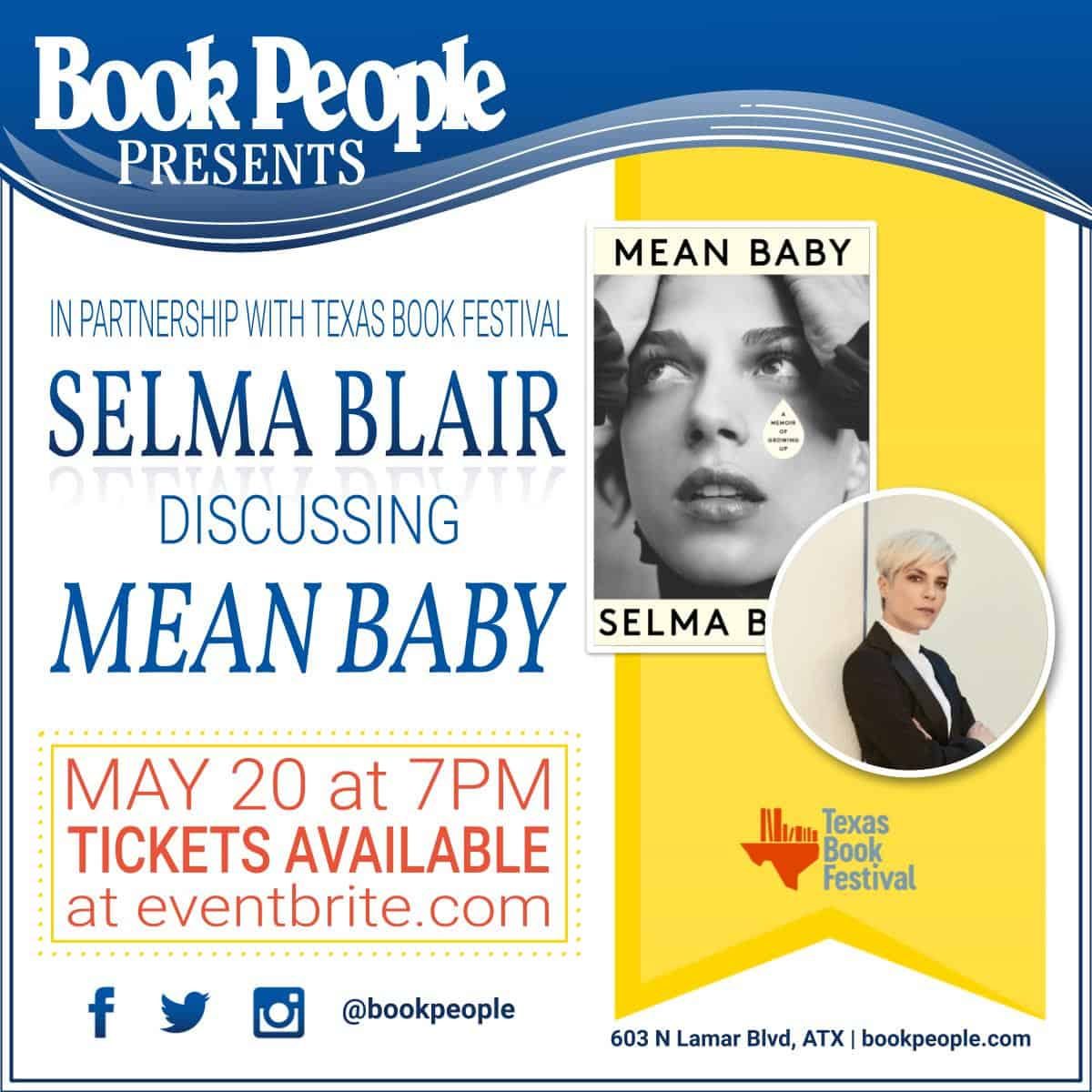 Selma Blair appears Friday, May 20th at 7PM at First Baptist Church in Austin, TX to present her memoir MEAN BABY! Click here for tickets.
Presented in partnership with the Texas Book Festival.
Event Registration & Guidelines
Tickets are required to join this in-person event and include a signed copy of the event book. Tickets are available exclusively through Eventbrite.
Refunds are available up to 7 days before the event.
Our event space will be operating at a limited capacity until further notice.
Our check-in station will be located at the front of the event. We will scan your ticket's barcode upon arrival.
You will receive your signed copy of the book at the check-in station on the day of the event. If you can't make it we'll save your copy at the store for up to 6 days or we can arrange to mail it. Shipping charges apply. Only available for domestic shipping.
The event will take place at First Baptist Church of Austin, located on Trinity Street.
Doors will open at 6 PM and the event will begin at 7 PM.
Event will run for 45-60 minutes, including audience Q&A.
BookPeople reserves the right to cancel or postpone this event if COVID protocols require it. Specific COVID safety protocols will be updated closer to the time of the event.
There won't be a live stream or recording available.
If you have any other questions please email us at online@bookpeople.com
About Mean Baby
Selma Blair has played many roles: Ingenue in Cruel Intentions. Preppy ice queen in Legally Blonde. Muse to Karl Lagerfeld. Advocate for the multiple sclerosis community. But before all of that, Selma was known best as … a mean baby. In a memoir that is as wildly funny as it is emotionally shattering, Blair tells the captivating story of growing up and finding her truth.
The first story Selma Blair Beitner ever heard about herself is that she was a mean, mean baby. With her mouth pulled in a perpetual snarl and a head so furry it had to be rubbed to make way for her forehead, Selma spent years living up to her terrible reputation: biting her sisters, lying spontaneously, getting drunk from Passover wine at the age of seven, and behaving dramatically so that she would be the center of attention.
Although Selma went on to become a celebrated Hollywood actress and model, she could never quite shake the periods of darkness that overtook her, the certainty that there was a great mystery at the heart of her life. She often felt like her arms might be on fire, a sensation not unlike electric shocks, and she secretly drank to escape.
Over the course of this beautiful and, at times, devastating memoir, Selma lays bare her addiction to alcohol, her devotion to her brilliant and complicated mother, and the moments she flirted with death. There is brutal violence, passionate love, true friendship, the gift of motherhood, and, finally, the surprising salvation of a multiple sclerosis diagnosis.
In a voice that is powerfully original, fiercely intelligent, and full of hard-won wisdom, Selma Blair's Mean Baby is a deeply human memoir and a true literary achievement.
About Selma Blair
SELMA BLAIR is an actress best known for her roles in Legally Blonde, Cruel Intentions, The Sweetest Thing, and Hellboy. Blair was named a Time Person of the Year in 2017 as one of their Silence Breakers, and she was nominated for a Grammy Award for Best Spoken Word Album for her narration of The Diary of Anne Frank. She is the subject of the documentary Introducing, Selma Blair, which reveals Blair's intimate and raw journey with multiple sclerosis. Blair lives with her son in Los Angeles.