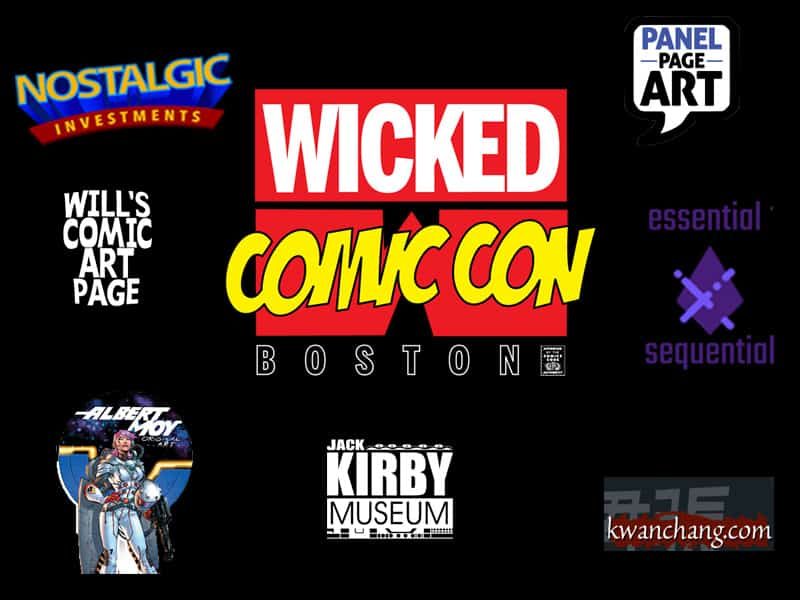 Investing in original comic book art is on fire! The Boston Comic Art Show at Wicked Comic Con features original comic book art dealers Nostalgic Investments, Panel Page Art, Kwan Chang Art, Albert Moy Collectables Original Art, Essential Sequential, Will's Comic Art Page, and special guest the Jack Kirby Museum & Research Center. Bring home a piece of pop culture history!
Wicked Comic Con, created by the original founders of Boston Comic Con, will mark a return to an authentic indie comic convention that New England comic book fans deserve! Fans are invited for a day long event celebrating comics books, comic creators, comic art, and cosplayers. Join us at the Westin Boston Seaport on Saturday, April 9, 2022.
The guest list includes comic creators such as Simon Bisley (Lobo), Sweeney Boo (Captain Marvel), Glenn Fabry (Preacher), Larry Hama (GI Joe), Klaus Janson (Daredevil), Ken Lashley (Black Panther), Rick Leonardi (Spider-Man 2099), Alitha Martinez (Nubia and the Amazons), Ron Marz (Silver Surfer), Shawn McManus (The Sandman), Sean G. Murphy (Batman), Jerome Opena (Justice League), Amy Reeder (Amethyst), Mark Schultz (Xenozoic Tales), Ben Templesmith (30 Days of Night) plus cosplayers Ivy Doomkitty, Mink the Satyr, Pasha Vixen, Silhouette Cosplay, Spectra Cosplay, Zombie Leader, and many more.
More information and tickets are available on our website. Kids 12 and under get free admission.  wickedcomiccon.com