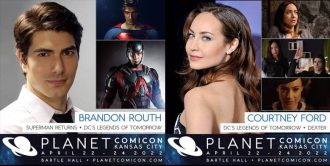 Planet Comicon Kansas City is thrilled to welcome Brandon Routh and Courtney Ford to our April event for all three days.
Brandon is an Iowa native is best known for portraying "the Man of Steel" in Superman Returns, Ray Palmer/The Atom in DC's Legends of Tomorrow, CIA officer Daniel Shaw in Chuck, and evil ex-boyfriend #3 Todd in Scott Pilgrim vs. the World.
Courtney is best known for such roles as Nora Darhk in DC's Legends of Tomorrow, Christine Hill in Dexter, Kelly Kline in Supernatural, and guest starring on The Big Bang Theory, How I Met Your Mother, True Blood, and more.
For more information please go to the website: planetcomicon.com