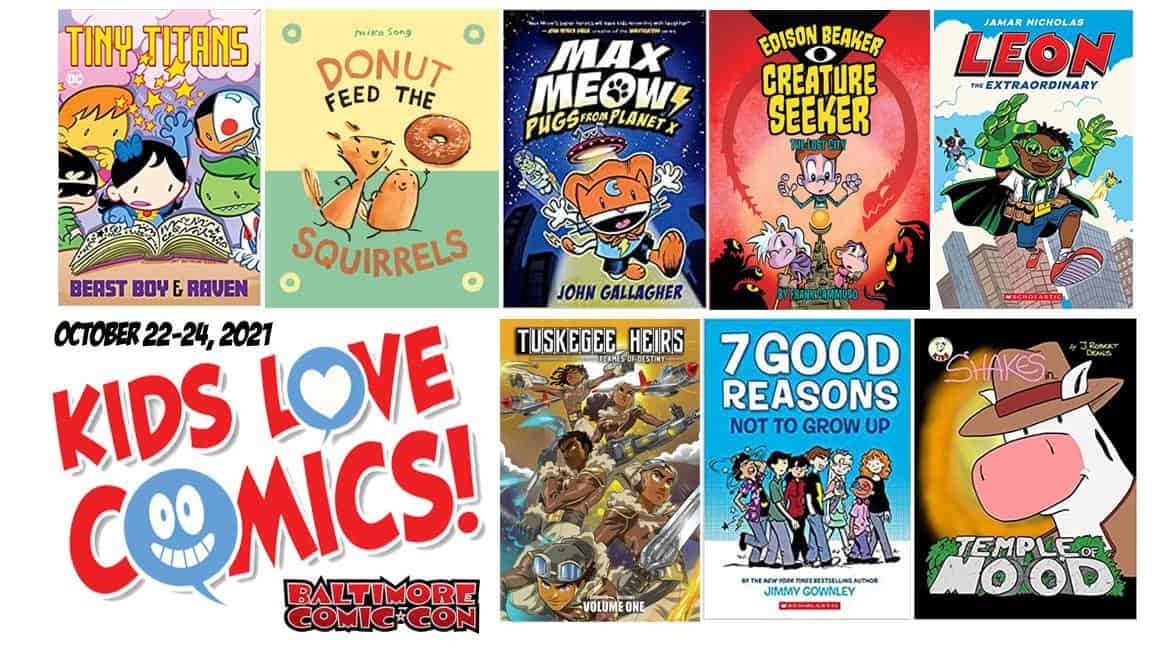 The Kids Love Comics Pavilion is back October 22-24, 2021 for the Baltimore Comic-Con, offering a variety of family-friendly activities and how-to's for kids of all ages. Attendees can learn how to draw aliens, make their own comics, and create their own animal superhero in a collection of fun classes taught by actual comic book creators! Also on the agenda is Super Hero University, where kids will design their own secret identity, complete with mask, cape, and super emblem!
Hosted by comics creators and brothers Mark and Chris Mariano, the KLC Pavilion will have teachers throughout the weekend like Art Baltazar and Franco (Tiny Titans, DC Super Pets), Mika Song (Donut Feed the Squirrels), John Gallagher (Max Meow: Cat Crusader), Carolyn Belefski (Curls), Marcus Williams (Tuskegee Heirs), and Jamar Nicholas (Leon, Protector of the Playground). Kids Love Comics offers an area within the show floor where kids and their parents can take a break from the hustle and bustle of the comic booths. Music and crafts meet drawing and writing to form a fun weekend experience for the future comics fans and creators of tomorrow.
Host Chris Mariano, whose "Chris O-Matic Show" is an Internet cult favorite, introduces each of the art and craft programs in a style reminiscent of Pee Wee Herman or a TV Puppet show. The result is an entertaining, and sometimes surreal event, that kids and families come back to again and again.
"We're so happy to bring a kids and creators together, thanks to Baltimore Comic-Con," said Kids Love Comics Director (and cartoonist) Mark Mariano, adding, "and after such a long time away from each other, these kids creators are raring to entertain, sign books, and do sketches for young fans."
Also this year, a special program will be held on Sunday for educators and parents, hosted by Kids Love Comics Founders Harold Buchholz, Jimmy Gownley, and John Gallagher. They will be introducing a Kids Love Comics initiative to increase literacy and jump start reading at schools across the country.
Besides the fun classes and crafts, the Kids Love Comics Pavilion hosts an all-star team of kids comics creators, offering fun and fabulous graphic novels that kids will love. This year's guests include Frank Cammuso (Edison Beaker), Gregg Schigiel (Spongebob Squarepants), Chris Schweizer (Maker Comics), Dawn Griffin (Zorphbert & Fred), J. Robert Deans (Shakes the Cow), and many more. The full guest list for Kids Love Comics can be found at the Baltimore Comic-Con website.