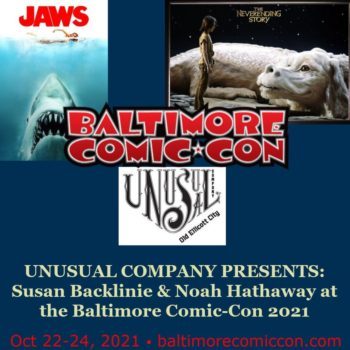 Unusual Company, in association with CS&D, are pleased to announce celebrity guests Susan Backlinie and Noah Hathaway at this year's Baltimore Comic-Con on October 22-24, 2021. Tickets are on sale now!
Susan Backlinie is best known as the swimmer in the opening scene who becomes the first victim of the shark in Jaws (1975). She later spoofed this scene in Spielberg's movie 1941 (1979), but encounters a Japanese submarine instead of a toothy fish. Ms. Backlinie appeared in her own pictorial ("The Lady and the Lion") in the January 1973 issue of Penthouse magazine. Her last name is of Syrian descent, as is pronounced BACK-A-LEE-NEE. Susan is a former wild animal trainer who owned and trained a bear whose growls were later recorded for use as the voice of Chewbacca in the movie Star Wars (1977).
Noah Hathaway is best known for his role of Atreyu in The NeverEnding Story (1984). He also played Boxey on the cult Sci-Fi show, Battlestar Galactica (1978), and the lead role as Harry Potter Jr. in Troll (1986). Noah then stayed out of the limelight until 1992 for the drama To Die, to Sleep (1994). He holds black belts in Tang Soo Do and Shotokan, and teaches close-quarter combat.
Unusual Company is a retail, gelato shop, bookstore & event space located in a circa 1900's renovated bank building at 8137 Main Street, Ellicott City, Maryland 21043.
Established August 2019. The owner has always been an avid fantasy/sci-fi/horror movie lover and collector. His whole career has been focused on the visual solutions business in the corporate and retail branding world. He wanted to display his collection while offering customers a unique retail experience focusing on fantasy, sci-fi, and horror wrapped around an authentic gelato shop. Come and experience something unusual.
Further information is available on the website: baltimorecomiccon.com