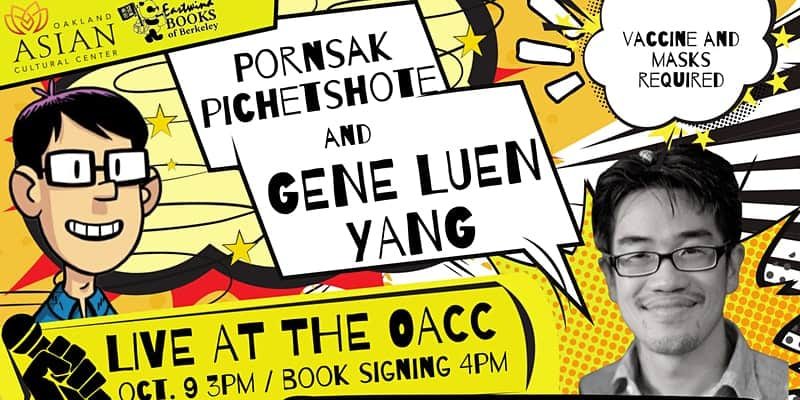 Join Eastwind Books for an authors' book talk with Gene L. Yang & Pornsak Pichetshote on Saturday, October 9th starting at 3pm PST! There will be a book signing at 4pm. Click here for tickets.
This is Eastwind Books of Berkeley's first live authors' appearance and book signing. We thank Oakland Asian Cultural Center for co-sponsoring and hosting the limited 150 seating in the OACC Auditorium. For everyone's safety, masks and covid vaccinations are required.
$2.00 OACC donation suggested per ticket.
A free live YouTube screening will be available simultaneously for online viewers.
About the authors and their books:
Looking back at APA History in 1940's, the Exclusion Laws, racism, and the KKK have graphically come alive with comic artists and writers Gene Luen Yang and Pornsak Pichetshote's new graphic novels. Pichetshote's The Good Asian and Yang's Shadow Hero and Superman Smashes the Klan have been treasures to comic lovers searching for adventure, heroism, and POW! while learning about Asian American history.
Writer Pornsak Pichetshote's series The Good Asian follows fictional Edison Harkï, a haunted, self-loathing Chinese-American detective on the trail of a killer in 1936 Chinatown. The Good Asian is a Chinatown noir starring the first generation of Americans to come of age under the Exclusion Law and immigration ban against the Chinese, as they're besieged by rampant murders, abusive police, and racial segregation.
Pichetshote's initial inspiration for The Good Asian series came from the 1920's Detective Charlie Chan series, which was originally inspired by Chang Apana, a real-life Chinese Hawaiian policeman in 1957. Pichetshote's story ultimately is an introduction to Asian American history and United States' structural racism keeping Asian Americans as perpetual and unequal outsiders.
Inspired by the 1940s Superman radio serial Clan of the Fiery Cross, New York Times bestselling author Gene Luen Yang (American Born Chinese, Boxers and Saints, The Terrifics, New Super-Man) and artist Gurihiru (Avatar: The Last Airbender, The Unstoppable Wasp) bring us a personal retelling of two different immigrants finding ways to belong. Yes, Superman is an immigrant!
Yang also revived the Green Turtle, the first Asian American Super Hero. In the comics boom of the 1940s, a legend was born: the Green Turtle. He solved crimes and fought injustice just like the other comics characters. But this mysterious masked crusader was hiding something more than your run-of-the-mill secret identity: the Green Turtle was the first Asian American superhero. The comic had a short run before lapsing into obscurity, but Gene Luen Yang has revived this character in Shadow Hero, a new graphic novel that creates an origin story for the Green Turtle.