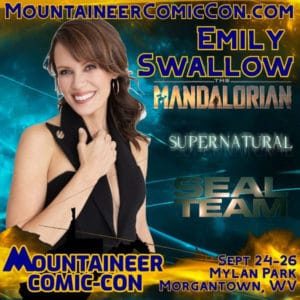 The Armorer Joins The Mountaineer Comic-Con Guest List
The Mandalorian quickly invigorated the Star Wars fanbase, when it debuted in 2020. The show features many stars, from television and film. The Armorer, a character featured prominently, in season one, is portrayed by Emily Swallow.
Emily adds the Star Wars universe, back to Mountaineer Comic-Con, after early cancellations. Along with her credits on The Mandalorian, she portrayed 'The Darkness,' or Amara, the sister of God, on Supernatural.
Emily will be joining us September 24-26, 2021, at Mylan Park, in Morgantown, West Virginia, for Mountaineer Comic-Con.
Become a VIP Weekend Pass holder, get early access to the convention, front of line privileges at celebrity guest tables, preferred seating at Q&A panels, exclusive shirts and lanyard.
Tickets are limited, so act fast to get yours today! Click here to get yours now.
Further information available on the website: mountaineercomiccon.com