Cards, Comics & Collectibles, Baltimore County's Premiere Comic Book Store and the Official News Source of the Baltimore Comic-Con, is celebrating Free Comic Book Day this Saturday, August 14, 2021! You don't want to miss the event with our amazing guests and FREE COMICS!
Mouse Guard is a New York Times Bestselling, Eisner & Harvey Award winning comic book series written and illustrated by David Petersen. Digging into his love of animal stories and medieval roleplaying games, David created a fantasy adventure world of cloaked, sword wielding mice who protect the common mouse against threats of predator, weather, & wilderness. The stories are released as a series of mini series available as individual comic issues first, and then collected into hardcover volumes. In the United States, Mouse Guard is published by Archaia/BOOM!.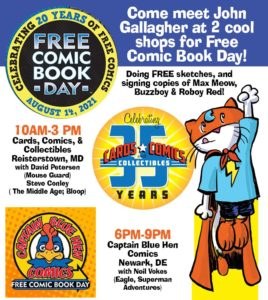 John Gallagher is the author and illustrator behind the Max Meow books from Random House Books for Young Readers, in addition to being art director of the NWF's Ranger Rick magazine, cofounder of "Kids Love Comics" (an organization that uses graphic novels to promote literacy), and leading workshops teaching kids how to create their own comics. John lives in Virginia with his wife and their three kids.
A Ringo, Harvey, and Eisner Award nominee, artist and writer Steve Conley has contributed to numerous comic titles, both printed and on-line. His Astounding Space Thrills was self-published, published by Image Comics, and collected as a trade paperback by IDW. He has been featured in titles such as JLA-Z from DC Comics, Star Trek: Year Four from IDW, and Michael Chabon's Amazing Adventures of the Escapist from Dark Horse Comics. His self-published BLOOP is available through his online store in print or soft copy editions, and you can find his Ringo and Eisner Award-nominated webcomic The Middle Age on his website, tapas.io, Line Webtoon, and GoComics, and hard copies and digital collections can be purchased from his online store. He is the cover artist of this year's Gemstone FCBD title, The Overstreet Guide to Collecting Comics.
Our comic creator guests will be in attendance from 10am-5pm ET. In addition to free comics and an amazing line-up of comic book creators in the store, we will also have snacks outdoors (weather-permitting, and while supplies last!).
"We're bringing in some great friends of the Baltimore Comic-Con for Free Comic Book Day," said Marc Nathan, owner of Cards, Comics & Collectibles. "We're really excited to have this event back, and all three of these guys are amazing creators — it's a chance to interact with them before the show this October!"
Besides giving away free comic books (get yours before they're all gone!), the store will offer 50% off graphic novel paperbacks, hardcovers, manga, artist editions, and modern back issues.
Join us on Saturday August 14, 2021 as events kick off at 10:00am with store signings and, of course, FREE COMICS!
Cards, Comics & Collectibles is located at 51 Main St., Reisterstown, MD 21136. For more information, please visit cardscomicscollectibles.com, our Facebook page, or call 410-526-7410.