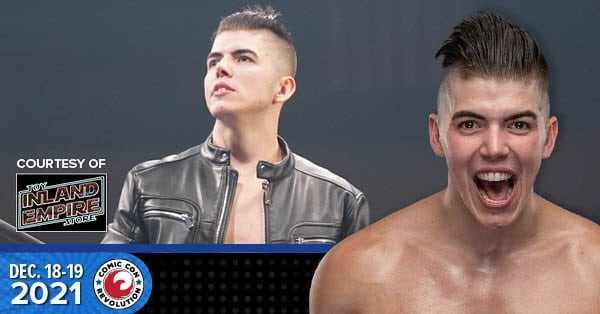 AEW STAR SAMMY GUEVARA COMES TO COMIC CON REVOLUTION THIS DECEMBER 18th & 19th, 2021
More Guests Announced EVERY Week ALL Summer Long!
We are excited to announce that AEW Star Sammy Guevara will be at CCR all weekend long courtesy The Inland Empire Toy Store! Sammy is one of the hottest and most dynamic young wrestlers in the business today.
Sammy has dedicated 11 years to becoming one of the best wrestlers at any promotion. He's excited to meet fans, sign autographs and take pics with all his Inland Empire fans. Don't miss him along with Darby Allin and Brian Cage at the biggest Comic Con Revolution EVER this December 18 & 19, 2021!
Prices for autographs, selfies, combos and more:
Autograph – $40 each (preorder available now!)
Selfie – $40
Autograph & Selfie Combo – $60
Autograph on a Collectible – $60 each
Sammy Guevara is another awesome addition to the roster of guests coming to Comic Con Revolution 2021. Be here each week as we announce new guests all summer long including a week of comic book creators next week! Order your tickets & autographs today at www.ccrtix.com
For more information about Comic Con Revolution go to www.ccront.com