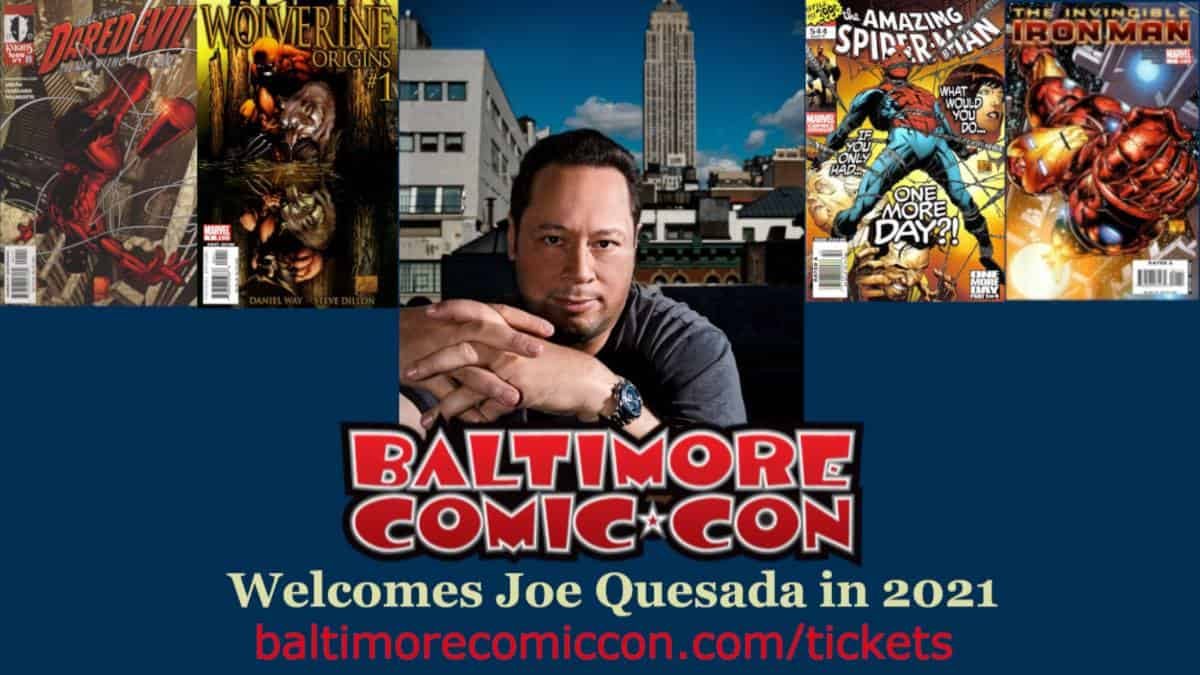 The Baltimore Comic-Con returns to the Inner Harbor's Baltimore Convention Center on October 22-24, 2021 for our 22nd annual event. The Baltimore Comic-Con is elated to announce the appearance of Marvel Entertainment's Creative Director Joe Quesada Friday, Saturday, and Sunday. Special Fan Package tickets are available for meeting and hanging out with Joe. Tickets to the show can now be purchased online.
Joe Quesada wears many creative hats, as both an acclaimed writer-artist and the Creative Director of Marvel Entertainment – the world's largest and most dynamic comics publisher. In this role, Quesada is the creative lead and steward of iconic characters such as The Avengers, Spider-Man, and Guardians of the Galaxy.
Previously, Quesada served as Marvel's Editor-in-Chief for ten successful years from 2000 to 2010 – the longest term since Stan Lee himself. During his tenure as Editor-in-Chief, Marvel underwent a creative boom and went from Chapter 11 to becoming home to the comic industry's greatest talents, which continues to hold true today. As CCO, he brought that same vision to the whole Marvel Entertainment, creatively overseeing the worlds of film, animation, and television, as well as publishing.
Quesada served as Executive Producer on Marvel's Agents of S.H.I.E.L.D. for ABC, Daredevil and Jessica Jones for Netflix, Marvel's Hero Project, Marvel's 616, and Marvel's Behind the Mask for Disney+, and Marvel's animation projects including Marvel's Spider-Man: Maximum Venom on Disney XD.
"We've been working on this for some time now, and we're thrilled that the planets have finally aligned," said Marc Nathan, show promoter for the Baltimore Comic-Con. "Joe is certainly one of the main contributors to Marvel's modern success story. From his early eye-popping Marvel Knights experiments to his role as Editor-in-Chief, overseeing initiatives like the Ultimate Universe and Marvel MAX, he has unquestionably left his indelible mark throughout. We're thrilled to have him with us, his fans are going to go wild, and this is just one more reason everyone won't want to miss our 2021 event!"