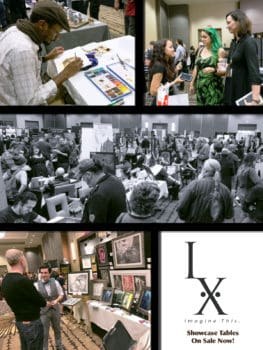 It's Showcase table time, 2021-style!
For obvious reasons, we didn't put Showcase tables on sale in January as we normally would. Instead, we first offered tables to all of the IX 2020 participants. They've taken the majority of them, but of course there are some folks who can't do 2021 for a variety of reasons.
As a result, we have some Showcase tables available for the 2021 show! Since it's nowhere near the normal amount, we're going to skip our usual F5-frenzy and just do them via email. If you want a Showcase table for this year, just drop us an email at info@imaginativerealism.com and let us know.
We'll fill the spaces on a first come, first served basis based on email time stamps and then will start a waiting list, since we're sure there will be at least a few more cancellations before the show takes place.
This year's Showcase will take place on the evenings of October 22 and October 23, at the Reading Doubletree Hotel as usual. The table fee is $300, same as always, and includes a 5-day pass to the show.
Please note – we are requiring proof of Covid vaccination from all exhibitors and attendees, so you must be fully vaccinated by October in order to participate in the Showcase!+
As always, if you have any questions, drop us a note!
IX Gallery
ix-online.com