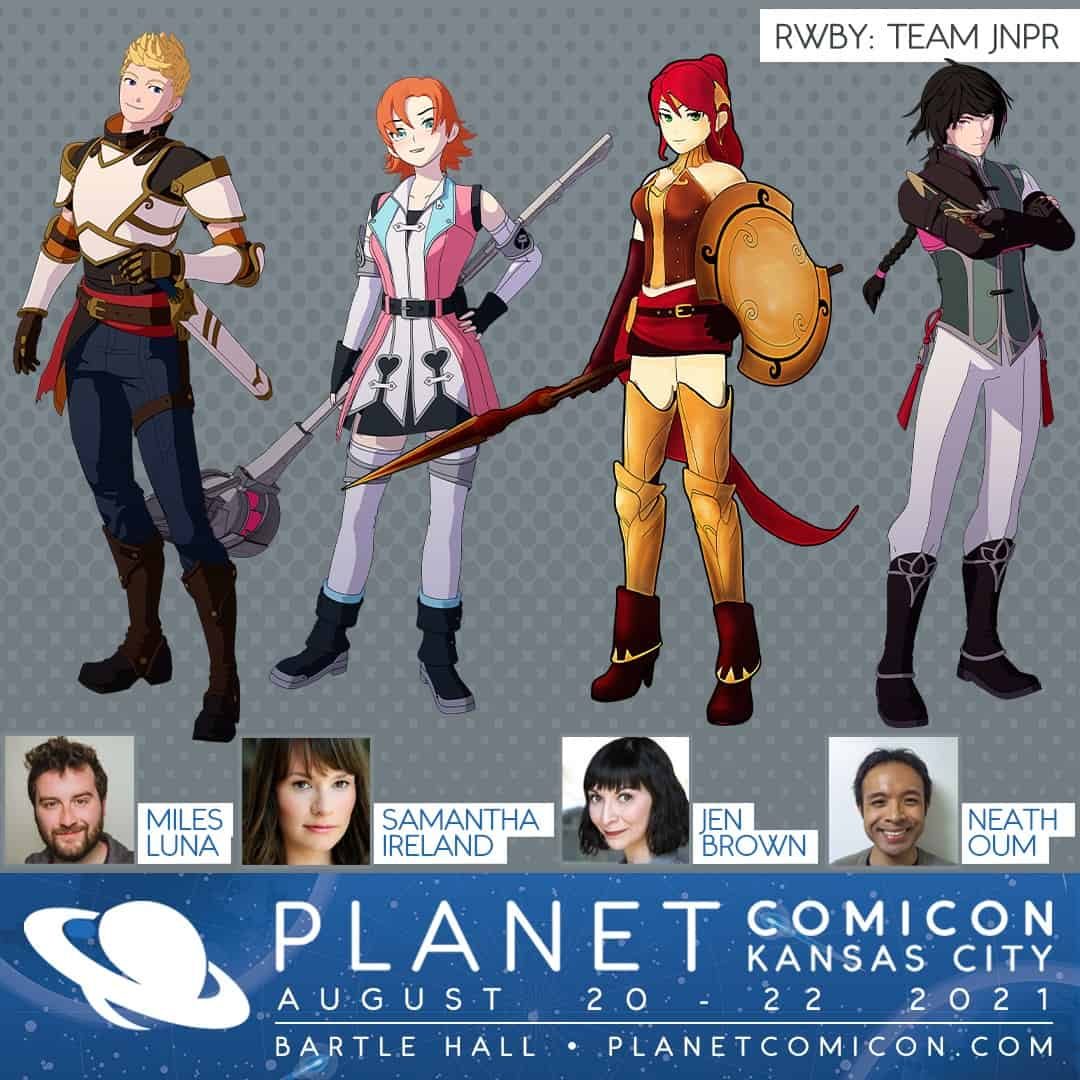 Planet Comicon Kansas City is pleased to announce that team JNPR from RWBY will be joining us for our rescheduled event in August! Get tickets at the link.
Miles Luna, Jen Brown, Samantha Ireland, and Neath Oum will all be with us all three days. For more info about our current guest list, please visit PlanetComicon.com! Additional guests will be announced in the coming weeks.
Miles Luna is a director and lead writer for animation at Rooster Teeth Productions, as well as a seasoned voice actor. Some of his most notable works include Camp Camp, Red vs. Blue, and the worldwide phenomenon RWBY. In addition to his work in animation, he is a frequent on-camera personality, participating in live action shorts, podcasts, gaming videos, and charity streams.
Jen Brown was born in California and raised in San Antonio, Texas, where she grew up doing theatre. After attending the University of Oklahoma School of Drama, she moved to Austin where she co-founded and co-ran The Vestige Group theatre company. Jen later turned her attention to commercials, film and VO. She is most known for her work on several popular Rooster Teeth shows (Red vs. Blue, RWBY, Day 5 and more) as well as being the voice of Harley Quinn in DC Universe Online. You can listen to her extol the virtues and occasional pitfalls of the horror genre as the co-host of the feminist horror podcast Women in Caskets on The Bloods Disgusting Podcast Network.
Originally from Providence, Rhode Island, NEATH OUM moved to Japan following Monty Oum's passing. Rooster Teeth approached Neath to help the show continue and step into his brother's shoes as the voice of Lie Ren. Neath eagerly accepted the opportunity to help carry on his brother's work and has been voicing Lie Ren ever since volume 3 of the series. He also went on to voice the character in RWBY Chibi, RWBY: Amity Arena and RWBY: Grimm Eclipse.
SAMANTHA IRELAND's work includes Nora Valkyrie on RWBY, the Flower Scouts on Camp Camp and C.T. on Red vs. Blue. An Austin, Texas, native, Samantha has worked on several projects ranging from films, sketch comedy, web series and video games. She is best known for her work with Rooster Teeth.