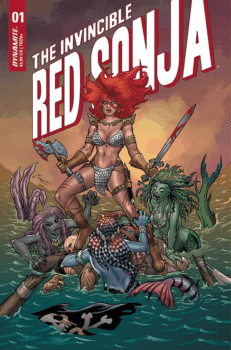 The team of AMANDA CONNER and JIMMY PALMIOTTI take on the lovely RED SONJA for Dynamite Entertainment in the upcoming series: The Invincible Red Sonja.
To celebrate the release, the team will be participating in an event signing for your copy of the book and more on Saturday, May 8th from 11am to 1pm at EMERALD CITY COMICS (in Clearwater, FL).
The first autograph is FREE, then $5 each – OR $10 fee for ALL autographs to be graded. Sorry, Amanda & Jimmy will not have time for sketches.
If you are in the area, please feel free to swing by. Details about the event can be found at the link…