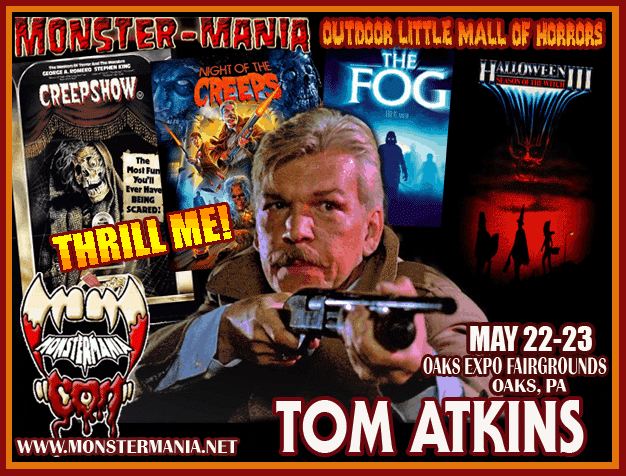 We are THRILLED to announce that our good friend and legendary horror film icon TOM ATKINS will be joining us for MONSTER-MANIA'S OUTDOOR LITTLE MALL OF HORROR at our newest location, THE OAKS EXPO CENTER FAIRGROUNDS in Oaks, PA! TOM will be attending both days of the show, SATURDAY MAY 22nd and SUNDAY MAY 23rd!
Horror fans will certainly recognize TOM ATKINS for his many film roles. Some of his most popular roles include his lead role as DOCTOR DANIEL CHALLIS in 1983's HALLOWEEN III: SEASON OF THE WITCH. TOM also is widely recognized for his role as RAY CAMERON in the 1986 classic NIGHT OF THE CREEPS, which featured his popular "Thrill me" quote. Fans of the George A. Romero film CREEPSHOW will remember him from his appearance in that as well.
Fans of John Carpenter's films will remember TOM for his roles in two of those classic films. TOM played the role of NICK CASTLE in 1980's THE FOG and also starred in the role of REHME in 1981's ESCAPE FROM NEW YORK. TOM also played the role of BURKE in the popular 2009 remake of MY BLOODY VALENTINE. Other films that TOM has starred in include A STRANGER WAITS, LETHAL WEAPON, MANIAC COP, THE NINTH CONFIGURATION and many more!
Don't miss your chance to meet TOM ATKINS at the show! This is our first event at the 6 acre outdoor OAKS EXPO CENTER FAIRGROUNDS. TICKETS ARE JUST $13 PER DAY and they will sell out!
Visit our ticket webpage and order your tickets today!
Ticket webpage: https://purchase.growtix.com/eh/Monster_Mania_Con_42
VENDOR 10' x 10' SPOTS are also available for just $120 total for BOTH DAYS!
Spots are going quickly so order yours today at:
VENDOR ORDERING LINK:
https://purchase.growtix.com/…/Monster_Mania_Outdoor…
PLEASE NOTE: We will be following all PA state rules, regulations, and restrictions. MASKS ARE REQUIRED. If you are not willing to wear a mask please wait for a show when state regulations do not require one.