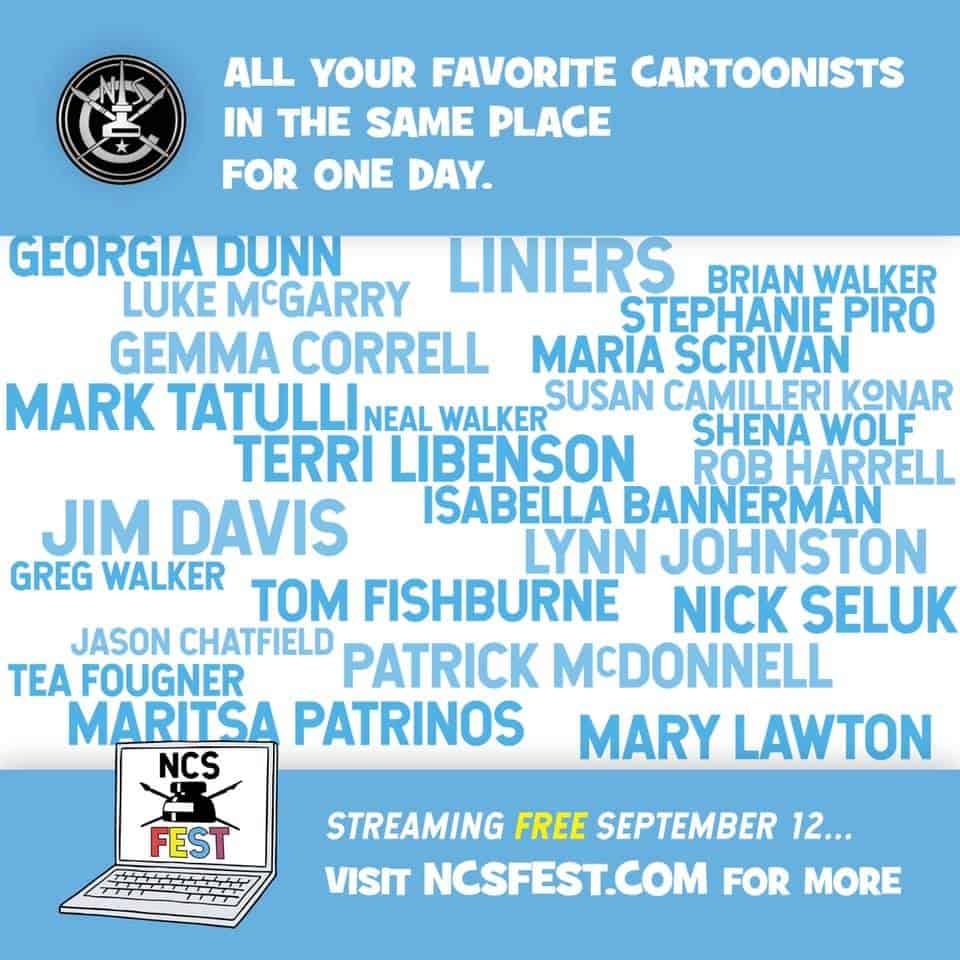 The National Cartoonist Society takes their annual NCSFest online for a full day of panels with some of the greatest cartoonists in the industry culminating with the Reuben Awards ceremony.
FROM PANELS TO PUBLISHING
NCSFest kicks into high gear with a Quadruple-barreled dose of cartooning talent featuring 2019 Reuben Nominees MARK TATULLI and TERRI LIBENSON along with MARIA SCRIVAN, and ROB HARRELL discussing their evolution from comic strips and panels to book publishing. These four multi-award-winning cartoonists will share their distinct experiences with moving from traditional syndicated newspaper strips to multiple successful publication properties.
Hosted by: JASON CHATFIELD
DIVISION AWARDS ROUND 1
Join us for the announcement of the first round of Divisional Awards:
Editorial Cartoons
Magazine/Newspaper Illustration
Newspaper Panels
Gag Cartoons
THE ART OF FUNNY
Join Garfield and US Acres creator, JIM DAVIS, as he pulls back the curtain on Paws Inc. with an NCS exclusive presentation deconstructing the art of humor. Jim shares his journey from making his mom laugh, his influences, as well as his origins in Indiana attempting stand-up comedy around the time his Ball State dorm-mate, was giving it a try… and went on to become one of the most legendary Late Night Hosts in America.
Jim explores his theory on how humor can heal and get us through tough times, as well as how he believes it won a Presidential election.
This session then takes a further deep dive into the power of humor, the mechanics of gags used in cartoons and comic strips, character-construction, personalities and relationships, the importance of the reader in the writing process, which days of the week to run your strongest and weakest gags, his team's writing process, the importance of what you don't see, the art of pantomime, using real-world names and events in a comic strip, transitioning comic strips into film and television and most importantly, what he thinks is funny. This is one very special presentation not-to-be-missed!
THE SUPERSTAR CARTOONISTS OF INSTAGRAM
In this exclusive NCSFest session, Editorial Director for Comics at King Features, TEA FOUGNER, interviews some of the most popular cartoonists on Instagram, including GEMMA CORRELL, LINIERS, LUKE McGARRY, MARITSA PATRINOS and creator of The Awkward Yeti, NICK SELUK.
The session delves into the different journey of each creator in cultivating an audience on an eer-evolving visual social media platform, as well as their daily process of creating for an audience who very readily reply to their work. From people getting offended by their work, to figuring out a creative process that stays unique to the artist, this is a one-of-a-kind discussion for anyone interested in the future of making a living as a cartoonist in the digital age.
Hosted by: TEA FOUGNER
DIVISION AWARDS ROUND 2
Join us for the announcement of the second round of Divisional Awards:
Online Comics – Short Form
Online Comics – Long Form
Online Animation
Advertising/Product Illustration
CREATOR SPOTLIGHT: TOM FISHBURNE, CREATING A SUCCESSFUL ONLINE CARTOONING BUSINESS
Cartoonist TOM FISHBURNE started doodling on the backs of business cases as a Harvard Business School student. From an emailed cartoon to coworkers in 2002, Tom's Marketoonist series has grown by word of mouth to reach more than 200,000 readers every week and his cartoons have been featured by the Wall Street Journal, Fast Company, and The New York Times. His cartoons have appeared on a billboard in Times Square and helped win a Guinness World Record.
Tom spoke at the TED headquarters in New York on "The Power of Laughing at Ourselves". He was Cartoonist-in-Residence and Lecturer for the Stanford GSB course on humor in business.
In this one hour session, hosted by NCS President JASON CHATFIELD, Tom shares how he came to build a successful online cartooning business from the ground up, along with the importance of finding your niche, and more importantly your 'enough'.
This talk explores the challenges of freelancing, working remotely, the importance of email marketing for all cartoonists as well as developing the correct technical skills to use social media to your advantage.
CREATOR SPOTLIGHT: GEORGIA DUNN ON BREAKING CAT NEWS
Join Director of Comics and Acquisitions at Andrews McMeel, SHENA WOLF as she interviews the talented young creator of Breaking Cat News, GEORGIA DUNN about her journey from creating a webcomic to getting syndicated. Georgia outlines her process of writing, as well as her technical process of creating a comic strip in watercolor and more.
25 YEARS OF MUTTS
Keep your seats, because you won't want to miss the next session: Join host and For Better Or For Worse creator LYNN JOHNSTON in celebrating PATRICK McDONNELL'S journey over the past 25 years with his iconic comic strip, MUTTS and everything along the way. Patrick is this year's Elzie Segar Award-winner for his unique and outstanding contribution to the profession of cartooning.
Lynn and Patrick talk about everything from early influences like their friend, the late Charles Schulz, to the fantastic Lynda Barry, and working with Abrams Comic Arts Editor Charlie Kochman on Patrick's new Book, The Art of Nothing. (Which is really something.)
DIVISION AWARDS ROUND 3
Join us for the announcement of the third round of Divisional Awards:
Comic Books
Graphic Novels
Feature Animation
Television Animation
THE SIX CHIX 20TH ANNIVERSARY
Join the current slate of SIX CHIX cartoonists in celebrating their 20th Anniversary, with Editorial Director for Comics at King Features, TEA FOUGNER. Enjoy the journey of a multi-cartoonist feature from its early years with encouragement from Jay Kennedy, to today's iteration of the Six Chix feature and all its recent controversy. This talk is not just a reflection on the past 20 years, but gives insight into what the future holds for making a living as a cartoonist in the 21st century, as well as what other projects each of the contributors are working on right now.
REVEILLE: BEETLE BAILEY SHORT DOCUMENTARY
Since its launch in 1950, Beetle Bailey has appeared every day in newspapers all over the world. After sixty-five years and 25,089 unique comic strips, new ideas are hard to come by for creator Mort Walker and his three sons, who make up the creative team. Fortunately, like any good military outfit, they have a regimented system and a sense of duty to get the job done. "Reveille – A Family Legacy in Comics" lifts the curtain up on the family business that produces this iconic piece of Americana.
DIVISION AWARDS FINAL ROUND
Join us for the announcement of the fourth and final round of Divisional Awards:
Greeting Cards
Book Illustration
Variety Entertainment
Newspaper Strips
Big congratulations to John Glynn on his Silver T-Square for his outstanding contribution to the Cartooning Industry!
Big congratulations to Garry Trudeau on his Gold T-Square for 50 Years in the industry!
IN MEMORIAM
We pay tribute to the cartoonists and industry colleagues who we've lost in the past year.
THE MAIN EVENT! THE 2019 REUBEN AWARD FOR CARTOONIST OF THE YEAR
Join us in celebrating our talented nominees for 2019:
Hilary B. Price
Lynda Barry
Terri Libenson
Mark Tatulli
Raina Telgemeier