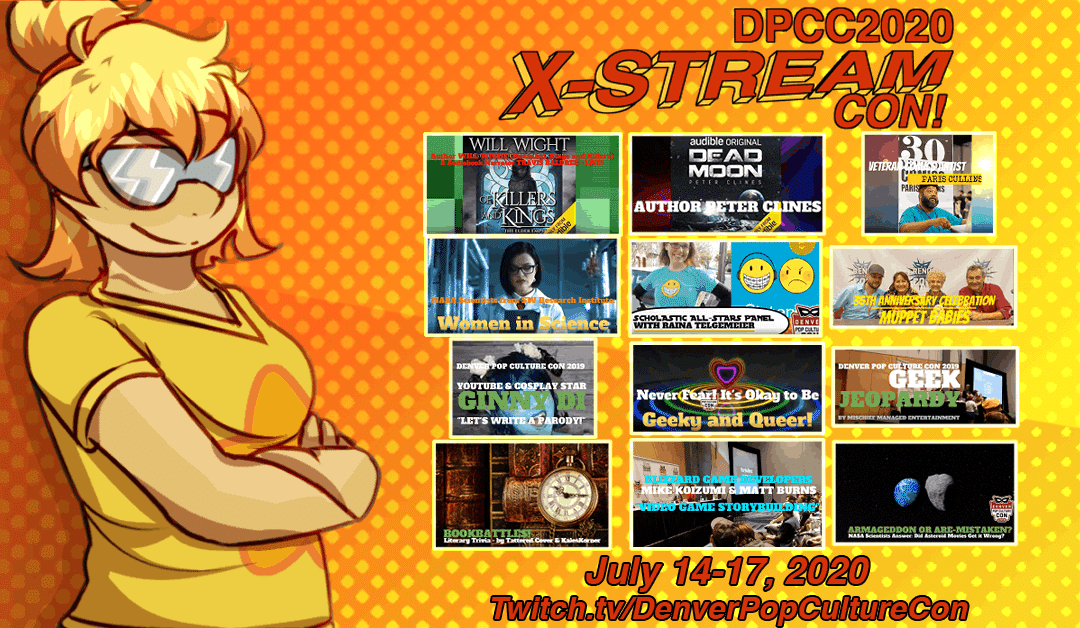 Press Release:
Since we can't bring you Denver Pop Culture Con in person this year, we're streaming some of the best programming from our 2019 event and NEW, LIVE GUEST INTERVIEWS, PANELS & DEMOS – during DPCC's X-Stream Con 2020, July
TUESDAY JULY 14 
1:00 PM – All-Star Scholastic, with Raina Telgemeier (Guts, Smile), Jeff Smith (Bone), Kazu Kibuishi (Amulet), Gale Galligan (Babysitters Club)
2:30 PM – Cosplay Fabrication at Home LIVE! with Don Dowling with Reynolds Advanced Materials.
4:00pm – Geek Jeopardy Trivia & Book Battles Trivia
WEDNESDAY JULY 15 

1:30 PM – How to Make a Parody, with Cosplayer and YouTuber Ginny Di
3:00 PM – LIVE with Sci-Fi Author Peter Clines (14, The Fold, Paradox Bound)
4:30 PM – Muppet Babies 35th Anniv. Reunion with
Greg Berg (Fozzie),
Laurie O'Brien (Piggy) and
Katie Leigh (Rowlf)
THURSDAY JULY 16 
12:30 PM – Video Game Story-Building with Blizzard Game Developers Mike Koizumi & Matt Burns
2:00 PM – LIVE with Comic Creator Paris Cullins (Blue Beetle, New Gods, Batman)
3:30 PM – The Real Science of Asteroids with real NASA Scientists
FRIDAY JULY 17 
1:00 PM – Making Audiobook Magic, LIVE with…
Fantasy Author Will Wight
Audible Narrator Travis Baldree
2:30 PM – Women in Science, with NASA scientists from SW Research Institute.
4:00 PM – Never Fear.  It's Okay to be Geeky and Queer 2019, with…
Yves Navant (the Neuromantics)
Andy Mangels (Star Trek novelist and Wonder Woman expert), Stage Actor and Novelist Andy Mientus (Backstagers), and Novelist K.B. Wagers (Behind the Throne)