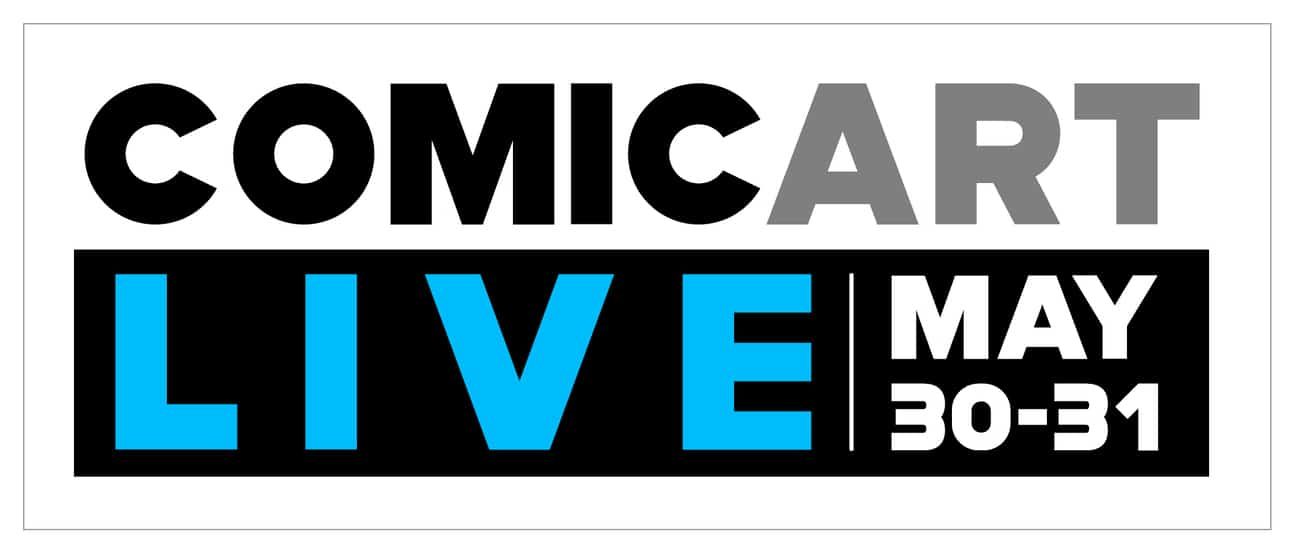 Press Release:
On the weekend of May 30/31, 2020, ComicArtFans.com will host Comic Art Live, a virtual Comic Art Convention to give our site members and visitors a respite from the stay-at-home orders many of them are under, and also provide those members who support our website an opportunity to market their comic art related businesses and original art for sale.  We hope this will provide an opportunity online for our community to have the feel of a Convention during these times, where so many Cons have been forced to cancel or postpone their shows.
Comic Art Live is free to attend and will open to online visitors at Noon EST on Saturday May 30th and close at 6PM EST on Sunday May 31st. Premium CAF Members will have early access to Comic Art Live beginning at 10AM EST on Saturday May 30th.
Exhibiting at Comic Art Live is open to anyone who is a Premium Member and/or current Advertiser on our website. The Show will be hosted on ComicArtFans.com and will have separate virtual Exhibit Halls for Original Comic Art Dealers, Collectors who are selling artwork, and Vendors. Each participating CAF Account will be limited to display a maximum of 18 artworks for sale during the Show, and all artwork must have a sale price – no "Or Best Offer" or "Make Offer" opportunities will be allowed.
In order to guarantee excitement and interest for this event we expect that the artwork an Exhibitor chooses to offer for sale during Comic Art Live be either new to the market, priced to sell, or created specifically for the Show. If you're a vintage Comic Art Dealer we encourage you to set a few pieces aside for the Show, and Original Comic Art Rep's could schedule a portion of an art drop to happen in their Comic Art Live Booth. Art Reps could even have the Artists they represent create artwork to sell during the Show. Comic Art Collectors who are exhibiting could display new artworks for sale from their collection and post additional artworks at a reduced price.
All Exhibitors will be given a virtual Booth which will vary slightly based on the Hall you're assigned to. Booth Exhibitors will have a default photo if needed (a logo, mugshot, old booth photo, etc) as well as short a description of their business or bio as a means of introducing themselves to attendees visiting Comic Art Live. Comic Art Dealers who are also Art Reps will be allowed to have the Artists they represent be "at" their Booth during the show allowing them to accept commissions or sketch opportunities, which is now possible thanks to our new Art Rep programming.
The 18 artwork maximum might seem limiting but the virtual Booth will link to their CAF Gallery Classifieds, and if they are a Comic Art Dealer there will be a link to their business website and inventory on CAF if they are part of our Dealer Network of Sites. Our goal is to keep Attendee's focus on a finite selection of artwork for sale, while at the same time allowing them to also browse all the artwork for sale from each Seller. Savvy Dealers and Collectors will schedule art drops to occur during the show to cross promote sales outside of Comic Art Live. Exhibitors should consider these 18 pieces as the back wall at their Booth, and the links we allow to their CAF Classifieds and business websites are the portfolios on their Table.
To set up their virtual Exhibitor Booth a special Gallery Room will be created for Comic Art Live inside each Exhibitor's CAF Gallery Room Administration page late next week. This gives an Exhibitor ample time to set up their Booth prior to the Saturday, May 30th event date. During the setup period an Exhibitor will be able to manage setting up the Booth like they would a Gallery Room and preview how it will look. Once the Show starts the artworks on display will be locked for public view for the duration of Comic Art Live and cannot be edited or changed for different artworks. Exhibitors will be able to edit their artworks as Sold, which will effectively put a red-dot on the artwork in the Booth letting Attendees know the artwork is no longer available. We require anyone Exhibiting during Comic Art Live to monitor their Booth's activity and to keep their Booth inventory updated. Anyone treating this as a fishing expedition will not be invited back if we choose to host another Show – and we do plan to host similar Shows in the future.
Like any Comic Convention we also want to provide a Booth to those businesses that are not selling fixed priced artwork, like Auction Houses, Comic Art Restorers, Archival Suppliers, Publishers, Not For Profit Charities and Organizations, and even other Comic Art-Centric Conventions. We'll work directly with these Exhibitors to set up their Booths for this Show, so if you feel your business fits into this Vendor Category please contact us. Again, the only requirement to participating in this first Show is that you must either be a premium member of CAF or an active advertiser on our website.
We are also exploring the ability to stream Panels and/or Artist Interviews, where Artists could interact with Attendees through a moderated video stream, where they can sell pre-drawn artworks, accept commission requests, and in general interact with Attendees like they normally would at an in-person event. If you're interested in something like this we'd encourage you to reach out to us early so we can determine what might be feasible. We are also looking into ways to allow an Attendee to chat directly with an Exhibitor during the Show to facilitate transactions and commission requests.
While we won't bore you with the details on how we're developing the Comic Art Live platform, it is worth noting that our plan is that this will also become a stand-alone site for hosting future Comic Art Conventions, with the ability to mirror the Shows directly on CAF just as we're doing for this inaugural event. What this will allow us to do is rent this platform to other businesses and entrepreneurs, allowing them to host their own Comic Art Shows online through the platform site or their own domain, as well as on CAF if they choose. Convention Hosts utilizing this platform will be able to choose their Exhibitors in a configurable environment, and we envision virtual Shows selling Exhibitor booth space to cover the expense of using this platform.
Interested parties and those with Exhibitor questions should contact ComicArtFan's Owner Bill Cox for more information.