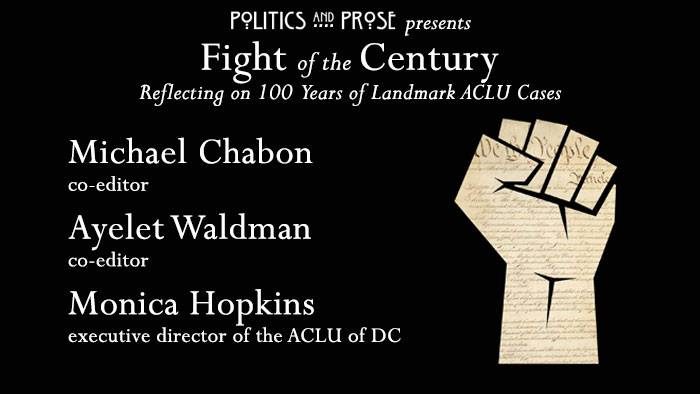 Michael Chabon and Ayelet Waldman appear in conversation with Monica Hopkins at the Sidwell School on Tuesday, March 24, 2020 at 7 PM to present Fight of the Century and mark the ACLU's 100-year anniversary.
In collaboration with the American Civil Liberties Union, prize-winning authors Michael Chabon and Ayelet Waldman have curated an anthology of essays about landmark cases in the ACLU's 100-year history. In Fight of the Century , bestselling and award-winning authors—including Jennifer Egan, Neil Gaiman, Marlon James, Lauren Groff, Viet Thanh Nguyen, Jesmyn Ward, and more—present unique literary takes on historic decisions like Brown v. Board of Education, the Scopes trial, and Roe v. Wade.
Panelists include:
Michael Chabon is the bestselling and Pulitzer Prize-winning author of many books, including The Amazing Adventures of Kavalier & Clay, The Yiddish Policemen's Union, and The Mysteries of Pittsburgh. He is the editor, with Ayelet Waldman, of Kingdom of Olives and Ash: Writers Confront the Occupation.
Ayelet Waldman is the author of the memoir, A Really Good Day, as well as of novels including Love and Treasure, Red Hook Road, and Love and Other Impossible Pursuits. She is also the editor of Inside This Place, Not of It: Narratives from Women's Prisons.
Monica Hopkins is the executive director of the ACLU of the District of Columbia (ACLU-DC). She is also a Rockwood Institute LGBT Advocacy Fellow and currently serves on the board of the National Reentry Network for Returning Citizens.
A book signing will follow the event.