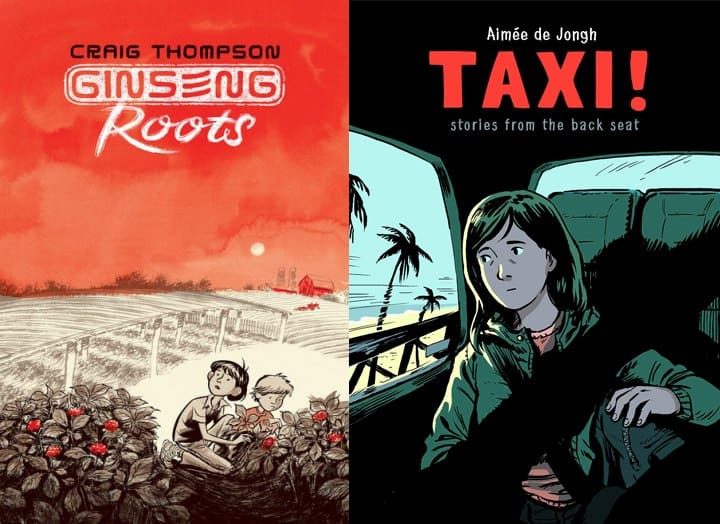 Press Release:
Craig Thompson and Aimée de Jongh appear at Cosmic Monkey Comics on Saturday, March 14, 2020 from noon till 2 PM to present and sign their new books: Ginseng Roots and Taxi: Stories From The Back Seat.
Ginseng Roots – From ages 10 to 20, Craig Thompson (the author of Blankets) and his little brother Phil, toiled in Wisconsin farms. Weeding and harvesting ginseng—an exotic medicinal herb that fetched huge profits in China—funded Craig's youthful obsession with comic books. Comics in turn, allowed him to escape his rural, working class trappings.
Now, for the first time in his career, Thompson is working in serial form, in a bimonthly comic book series. Part memoir, part travelogue, part essay—all comic book—Ginseng Roots explores class divide, agriculture, holistic healing, the 300 year long trade relationship between China and North America, childhood labor, and the bond between two brothers.
Craig Thompson is a cartoonist and the author of the award-winning books Blankets; Good-bye, Chunky Rice; and Habibi. He was born in Michigan in 1975, and grew up in a rural farming community in central Wisconsin. His graphic novel Blankets won numerous industry awards and has been published in nearly twenty languages. Thompson lives in Portland, Oregon.
Taxi: Stories From the Back Seat – Aimée de Jongh, one of the brightest new talents in Europe, creates her first autobiographic work, focusing on taxi rides from four cities: Los Angeles, Paris, Jakarta, and Washington, DC.
Despite the stunning and detailed streetscapes she passes, de Jongh discovers she's more interested in the cab drivers than the view from the backseat. As the drivers slowly open up about their personal lives, de Jongh does too―even when it means challenging her own ideas and prejudices. Through these vulnerable―and often humorous―moments, de Jongh finds common ground with the people driving her. Taxi is an ode to taxi drivers everywhere.
Aimée de Jongh is a Dutch graphic novel author, animator, and illustrator. After creating comics for a daily newspaper for nearly five years, she left in 2017 to make graphic novels full time. Her debut, The Return of the Honey Buzzard, won the Prix St Michel and was adapted to a live-action film. Her second book, Blossoms in Autumn, written by the acclaimed Belgian writer Zidrou, was awarded the Prix Atomium. She works and lives in Rotterdam, The Netherlands
Cosmic Monkey Comics
5335 NE Sandy Blvd, Portland, OR 97213
(503) 517-9050