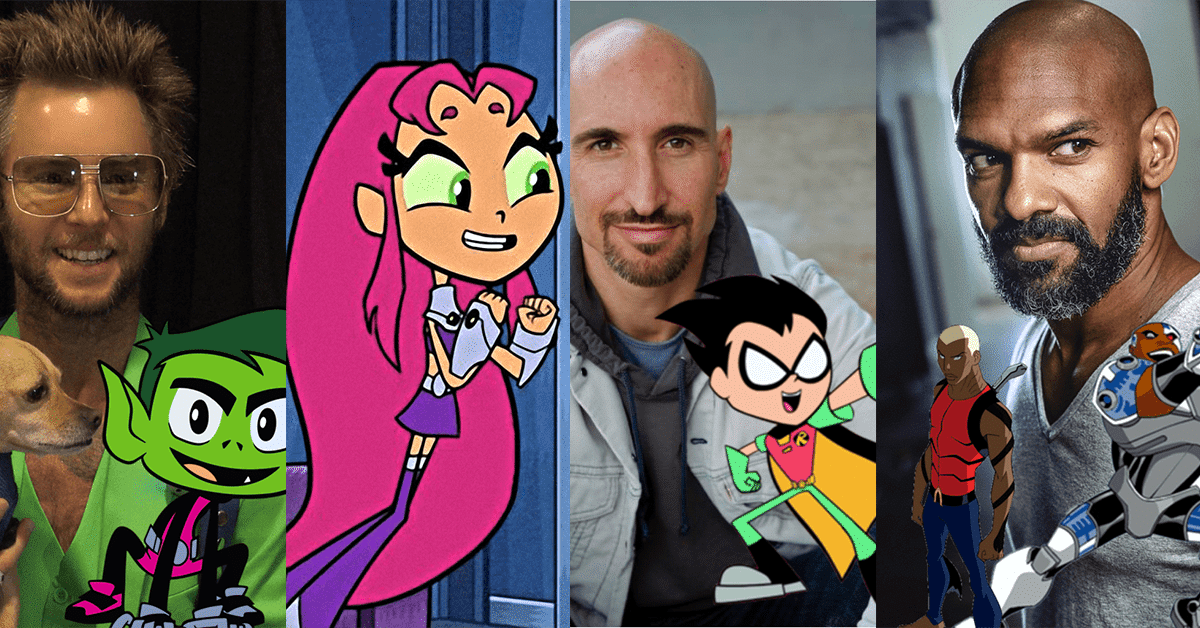 MomoCon is happy to welcome four voices from Teen Titans on May 21-24th, 2020! It's your chance to meet Greg Cipes (Beast Boy), Hynden Walch (Starfire), Scott Menville (Robin), and Khary Payton (Cyborg)!
GREG CIPES
Greg Cipes is the voice of Beast Boy in Teen Titans and Teen Titans Go!, as well as an accomplished voice actor in Super Robot Monkey Team Hyperforce Go!, Ben 10, and Teenage Mutant Ninja Turtles. Born and raised in Florida, Greg began as performer starring in over 30 national television commercials, Broadway musicals, movies and television shows. All this before the age of 15, he also self produced his first album. All the while, Greg managed to place third in the USA as a Jr. Pro. surfer. Greg then moved to Los Angeles at the age of 20 in order to pursue and grow his entertainment career. Over the past 17 years, he's garnered a massive audience, has starred in blockbuster films and TV shows, put out multiple albums, has produced his own TV shows and movies and has become one of the most recognized voice actors in the world. He currently is creating and producing his own television shows series.
HYNDEN WELCH
Hynden is the voice of Starfire in TEEN TITANS GO!, TEEN TITANS, DC SUPER HERO GIRLS, and the 2018 critically acclaimed feature film TEEN TITANS GO TO THE MOVIES! She also gives voice to Starfire's evil sister Blackfire. On the Emmy and Peabody Award winning show ADVENTURE TIME, Hynden rules the Candy Kingdom as Princess Bubblegum. She's Harley Quinn in many DC/Warner Bros films including the super cool BATMAN: ASSAULT ON ARKHAM as well as on THE BATMAN. Other characters include Viridi from KID ICARUS, Nia from GURREN LAGANN, Penny from CHALKZONE, Alice in Wonderland for Disney Character Voices, Me no Warawa from Studio Ghibli's Oscar nominated THE TALE OF PRINCESS KAGUYA, and many more! She won the Outer Critics Circle Award for her performance in THE RISE AND FALL OF LITTLE VOICE on Broadway. On-camera she can be seen in classics like GROUNDHOG DAY with Bill Murray and JERRY MAGUIRE directed by Cameron Crowe. Hynden studied music at the North Carolina School of the Arts and graduated summa cum laude in American Literature from UCLA.
KHARY PAYTON
All hail the King! Khary Payton is the latest addition to AMC's The Walking Dead, playing the coveted role of King Ezekiel, the benevolent, eccentric and theatrical leader of The Kingdom. Accompanied by his pet tiger Shiva, King Ezekiel has instantly become Khary's most challenging and favorite role to date.
Cyborg lives on! According to cartoon fans, Payton has become synonymous with one of DC's hottest heroes Cyborg, having voiced the character for 15 years. Khary is thrilled to be reprising his role of Aqualad in the fan and critically acclaimed series Young Justice that recently announced its return with season 3. Also, Big Hero 6: The Series with Khary as the voice of laser Specialist Wasabi. Grimlock from Transformers: Robots in Disguise, Rafiki in Disney's The Lion Guard, video games The Sims, Reigel in Starcraft, Drebin in Metal Gear Solid, Azrael and Killer Croc in the Batman: Arkham franchise and Knox from Call of Duty: Advanced Warfare, are just some of the many roles he's known for.
SCOTT MENVILLE
Born and raised in Los Angeles, SCOTT MENVILLE grew up playing characters that many others grew up watching. He began his professional acting career at the young age of eleven and he's been working steadily ever since. Among his numerous animated series regular roles, Scott can currently be heard as Robin in TEEN TITANS GO! (he also voiced Robin in the original TEEN TITANS animated series), as Doctor Octopus/Otto Octavius in MARVEL'S SPIDER-MAN, and as Stretch Armstrong in STRETCH ARMSTRONG AND THE FLEX FIGHTERS.
Other notable characters include Kevin French in the cult classic animated series MISSION HILL, Sneezy in Disney's THE 7D, Shaggy in SHAGGY AND SCOOBY DOO GET A CLUE, Ma-Ti in CAPTAIN PLANET, Jonny in JONNY QUEST, Freddy Flintstone in THE FLINTSTONE KIDS, and Red Herring in A PUP NAMED SCOOBY DOO. Scott has voiced notable recurring roles in the animated series TEENAGE MUTANT NINJA TURTLES as Crankshaw, Dr. Blip and Spooch, BEN 10: OMNIVERSE as Jimmy Jones & Chrono Spanner, RANDY CUNNINGHAM: 9th GRADE NINJA as band geek Bucky, BUNNICULA as Scott Dingleman and others, and as Metamorpho in BATMAN THE BRAVE AND THE BOLD.
Some of Scott's animated feature film credits include performances in TEEN TITANS GO! TO THE MOVIES, PARANORMAN, BATMAN: GOTHAM KNIGHT, and DESPICABLE ME. Anime fans may also know Scott from voicing Black, one of the two leads in the English version of the acclaimed Japanese anime feature TEKKON KINKREET. Scott has also been credited in voicing numerous video games, most notably as Lloyd in TALES OF SYMPHONIA, Marlton in CALL OF DUTY: BLACK OPS II, Egon Stetmann in STARCRAFT II, and various characters in WORLD OF WARCRAFT.
For further information please go to the website: momocon.com