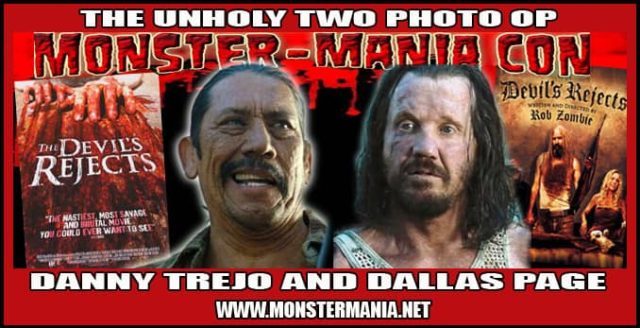 We are thrilled to be offering a very special duo photo op with THE UNHOLY TWO from the popular 2005 Rob Zombie film THE DEVIL'S REJECTS!
DANNY TREJO played the role of the bounty hunter RONDO who teamed with DIAMOND DALLAS PAGE who starred in the role of BILLY RAY SNAPPER in the film. Here's your chance to be "captured" on film with a professional photo op with the two bounty hunters!
Monster- Mania con will be held on MARCH 13-15 at the Crowne Plaza Hotel in Cherry Hill, NJ! DDP will be appearing all three days of the show.
Ticket webpage: https://purchase.growtix.com/eh/Monster_Mania_Con_45
Wolf Studios will also be offering the pro photo op with these and the other stars! You can purchase yours today at:
https://purchase.growtix.com/events/landing/Monster_Mania_45_Photo_ops