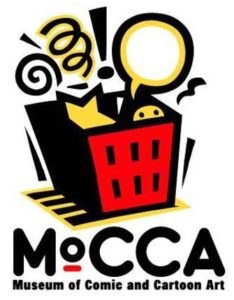 Press Release:
The Society of Illustrators is proud to share its first round of guest announcements with this year's stellar list of Guests of Honor for the MoCCA Arts Festival, taking place April 4 – 5th at Metropolitan West in New York City. This year's featured Guests of Honor are:
In 1994 Patrick McDonnell created the comic strip Mutts, which now appears in over 700 newspapers in 20 countries. Peanuts creator Charles M. Schulz called Mutts "one of the best comic strips of all time." Prior to creating Mutts, McDonnell had a successful career as a freelance illustrator, drawing the Russell Baker Observer column for the New York Times Sunday Magazine from 1978-1993. He also created Bad Baby, a monthly comic strip for Parents Magazine, which ran for 10 years, and he is co-author of Krazy Kat: The Comic Art of George Herriman, published in 1986 by Abrams. His work has been animated for television commercials, most notably a PSA for the New York Philharmonic. In addition to his comics career, McDonnell has also published numerous award-winning children's books including The Gift of Nothing, Hug Time, South, Wag! (all published by Little, Brown Books for Young Readers), Me…Jane (Scholastic), and others. In 2019 Abrams published The Art of Nothing, celebrating twenty-five years of Mutts.
Cartoonist Trina Robbins has been creating comics since the 1960s, and is one of the first artists of the underground comix movement. She was an early contributor to the underground newspaper The East Village Other and edited the first comic book created entirely by women, It Aint Me, Babe Comix. In 1970, she co-founded Wimmen's Comix, a collectively-organized feminist comics anthology. In 1986, Robbins became the first woman to draw Wonder Woman, and in 1998, DC Comics published her book Wonder Woman: The Once and Future Story, a collaboration with Colleen Doran dealing with domestic violence. In addition to her comics work, Robbins is a historian and has published many notable non-fiction titles including , Pretty In Ink (Fantagraphics), a history of women cartoonists, and two books about early twentieth century artist Nell Brinkley. In 2017 she published the memoir Last Girl Standing (Fantagraphics). Robbins has won multiple awards and recognitions including the Inkpot Award, John Buscema Haxtur Award, and was inducted into the Will Eisner Hall of Fame.
Award-winning Cartoonist and Illustrator Jillian Tamaki is the co-creator of the graphic novel Skim (Groundwood Books) and This One Summer (First Second), both written by Mariko Tamaki. This One Summer was the first graphic novel to receive a Caldecott honor. She is the author and artist of works for adults including SuperMutant Magic Academy, a collection of her webcomic of the same name,and Boundless, a collection of her short form comics work (Drawn & Quarterly). She is also the author of the children's book They Say Blue, which earned her the Boston Globe-Horn Book Picture Book Award and another Caldecott Honor (Harry N. Abrams). Most recently she was the Guest Editor of The Best American Comics 2019 (Houghton Mifflin Harcourt). She is an active illustrator and her work appears regularly in the New York Times and other venues.
Chris Ware is among the most critically-acclaimed cartoonists working today. Since his work appeared in RAW Magazine in 1990, he has published a number of ground-breaking works, initially in his ACME Novelty Library series (Fantagraphics). There, he serialized the graphic novel Jimmy Corrigan: The Smartest Kid on Earth which was published in a collected edition by Pantheon in 200. That work received an American Book Award in 2000, the Guardian First Book Award in 2001, and the "L'Alph Art" prize for the best graphic novel at the Festival International de la Bande Dessinée in Angoulême, France in 2003. In 2012 he published the innovative graphic novel Building Stories, a box containing fourteen interconnected narratives which can be read in any order. In 2019 he published the graphic novel Rusty Brown. In addition to his graphic novel work, Ware has created over twenty-five covers for The New Yorker. His work has been exhibited at the Whitney Museum of America Art and has had solo exhibits at the Museum of Contemporary Art Chicago, the Sheldon Memorial Art Gallery in Lincoln, Nebraska, the Gävle Konstcentrum in Sweden, and the Columbus College of Art and Design.
Ronald Wimberly is an author, illustrator, and comic artist. His early titles include Sentences: The Life of MF Grimm (Vertigo), an autobiographical graphic novel that follows the life of the hip hop artist and 2011's adaptation of Ray Bradbury's Something Wicked This Way Comes (Hill & Wang). His 2012 book, Prince of Cats (DC/Vertigo), a retelling of the story of Tybalt from Shakespeare's Romeo and Juliet, received wide praise and accolades. The book was reissued in 2016 by Image Comics, and in November of 2019, it was announced that Spike Lee will be directing a movie adaptation. In 2017, Wimberly published Black History in Its Own Words (Image Comics), featuring a stunning collection of portraits and quotes from dozens of black luminaries. In 2018 he launched the annual art tabloid LAAB Magazine, focusing on issues of identity and visual culture. Wimberly has also produced work for The Nib, The New Yorker, Nike, Marvel, and Dark Horse.
This group of artists exemplifies the limitless aesthetic and social power of comics and cartooning. The MoCCA Arts Festival will take place April 4 – 5th, 2020 from 11:00AM – 7:00PM on Saturday and 11:00AM – 6:00PM on Sunday, held at the luxurious and modern Metropolitan West located on West 46th Street between 11th and 12th Avenues. All Guests of Honor will participate in festival programming, steps away at Ink48 (653 11th Ave.). They will be joined at MoCCA Fest by an array of Featured and International Guests and exhibiting artists.
Price of admission is $10 per day, or $18 for Weekend Passes, and will grant attendees access to the Fest including the Exhibitors Hall, on-site Gallery space, and programming. Day Tickets will be available for purchase at the door and Weekend Passes are available to purchase in advance online. Children under ten are free. Further scheduling information regarding our Guests of Honor's visits will be available in future announcements.
Applications to exhibit at the MoCCA Arts Festival are available on the Society's website and will be open during the month of December. To learn more about the Guests of Honor and the Fest please visit our website.