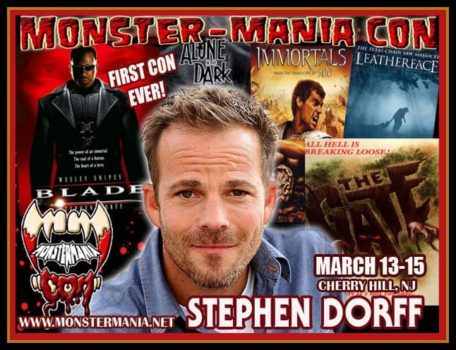 We are VERY excited to announce that STEPHEN DORFF will be making his FIRST CONVENTION APPEARANCE EVER at MONSTER-MANIA CON 45 the weekend of MARCH 13-15 at the Crowne Plaza Hotel in Cherry Hill, NJ! STEPHEN DORFF will be appearing all three days of the show.
Horror film fans will certainly remember STEPHEN for his key role as vampire overlord DEACON FROST in the 1998 Marvel superhero-horror themed film BLADE. STEPHEN's FROST was the main antagonist of the film and battled Wesley Snipes who played the lead role of BLADE. The film was the first of the three films of the BLADE series. The success of BLADE began Marvel's film success and set the stage for further comic book film adaptations. In 2008 STEPHEN was chosen to reprise the role of DEACON FROST in what was planned to be a prequel trilogy but the project eventually fell through.
STEPHEN's debut in film was as the character GLEN in 1987's supernatural horror film THE GATE. The film follows two young boys who accidentally release a horde of demons from their backyard through a large hole in the ground and has developed a large cult following.
Currently STEPHEN can be seen playing the lead role of BILL HOLLISTER in the new Fox television series DEPUTY.
Recently STEPHEN played the role of Texas Ranger HAL HARTMAN in the 2017 film LEATHERFACE which is a prequel to the 1974 classic THE TEXAS CHAINSAW MASSACRE. STEPHEN also played the role of COMMANDER RICHARD BURKE in the 2005 film ALONE IN THE DARK. Fantasy film fans will recognize STEPHEN for his role as STAVROS in the 2011 Greek mythology film IMMORTALS.
Other television and film projects that STEPHEN has starred in include TRUE DETECTIVE, THE POWER OF ONE, I SHOT ANDY WARHOL, CECIL B. DEMENTED. FEARDOTCOM, WORLD TRADE CENTER, .45, PUBLIC ENEMIES, FELON, SOMEWHERE, STAR, RITES OF PASSAGE and many, many more. STEPHEN will be starring in a television series DEPUTY in the lead role of BILL HOLLISTER for the 2020 season.
Don't miss your chance to meet STEPHEN DORFF at the show! Tickets are already selling very quickly! Visit our ticket webpage and order your tickets today!
Ticket webpage: https://purchase.growtix.com/eh/Monster_Mania_Con_45
Wolf Studios will also be offering the pro photo op with the STEPHEN DORFF. You can purchase yours today at:
https://purchase.growtix.com/events/landing/Monster_Mania_45_Photo_ops
Please join us in welcoming STEPHEN DORFF to his FIRST CON EVER at MONSTER-MANIA CON 45 in Cherry Hill, NJ!