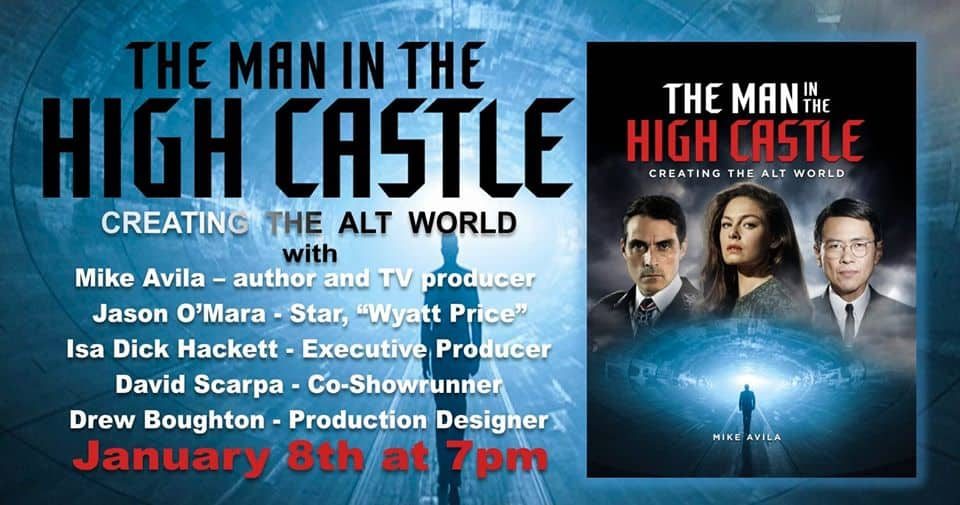 Join Barnes & Noble on Wednesday, January 8, 2020 at 7 PM when we celebrate The Man in the High Castle: Creating the Alt World with our very special panel of guest Mike Avila – author and Emmy award-winning TV producer, Jason O'Mara – Star, "Wyatt Price", Isa Dick Hackett – Executive Producer, David Scarpa – Co-Showrunner, Drew Boughton – Production Designer.
Discover the alt worlds of The Man in the High Castle with the cast and crew in this exclusive collection of art. Packed with concept art, final designs, and artist commentary plus previously unseen storyboards.
The Man in the High Castle is the hit Amazon series, inspired by Philip K. Dick's award-winning novel, that offers a glimpse into a chilling alternate timeline in which Hitler was victorious in World War II. In a dystopian America dominated by Nazi Germany and Imperial Japan, Juliana Crain discovers a mysterious film that may hold the key to toppling the totalitarian regimes.
This is a panel discussion and signing and will be wristbanded.
A wristband will be issued on a first come, first serve basis to customers who purchase The Man in The High Castle: Creating The Alt World from Barnes & Noble in The Grove beginning January 8th
• Limit 1 wristband per book
• Check Back for more Details as they Become Available
Barnes & Noble – The Grove
189 The Grove Dr, Ste K 30, Los Angeles, California 90036
(323) 525-0270