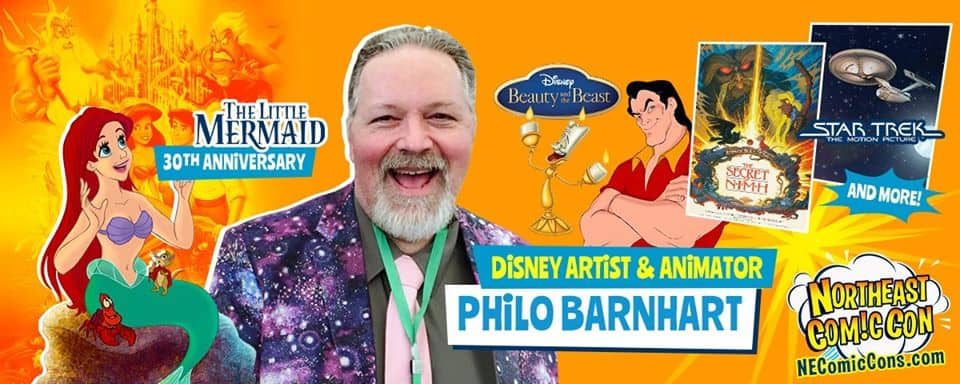 Press Release:
Celebrating the 30th Anniversary of Disney's classic film The Little Mermaid, NorthEast ComicCon & Collectibles Extravaganza is pleased to welcome Philo Barnhart, original character creator, lead artist, and animator of Ariel, to the pop culture event on November 29 – December 1st at the Boxboro Regency Hotel.
Philo also worked on Beauty & The Beast, The Black Cauldron, The Secret of NIMH along with many Saturday Morning Cartoons. Philo will be doing sketches and commissions, signing autographs, and meeting fans for Disney fun.
Other artists appearing include Joe St. Pierre (Spider-Man), Guy Gilchrist (Muppet Babies), Steve Lavigne (Teenage Mutant Ninja Turtles), Mark McKenna (Batman & Joker), Keith Champagne (JLA, Green Lantern, Stranger Things), Steve Geiger (Hulk) and many more including many local up and coming artists, writers and creators such as Will Murray, the co-creator of Squirrel Girl.
Celebrity guests include Peter Scolari (Newhart, Bosom Buddies, Gotham), Nicholle Tom (The Nanny, Gotham), Charles Shaughnessy (The Nanny), Denny Laine (Moody Blues, Paul McCartney's Wings), Dana Delorenzo (Ash Vs The Evil Dead), Brianna Denski (Wonder Park) and Marty Ross (New Monkees).
Collectibles, artists, authors, comic books, vinyl records, nerd crafts, cosplay concerts, comedy, video gaming and kids activities for a Thanksgiving weekend of fun. Kids 10 and under get free admission with a paid adult.
Guaranteed Not Boring & Free Parking
For details and more information please go to the website: necomiccons.com