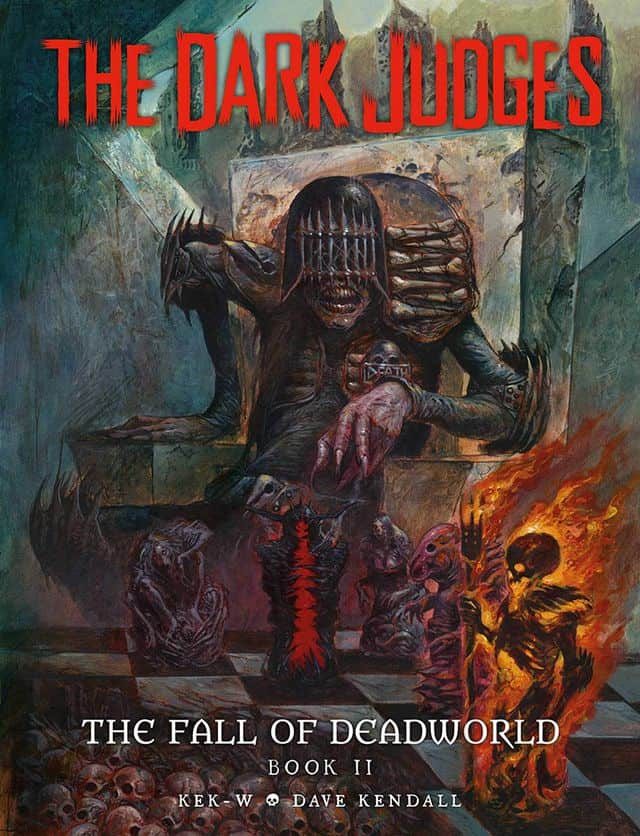 Dave Kendall and Kek-W sign Fall of Deadworld Vol. 2 on Saturday 23 November 2019 from 2:00 to 3:00 PM at Forbidden Planet's London Megastore.
Judge Dredd universe horror for fans of Clive Barker!
They are the four horsemen of the horror apocalypse Dark Judges who declared that life itself is a crime. As they continue to turn their world into a necropolis, young Jess Childs rallies a team of survivors to rescue the one person who can help her prevent the death of the world Judge Fairfax who is imprisoned deep in the belly of Sector House 13.
Judge Death will not let his old protégé go easily, but the Chief Judge has his own problems Phobia and Nausea's loyalties wax and wane, Sister Psiren is struggling to supress her old identity, and her new apprentice Casey is turning out more ambitious than anyone reckoned…
Kek-W is the real name of a comics writer who sometimes uses the pseudonym 'Nigel Long'. He's apparently "a mysterious droid who haunts the ducts between sub-levels 42b and 17h, deep beneath the Nerve Centre". As well as 'Dreams of Deadworld' he has created and worked on many 2000AD scripts.
Forbidden Planet London Megastore
179 Shaftesbury Avenue, London, WC2H 8JR
0207 420 3666