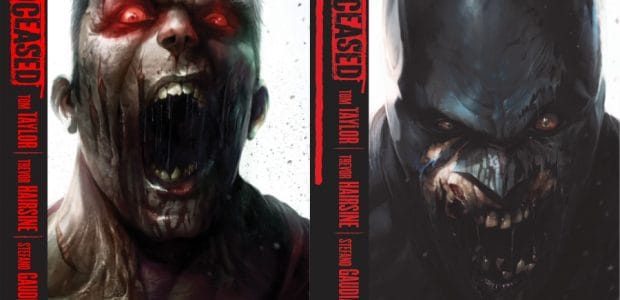 Tom Taylor, Trevor Hairsine, and Ben Oliver appear at Forbidden Planet to sign DCEASED on on Thursday 14th November from 6 PM – 7 PM!
TOM TAYLOR is a #1 New York Times bestselling comic book author, playwright and screenwriter. He is best known for his work on the DC Comics series Injustice: Gods Among Us and Earth-Two, Marvel's All-New Wolverine, X-Men Red and Superior Iron Man, and his many Star Wars works. He is the co-creator, head writer and Executive Producer of the CG animated series The Deep, based on his graphic novel series of the same name.
TREVOR HAIRSINE began his career drawing for the Judge Dredd Megazine and 2000AD. He worked in the computer games industry as a concept artist, before returning to comics and working for Marvel Comics on their Ultimate titles, X-Men, Captain America, and the superhero/spy limited series Wisdom, as well as for a number of independent publishers on titles including Cla$$war for Com.X.
Eisner-Award nominated BEN OLIVER broke into comics at 2000AD before joining Com.X. He moved to the American market in 2003, and has since worked for both DC and Marvel on titles as varied as The Authority, The Losers, Ultimate X-Men, Ghost Rider, Batwing and Action Comics. Ben has also worked on Multiversity – The Just with Grant Morrison, and with Andy Diggle at Dynamite on the series Control.
Forbidden Planet London Megastore
179 Shaftesbury Avenue, London, WC2H 8JR
0207 420 3666