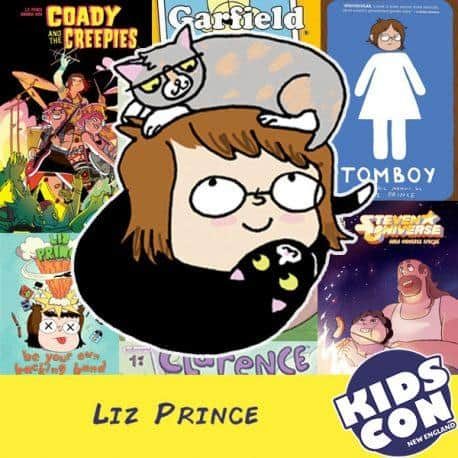 Kids Con Portland 2019 is thrilled to welcome our Special Guest, Award Winning Comic Book Creator, Liz Prince (Top Shelf, Boom!, Cartoon Network) on Saturday, November 16, 2019!
Check our her comics in Artist & Author Alley, and participate in her fun Create an Autobiographical Comic Workshop 11:20-12:00 PM in the Mohegan Room!
Liz Prince is the Ignatz award-winning creator of the humorous autobiographical books Will You Still Love Me If I Wet the Bed? (Top Shelf 2005), Alone Forever (Top Shelf 2014), and Be Your Own Backing Band (Silver Sprocket 2017). Her book Tomboy: A Graphic Memoir, (Zest Books 2014), received the Gold Medal Independent Publishers award for best graphic novel, has been translated into French, Spanish, and Korean, and continues to work its way into classrooms across the world as a text about gender and identity.
Liz has also made comics for many Cartoon Network titles such as Adventure Time, Steven Universe, Regular Show, Clarence, Garfield, and alongside artist Amanda Kirk, created a punk comic series for Boom! called Coady and the Creepies. Currently she is documenting her daily life through comics for subscribers of her Patreon. Liz grew up in Santa Fe, and now lives in Portland, Maine, with her husband, Kyle, and her cats Wolfman & Dracula.
Get Tickets Now! Available on the website: Kidsconne.com