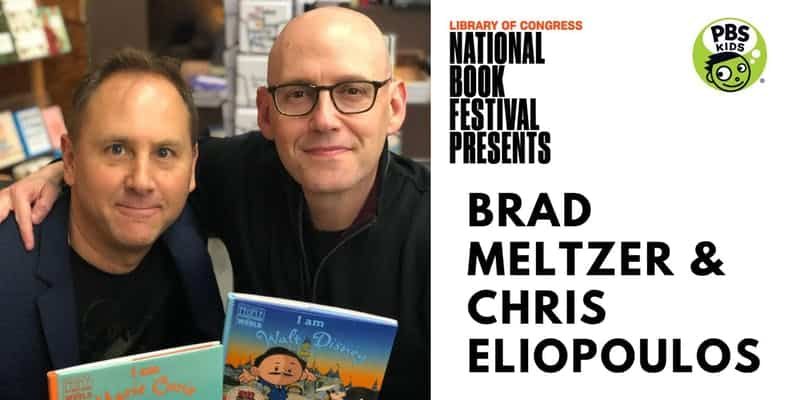 Press Release:
Author Brad Meltzer and illustrator Christopher Eliopoulos appear at the Library of Congress on Friday, November 8, 2019 at 6 PM to present the new PBS KIDS series, Xavier Riddle and the Secret Museum, based on their bestselling children's book series, Ordinary People Change the World.
In the new PBS KIDS series premiering Monday, November 11, young adventurers will get to go back in time to meet some of the world's most inspiring historical figures — when they were kids — and learn about the character skills that helped shape their vision and lead to their success.
"I started the Ordinary People Change the World series so I could give my kids better heroes to look up to," says New York Times bestselling author Brad Meltzer. "I Am Marie Curie shows readers the power of discovery – and that you should never stop doing what you love. In I Am Walt Disney, readers will see that Disney used his ingenuity and creativity to make real magic. Xavier Riddle and the Secret Museum's goal is the same as the books: to have kids realize that there is extraordinary within the ordinary and they are capable of finding their own heroic abilities to change the world."
We invite all PBS KIDS to catch a sneak peek, learn about the newest Ordinary People Change the World titles — I Am Walt Disney and I Am Marie Curie — and meet some of their favorite PBS KIDS characters, like Daniel Tiger and Clifford the Big Red Dog. There will be a reception to follow the on-stage presentation and screening, with complimentary refreshments and a book signing.
To join the signing line for this event and to meet Brad Meltzer, attendees must purchase a copy of one of his latest books I Am Walt Disney and I Am Marie Curie when registering for a ticket or onsite at the event. Other Brad Meltzer and Chris Eliopoulos books will be available for purchase at the event. No memorabilia or books from home will be signed.
The event is free and open to the public; however, tickets are required for entry. Seating is limited and available on a first come, first served basis. A ticket does not guarantee entry into the event.
When the auditorium reaches capacity, some ticketed guests may be seated in an overflow location and view the program on screens.
The Library of Congress
101 Independence Ave SE, Washington, DC 2054
(202) 707-5000