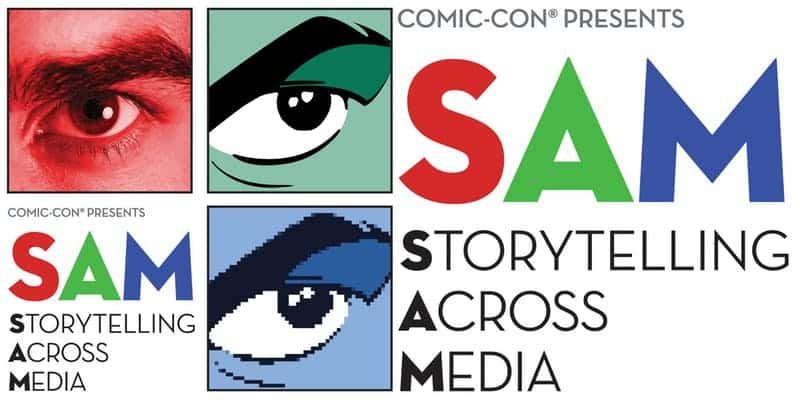 Press Release:
Comic-Con presents SAM: Storytelling Across Media on Saturday, October 26, from 11:00 AM to 6:00 PM at the future site of the Comic-Con Museum in Balboa Park, San Diego.
Things to do at this free one-day symposium include panels from comics greats Jim Lee and Kevin Eastman, kid-friendly activities, and networking events for anyone interested in a career in storytelling.
Seating for panels is limited, so advanced registration* from this platform is encouraged.
SAM is not a traditional comics convention. There is no exhibit hall. Through a series of panels, lectures, and workshops, SAM explores what's similar and what's different about telling stories in comics, film, television, costuming, wrestling, board games, video games, and other media.
*You are not required to register for a panel to attend this free event. Visit Comic-Con.org/SAM to learn how to participate in our non-panel events.
11:00–12:00 Spotlight on Jim Lee—DC Entertainment co-publisher Jim Lee (Batman, Justice League, Superman Unchained) talks about the journey from page to screen and sketches your favorite characters live on the big screen in this engaging panel. Watch the creative process first-hand and learn what brings DC Entertainment's characters to life. The Theater, Comic-Con Museum
12:15–1:00 Author Storytelling—It takes more than an idea! Authors discuss the necessary, hard, and joyful process from the first spark of "what if?" to the finished work. Join Kali Wallace (Salvation Day), Aminah Mae Safi (Tell Me How You Really Feel), Jonathan Maberry (V-Wars, Broken Lands), and Adalyn Grace (All the Stars and Teeth) as they share their experiences in determining which ideas are viable to nurture for success, and which must be discarded, no matter how shiny, with moderator Maryelizabeth Yturralde (Mysterious Galaxy co-founder). The Theater, Comic-Con Museum
1:15–2:00 Storytelling with Sound and Music—Featuring creatives behind The Walking Dead, Agents of S.H.I.E.L.D, Arrow, Wu-Tang: American Saga, Spirited Away Live, Escape the Night, The Jade Pendant, and American Factory, experts in the sound field dive into their work for film, television, and live concerts! Together they discuss the importance sound and music have in media and they detail their creative process for these projects. Panelists include Chad Cannon (American Factory), Anne-Kathrin Dern (The Jade Pendant), Sam Ewing (Agents of S.H.I.E.L.D), Shie Rozow (Wu-Tang: American Saga), and George Shaw (Escape the Night). Moderated by Kaya Savas of Film.Music.Media. The Theater, Comic-Con Museum
2:15–3:15 Spotlight on Kevin Eastman—Kevin Eastman, co-creator of the Teenage Mutant Ninja Turtles, has been drawing and writing Turtles since 1984. Kevin has "dabbled" in all things storytelling from animation in both TV and film, comic books, movies, and successful toy lines! He is also the creator of several other projects, publisher of Heavy Metal magazine, and spearheads a wildly popular fan club. Kevin Eastman will discuss all things storytelling along with his newest projects: Drawing Blood and the Radically Rearranged Ronin Ragdolls. The Theater, Comic-Con Museum
3:30–4:15 Storytelling in Comics—Jessica Tseang (comic book historian, Robert Kirkman's Secret History of Comics) will moderate a discussion with Barbara Randall Kesel (former head writer at CrossGen Comics, editor at DC Comics), Keith Davidsen (senior PR manager at IDW/ comic book writer), Jimmy S. Jay (25-year veteran retailer, Jay Comics Company), AJ Dungo (writer/artist, In Waves), and other comic book artists about what key components are needed to perfect storytelling in comics. A Q&A follows the discussion for inspiring professionals. The Theater, Comic-Con Museum
4:30–5:00 Rats, Rods, Monsters, and Burgers—Funko founder Mike Becker tells the story of how one boy's childhood friends developed into a lifetime obsession to never grow up! Each 20-minute program followed by a brief 10-minute Q&A. The Theater, Comic-Con Museum
5:30–6:00 Encore of Rats, Rods, Monsters, and Burgers—Funko founder Mike Becker tells the story of how one boy's childhood friends developed into a lifetime obsession to never grow up! Each 20-minute program followed by a brief 10-minute Q&A. The Theater, Comic-Con Museum
The Boardroom
11:15–12:00 Cinematic Storytelling as a Means—This panel will explore how cinematic storytelling can be used as a means of sharing passions, shedding light on obscure subjects, advocating for social change, and just exposing people to another point of view. The Boardroom, Comic-Con Museum
12:15–1:00 Telling Stories for Kids—From an early age, stories can shape and guide us. A good story can be so valuable to a child's development. Join David Hedgecock (associate publisher for IDW Publishing), Jeff Sayers (Nickelodeon Writers Program, The Loud House), Arune Singh (VP, Marketing for BOOM! Studios, writer, WWE comics), Barbara Kesel (writer), and Moni Barrette (local librarian, children's programming specialist) as they discuss storytelling specifically for children. Moderated by Justin Mallari (Geek Say What Network, Geek Offensive podcast host). The Boardroom, Comic-Con Museum
1:15–2:00 EverQuest and EverQuest II: Decades of Continuous MMORPG Storytelling—EverQuest and EverQuest II developers discuss the rigors of maintaining and expanding upon the living story of a fantasy world for decades. Both games hit major milestones this year: EverQuest celebrated 20 years and EverQuest II is about to celebrate its 15th anniversary in November! From art, character, and narrative design, developers will share the joy and complexities of threading all the gaming disciplines together to create a world of deep stories that players get lost in and return to day after day. The Boardroom, Comic-Con Museum
2:15–3:00 Storytelling and Board Games—Join tabletop designers, creators, and artists as they share about storytelling in tabletop gaming—from design aspects, art choices, and tone to what goes into making a compelling game. Jonathan Ying (designer of Imperial Assault and Bargain Quest), Caleb Cleveland (illustrator for ABCs and 123s of D&D, professor of art and design), Geoffery Zatkin (creative director of Experiment 7 and an original designer for Everquest), and Andrew Lowen (designer of Deliverance), moderated by Jeff Hamby (Casual Gamers podcast and producer at Alt 949). The Boardroom, Comic-Con Museum
3:15–4:00 Costumes, Cosplay, and the Design of Worn Narratives—Glenne Campbell (costume designer), Jonelle Edwards (independent costume designer), and Tori McKenna (freelance costume designer/cosplayer) discuss the role of costumes as carriers of stories, both scripted and personal, and how the medium of wearable art shapes the perception of a narrative. The panel is moderated by Kate Edwards (game industry veteran/cosplayer) and will include a Q&A session. The Boardroom, Comic-Con Museum
4:15–5:00 Storytelling Across the Border—Adalisa Zarate (Building Blocks) comes to talk about the differences and similitudes between American and Mexican storytelling in comics, as well as the creative ways in which editorials bridged that difference when it came to importing American superheroes to Mexican audiences. The Boardroom, Comic-Con Museum
5:15–6:00 Storytelling in Wrestling—Good stories start with conflict, and great storytellers make us feel complex and invigorating emotions. No experience is more imbued with conflict and emotion than the stories brought to the squared circle. Join Dirty Ron McDonald (pro wrestler and producer of FIST Combat TV), Arune Singh (VP Marketing BOOM! Studios and writer of WWE comic books), and Scott Lost (former pro wrestler, co-founder of Pro Wrestling Guerrila, comic book artist) as they discuss storytelling in wrestling. Moderated by Justin Mallari (Geek Say What Network, Pencil Neck Geeks podcast host). The Boardroom, Comic-Con Museum