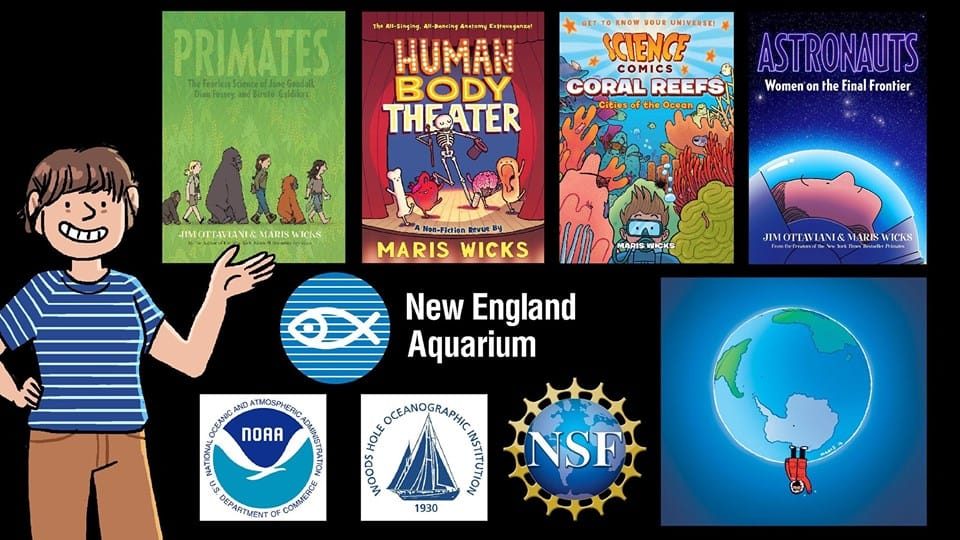 Cartoonist Maris Wicks (Science Comics: Coral Reefs, Spongebob Comics, Astronauts, Primates, Human Body Theater) appears at the New England Aquarium on Thursday, October 24, 2019 from 7:00 PM – 8:30 PM!
Starting with a crash course in the history of comics, Maris Wicks will take lecture attendees panel by panel through the use of cartoons and comics as a way to educate and engage readers of all ages. Journey to the jungles of Africa, inside the human body, Caribbean coral reefs, the bottom of the ocean, Antarctica, and even outer space to see how Wicks uses comics to convey general science concepts and work alongside scientists to help communicate the science behind their research.
About the Speaker:
Maris Wicks is a writer and illustrator of science comics as well as a self-proclaimed nerd. She has written, drawn, and colored comics for First Second Books, the New England Aquarium, and Woods Hole Oceanographic Institution, as well as Spongebob Comics, Marvel Comics, and DC Comics.
Wicks is the illustrator of the book Primates (2013), written by Jim Ottaviani. Wicks wrote and illustrated Human Body Theater (2015), a 240-page book about the major systems of the human body told in comics format. She shared her love of the ocean in Coral Reefs: Cities of the Ocean (2016). Her next book is Astronauts: Women on the Final Frontier, written by Jim Ottaviani (February 2020).
When she is not busy making comics, Wicks can be found prepping slides for her collection of vintage microscopes, traveling, scuba diving, hiking, and baking cookies. She was a program educator at the New England Aquarium for eight years, teaching people about awesomeness of marine science. Her work in science education and outreach continues in her comics. Wicks was the science outreach communicator for Woods Hole Oceanographic Institution onboard the R/V Atlantis for Popping Rocks Cruise in March/April 2016. Most recently, she was in Antarctica as a part of the National Science Foundation's Antarctic Artists and Writers grant. She is currently working on a graphic novel about life and science in Antarctica.
New England Aquarium
1 Central Wharf, Boston, Massachusetts 02110
(617) 973-5200