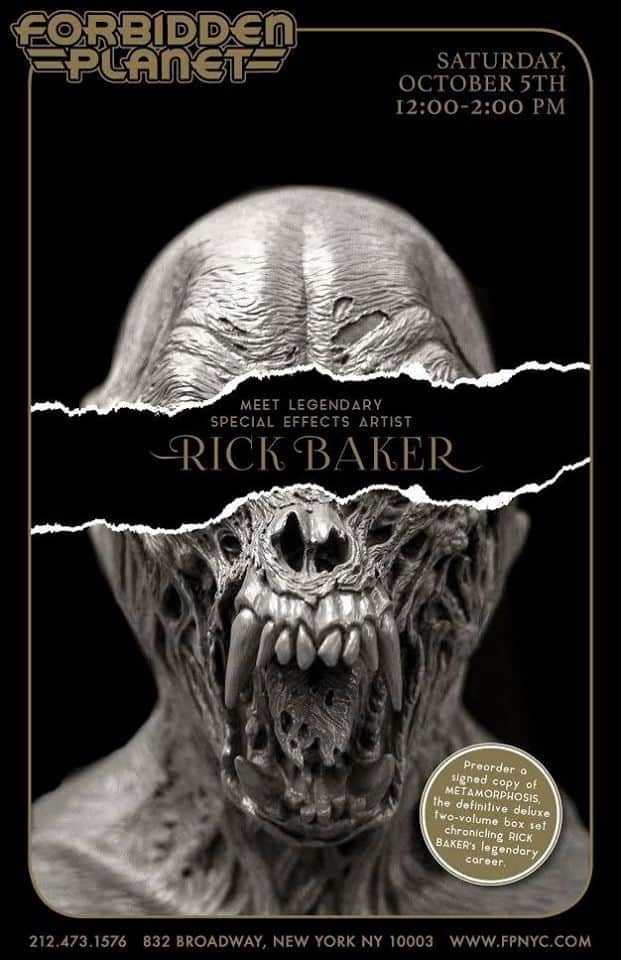 Press Release:
New York City film fanatics listen up because Forbidden Planet is beyond excited to announce an in-store event of most epic proportions. On Saturday October 5th from 12 to 2 PM we will have legendary special effects artist Rick Baker in the house. That's right, seven time Academy Award winner Rick Baker. The man who's hands shaped endless classics like An American Werewolf in London, Men In Black, Octaman, Batman Forever, and Star Wars. I could go on forever, listing his credits but why? You know exactly who I'm talking about. We will be celebrating the release of his upcoming book Metamorphosis, a beautiful deluxe two volume hardcover slip-cased art book chronicling his entire career.
Metamorphosis will be available late October but you can pre-order it at the event, or on-line at www.fpnyc.com and Mr. Baker will sign an exclusive custom book plate that will be inserted in the book when it's in hand. You can pick it up upon the release or we can even make arrangements to mail it to you.
We will have a limited amount of promotional posters for Metamorphosis that Mr. Baker will be signing for attendees whether or not they pre-order the book, you will also be able to bring one personal item you wish to get autographed. People who pre-order the book through Forbidden Planet will get priority treatment and get to skip to the front of the line.
Forbidden Planet
832 Broadway, New York, NY 10003
212-473-1576