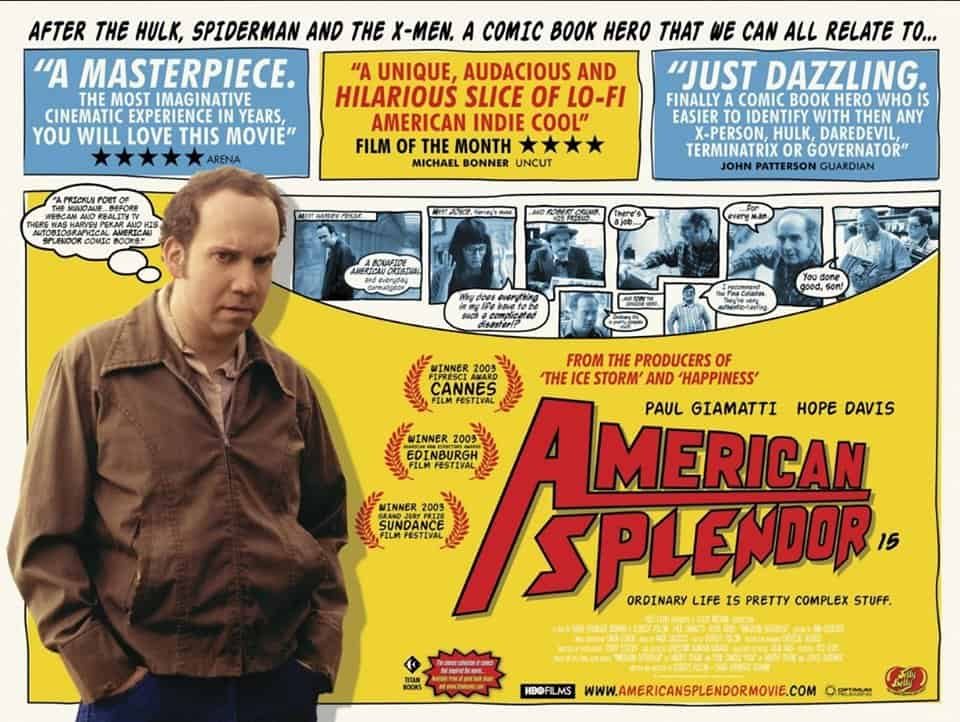 Directors Shari Springer Berman and Robert Pulcini appear in conversation with Dean Haspeiel, Josh Neufeld, and Gary Leib on Wednesday, October 2nd at 6:30 PM at the Society of Illustrators.
The American Splendor film, about legendary comics writer Harvey Pekar, was directed by Shari Springer Berman and Robert Pulcini, and stars Paul Giamatti. A unique hybrid of live action, documentary, and animation, the film won the Grand Jury Prize at Sundance, a critics award at Cannes, the Writers Guild Best Adapted Screenplay award, and was nominated for an Academy Award for Best Adapted Screenplay.
Come for a screening of the film and a discussion afterward  with Springer Berman & Pulcini, animator Gary Leib, as well as other creators associated with the Pekar legacy. In a live edition of their weekly podcast Scene by Scene with Josh & Dean, Haspiel & Neufeld (both former American Splendor illustrators), will spark a discussion about the film's unique construction, reveal previously unexplored connections between the original American Splendor comics and the film, and remind everyone why Pekar is such an important figure in the history of comics.
Scene by Scene with Josh & Dean, which debuted in April 2019, has been covered by Publishers Weekly, Word Balloon, The Beat, Bleeding Cool, Forces of Geek, and many more. Guests on the podcast have included actors from the film, as well as other Pekar artists and collaborators.
About the Speakers
Between them, Josh Neufeld and Dean Haspiel have an Emmy award, a Xeric, a Ringo, a Knight-Wallace Fellowship, multiple residencies at the Yaddo, and have been nominated for numerous Harvey, Eisner, and Ignatz Awards. Both men have been Master Artists at the Atlantic Center for the Arts. Both were long-time illustrators for Harvey Pekar on American Splendor. Native New Yorkers, Josh & Dean met in high school and have been friends ever since. In addition to Scene by Scene, they have collaborated on numerous prior projects.
Neufeld is known for his nonfiction narratives of political and social upheaval, told through the voices of witnesses. His works include A.D: New Orleans After the Deluge and The Influencing Machine. A faculty member of the School of Visual Arts and the Solstice MFA Program at Pine Manor College, Josh has traveled all over the world speaking about comics.
Haspiel created Billy Dogma, The Red Hook, illustrated for HBO's Bored to Death, is a playwright, and helped pioneer personal webcomics. He has produced many superhero and memoir comics, and illustrated Harvey Pekar's "origin story" The Quitter. Dean inspired producer Ted Hope to make an American Splendor movie and introduced him to Pekar.
Society of Illustrators
128 East 63rd Street, New York, NY 10065
212-838-2560