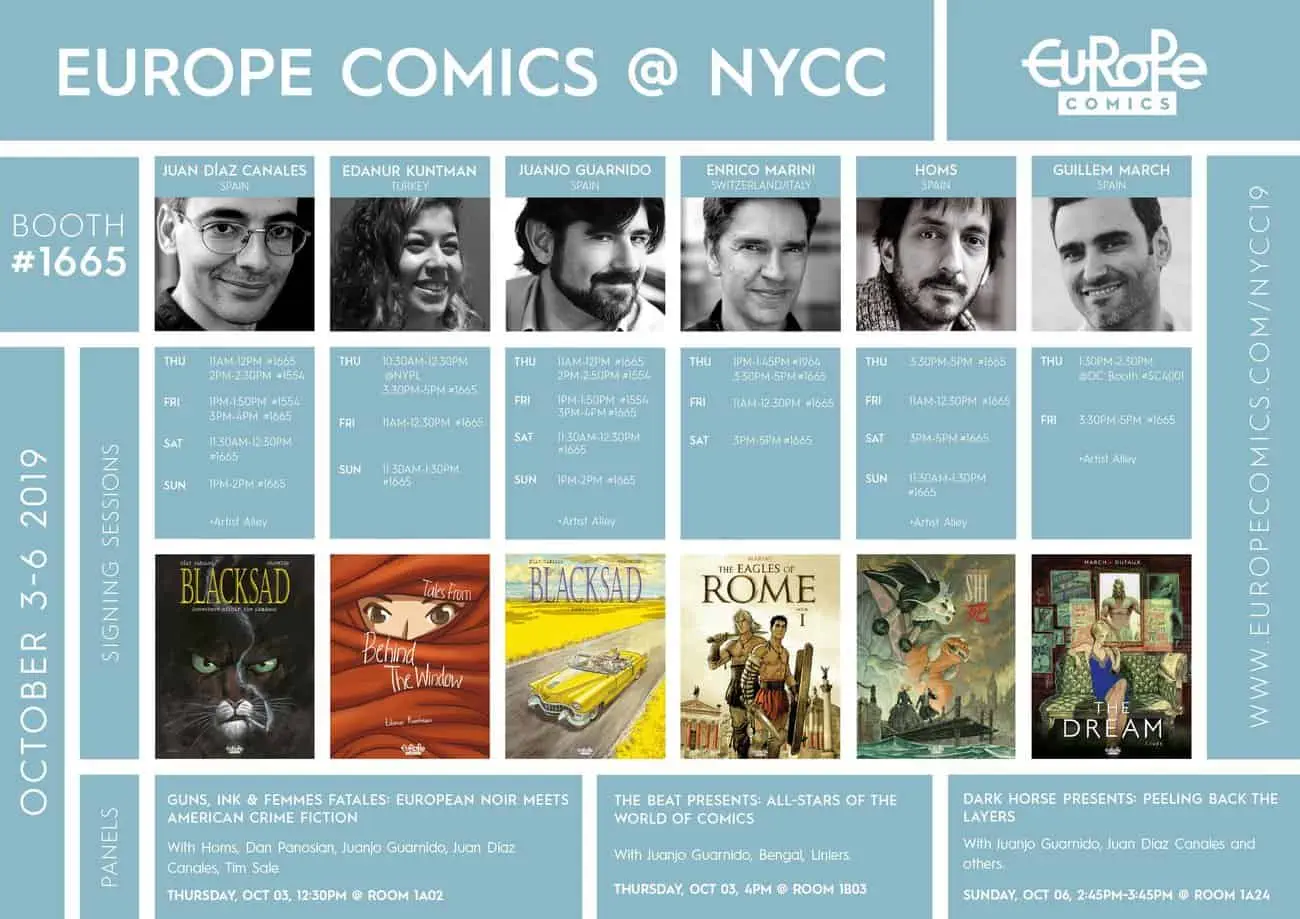 Press Release:
This year, the Europe Comics team returns for the fifth time to the legendary New York Comic Con, set to take place October 3rd – 6th. Over the years we have brought some incredible authors and artists with us across the Atlantic, and this year is no exception. For NYCC 2019, we will be sharing our booth with four incredible talented comics creators: Juan Diaz Canales (Blacksad, Fraternity) and Juanjo Guarnido (Blacksad), José Homs (SHI, Millenium), Edanur Kuntman (Tales from behind the Window), Enrico Marini (The Eagles of Rome, Raptors, Desert Star, Batman: The Dark Prince Charming, Gypsy) and Guillem March (The Dream, Monica and Gotham City Sirens).
THURSDAY 3 OCTOBER
10:30 am – 12:30 pm Edanur Kuntman signing at the New York Public Library
11 am – 12 pm Juanjo Guarnido and Juan Diaz Canales signing at the Europe Comics booth #1665
12:15 pm – 13:15 pm Guns, Ink & Femmes Fatales: European Noir Meets American Crime Fiction  @ Room 1A02. RSVP on Facebook…
With José Homs, Dan Panosian, Juanjo Guarnido, Juan Díaz Canales and Tim Sale.
1 pm – 1:45 pm Enrico Marini signing at the Insight Editions booth #1946
1:30 pm – 2:30 pm Guillem March signing at the DC booth #SC4001
2 pm – 3 pm Juanjo Guarnido and Juan Diaz Canales signing at the Dark Horse booth #1554
3:30 pm – 5 pm Enrico Marini, José Homs and Edanur Kuntman signing at the Europe Comics booth #1665
4 pm – 5 pm The Beat Presents: All-Stars of World Comics @ Room 1B03
With Juanjo Guarnido, Bengal and Liniers
FRIDAY 4 OCTOBER
10:30 am – 12:30 pm Edanur Kuntman signing at the Europe Comics booth #1665
11 am – 12:30 pm José Homs and Enrico Marini signing at the Europe Comics booth #1665
1 pm – 1:50 pm Juanjo Guarnido and Juan Diaz Canales signing at the Dark Horse booth #1554
3 pm – 4 pm Juanjo Guarnido and Juan Diaz Canales signing at the Europe Comics booth #1665
3:30 pm – 5 pm Guillem March signing at the Europe Comics booth #1665
SATURDAY 5 OCTOBER
11:30 am – 13:30 pm Juanjo Guarnido and Juan Diaz Canales signing at Europe Comics booth #1665
3 pm – 5 pm José Homs and Edanur Kuntman signing at Europe Comics booth #1665
SUNDAY 6 OCTOBER
11:30 am – 1:30 pm José Homs and Edanur Kuntman signing at Europe Comics booth #1665
1 pm – 2 pm Juanjo Guarnido and Juan Diaz Canales signing at Europe Comics booth #1665
2:45 pm – 3:45 pm Dark Horse Presents: Peeling Back the Layers @ Room 1A24
With Juanjo Guarnido, Juan Díaz Canales and others