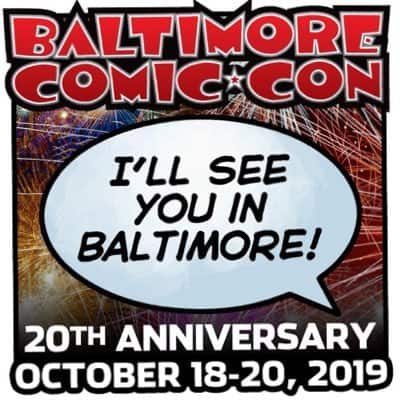 Press Release:
Baltimore Comic-Con is pleased to feature a posse of niche-bending comix auteurs, which include Christa Cassano, Dean Haspiel, Dave Proch, Peter Rostovsky, David Trustman, and Sarah Trustman on October 18-20, 2019 at the Baltimore Convention Center in Baltimore's Inner Harbor. Purchase your tickets online at the Baltimore Comic-Con website.
C Cassano is an award winning artist currently residing in Philadelphia, PA. Her work has been exhibited internationally, and she has been an Artist-in-Residence at IAIA, Yaddo, and The Atlantic Center for the Arts, a regular contributor to comix anthologies, including Alexandria Ocasio-Cortez and the Freshman Force, RESIST!, and A.P.B.- Artist Against Police Brutality. She is also the publisher of The Giant Effect and Le Cadavre Exquis. In 2016, she was nominated for an Eisner Award for co-adapting John Leguizamo's Ghetto Klown into a graphic novel. Her work can be seen at BillMyers.com, Crypt TV, The Les Paul Museum, on The O'Jays new album, and in the upcoming New Stranger Things Art book.
Emmy and Ringo Award-winning cartoonist Dean Haspiel is best known for creating Billy Dogma and The Red Hook and illustrating for HBO's "Bored to Death." His published work includes The Fox, Spider-Man, The Fantastic Four, X-Men, Deadpool, Batman '66, Wonder Woman, Godzilla, Mars Attacks!, Heavy Metal, SpongeBob SquarePants, Popeye, and American Splendor. He has collaborated with Harvey Pekar, Jonathan Ames, Inverna Lockpez, Jay Lynch, Jonathan Lethem, Stoya, and Stan Lee. In addition, Haspiel is an accomplished playwright and Yaddo fellow. Check out his latest graphic novel, The Red Hook vol.2 War Cry (Image Comics), and read his recent webcomic, STARCROSS (The Red Hook, season 3 at Line WEBTOON).
Dave Proch is a native of west Philadelphia and was published in the Locust Moon Press anthology books, Little Nemo: Dream Another Dream, Once Upon a Time Machine, and various issues of their Quarter Moon anthology series. He self-publishes Mango Lizard, as well as The Homecoming King. He'll be drawing 5 dollar business card size paintings of your favorite characters throughout the weekend.
Peter Rostovsky is a Russian-born artist and writer whose art has been shown widely in the US and abroad at museum venues such as PS1/MoMA, The Walker Art Center, MCA Santa Barbara, Artpace, The Blanton Museum of Art, S.M.A.K., and a host of private galleries. His art criticism, under the pen name David Geers, has appeared in the magazines October, BOMB, The Brooklyn Rail, and Frieze. Meanwhile, his comics-based work has appeared in the Third Rail Quarterly, Unbag, Topic, and Devil's Due's Talk Bernie To Me!, and the acclaimed Alexandria Ocasio-Cortez and the Freshman Force, where his contribution was highlighted by the New York Times, Vice, and other media outlets. At Baltimore Comic-Con, Rostovsky will be giving a sneak peak into his first major graphic novel: Damnation Diaries.
David Trustman is an Indy comix writer/artist, mnemonist, and TEDx speaker. He is the co-creator and artist of the groundbreaking graphic series The Memory Arts which teaches ancient mnemonic (memory) techniques through vibrant watercolor imagery, and has been called "…one of the most important books in magic…ever!" (Vanish Magazine, May 2018). David got his start in indy comix as writer/artist of The Rise, Welcome to Karma Springs, and GOD Slap. David's new comic Theuth: Totem Quest is debuting at Baltimore Comic-Con!
Writer/ Artist Sarah Trustman broke into the publishing scene with her co-creation, The Memory Arts. The renowned series teaches mnemonics (the ancient art of memory) through fun, modern, graphic storytelling. A mnemonist and TEDx speaker, Sarah regularly speaks and teaches about memory to audiences both large and small. Her newest comic Theuth: Totem Quest is debuting at Baltimore Comic-Con!
"The Haspiel booth is always filled with comics' (or comix'?) best kept secrets," said Marc Nathan, show promoter for the Baltimore Comic-Con. "Christa, Dino, Dave, Peter, and the Trustmans are amazingly creative people, and we're thrilled to have them aboard in 2019!"
Visit www.baltimorecomiccon.com/tickets for more information and to purchase your advanced tickets!
In the coming weeks, look for more announcements from the Baltimore Comic-Con. We are looking forward to highlighting our guests, the Ringo Awards, industry exclusives, and programming. The latest developments can always be found on our website, Twitter, Instagram, and Facebook pages.