SacAnime welcomes from the cast of One Punch Man Max Mittelman, Robbie Daymond, and Ray Chase to SacAnime Winter 2020. They will all be participating in SacAnime's Free Autograph Sessions.
SACANIME is being held on Friday, Saturday and Sunday January 3rd – 5th, 2020 at CAL EXPO. For more information, check out our website at: www.sacanime.com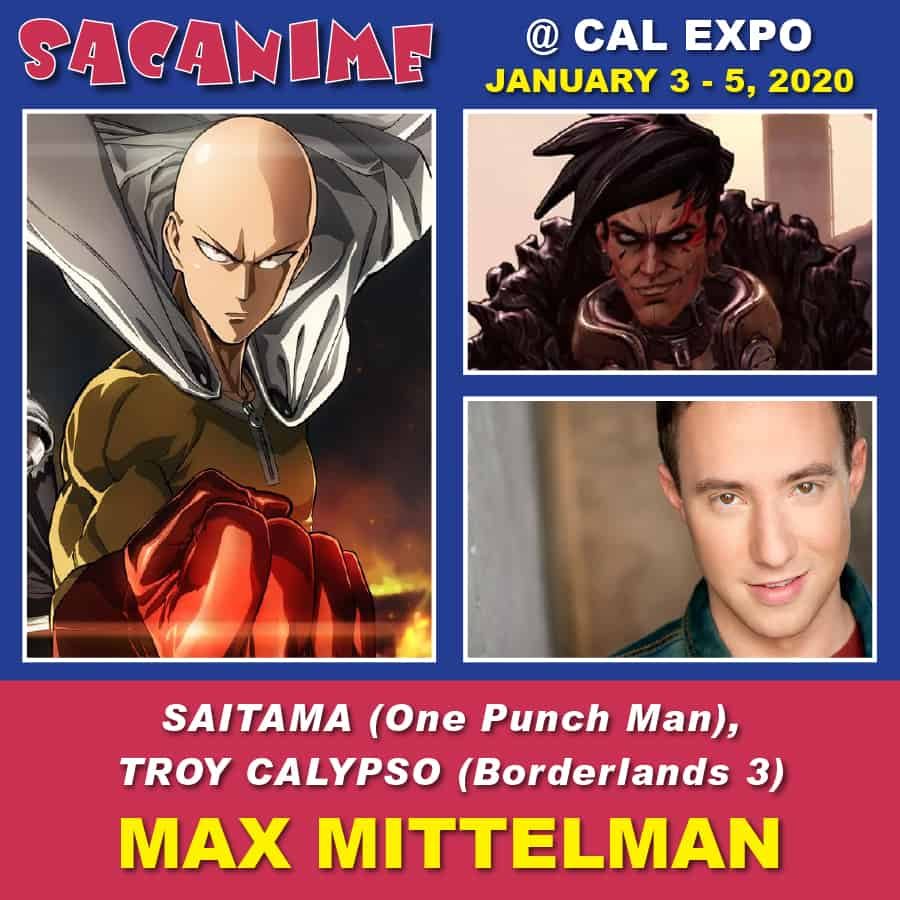 Although he is well known as Saitama in ONE-PUNCH MAN, Max Mittelman has also given life to the hotheaded troublemaker with a heart of gold, Ryuji, in PERSONA 5, the carefree and always hungry, Plagg, in MIRACULOUS LADYBUG, and the lazy yet virtuous sin of sloth, King, from SEVEN DEADLY SINS.
A Los Angeles native, Max has been entertaining audiences from behind the mic, onstage, and in front of the camera since he was in high school. His fearlessness has been the foundation for his versatility and he's enjoyed creating a wide range of characters for TV animation and video games.
Other notable roles include: FIRE EMBLEM (Leo, Gray, Kaden, Forrest, Gordin), MARVEL'S SPIDER-MAN (Harry Osborn), YOUR LIE IN APRIL (Kousei), KINGDOM HEARTS 2.8 (Luxu), BEN 10 (Overflow), FALLOUT 4 (Zeke), HUNTER x HUNTER (Meruem), MOB PSYCHO 100 (Ritsu), BUNGO STRAY DOGS (Atsushi), TRANSFORMERS (Blurr), JUSTICE LEAGUE: ACTION (Jimmy Olsen), ELENA OF AVALOR (Bobo), WORLD OF WARCRAFT (Prince Farondis), MAGI: THE KINGDOM OF MAGIC (Yunan), STAR WARS: BATTLEFRONT (Quarren), ALDNOAH.ZERO (Inaho), BORUTO (Konohamaru), SAO II (Jun), GUNDAM: IRON-BLOODED ORPHANS (Ein), STAR OCEAN 5 (Fidel), GUNDAM: THUNDERBOLT (Io), TALES OF BERSERIA (Shigure), STARCRAFT II (Stone), ATELIER: ESCHA & LOGY (Logy), DURARARAx2 (Shijima), DORAEMON (Soby), HALO 5 (Rooker), SKYLANDERS (Panderghast).
With plans to become a doctor, Max studied science for four years at USC. Yet he ultimately received his degree from the Theatre Department because he always found himself drawn to what fulfills him the most: creating worlds and telling stories through performance.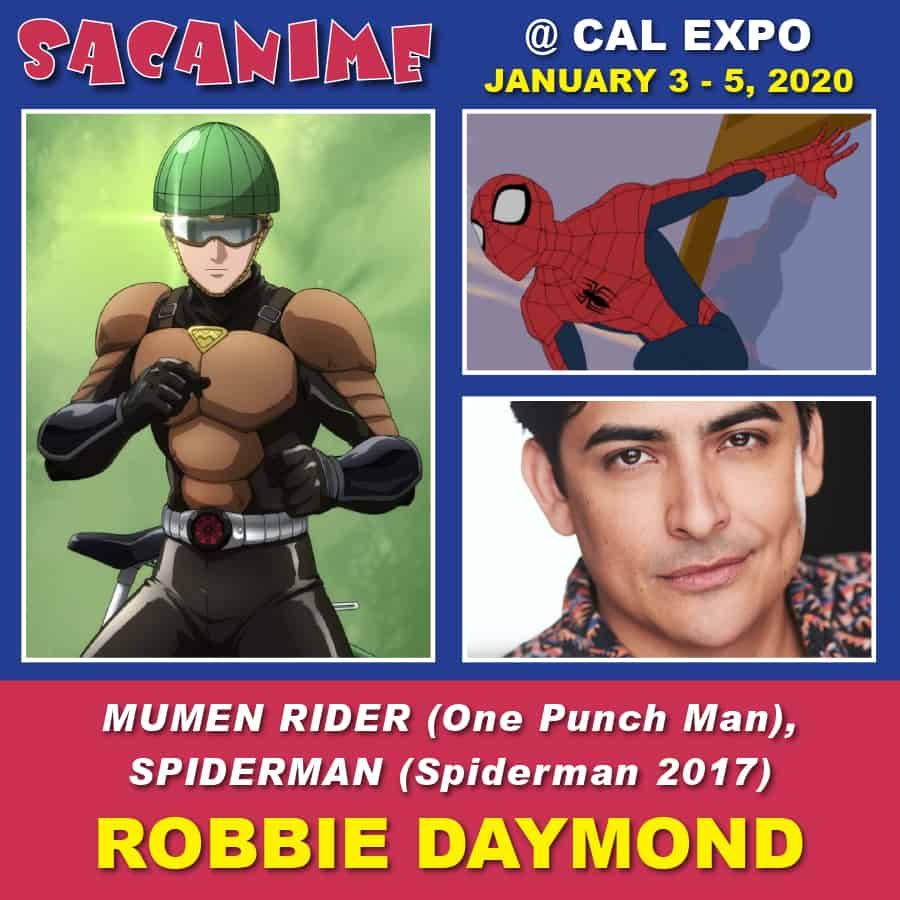 In the Anime world Robbie may be best known as the most prolific voice of Tuxedo Mask in VIZ's dub of Sailor Moon & Sailor Moon Crystal. He's also played several lead and fan-favorite roles such as: Mitsuki in Boruto, Ikoma in Kabaneri of the Iron Fortress, Mumen Rider in One Punch Man, Joe Kido in Digimon Adventure tri., Chrollo in HxH, Ren Tsuruga in Skip Beat, Leon Lau in Last Hope, Izuminomkami in Katsugeki/Touken Ranbu, Gilthunder in Seven Deadly Sins, Ide in FLCL Progressive and voiced other shows such as: Gundam: Iron-Blooded Orphans, Naruto Shippuden, Occultic Nine, Baki, Tales of Zestiria the X, Cyborg 009, K: Return of Kings, Fate/Stay Night: Unlimited Blade Works, JoJo's Bizarre Adventure, Sword Art Online 2, God Eater, TerraforMARS, Magi; the Adventures of Sinbad, Durararax2, Charlotte, Lupin the 3rd, Aldnoah Zero, Your Lie in April, Glitter Force, Rock Lee & His Ninja Pals & more. There are also a several others coming up that he can't mention quite yet…
Robbie is very active in the realm of western animation as well. He stars as series-lead in several shows such as: the current voice of Spider-man/Peter Parker in the Marvel Animated Universe (Marvel's Spider-man, Guardians of the Galaxy, Avengers Assemble & Black Panther), Sway Sway in Breadwinners, Blake in Get Blake, & Tink in Bottersnikes and Gumbles. He has guest-starred and reoccurred on other popular cartoons like, Star Wars Rebels, Young Justice, OK-KO Let's be Heroes, Pinky Malinky, Costume Quest, Transformers: Rescue Bots, Ever After High, Little People and The Tom & Jerry Show. He has also voiced characters in several feature films, including Shoya in A Silent Voice, Me in I Want to Eat You Pancreas, Toneri Otsutsuki in Naruto the Last, Mitsuki in Boruto; Naruto the Movie, Porta in Patema Inverted, Lino is Gundam the Origin III, Leo in Barbie: Starlight Adventures and the Fairy Cronies in Strange Magic, among others.
Robbie's also a staple in the video game industry, and can be heard in Final Fantasy XV as Prompto, Tales of Zestiria as Sorey, Persona 5 as Akechi, Fist of the North Star: Lost Paradise as Kenshiro, Pokemon GO as Professor Willow, League of Legends as Kayn, Just Cause 4 as Oscar Espinosa, TMNT: Mutants in Manhattan as Michelangelo, Spyro Reignited as Hunter the Cheetah, Agents of Mayhem as August Gaunt, Marvel vs Capcom Infinite as Spider-man, State of Decay 2, Marvel Heroes United, Telltale's Walking Dead, Final Fantasy Type-0, Wario Ware Gold, Star Wars: The Old Republic, The Division, Nier Automata, Fire Emblem: Echoes, Fire Emblem: Heroes, God Eater 1&2, Lego Star Wars: The Force Awakens, Lego Marvel's Avengers, Friday the 13th, Radiant Historia: Perfect Chronology, The Lego Movie Videogame, Technomancer, Trials of Cold Steel II, Shining Resonance Refrain, Akiba's Beat, Masquerada, Aion, Stella Glow, Xenoblade Chronicles X, Atelier Sophie, Exist Archive, Grand Chase, Skyforge, Forbidden Magna, Lineage 2, Etrian Odyssey Untold II, Blade & Soul, Fairy Fencer F and many more!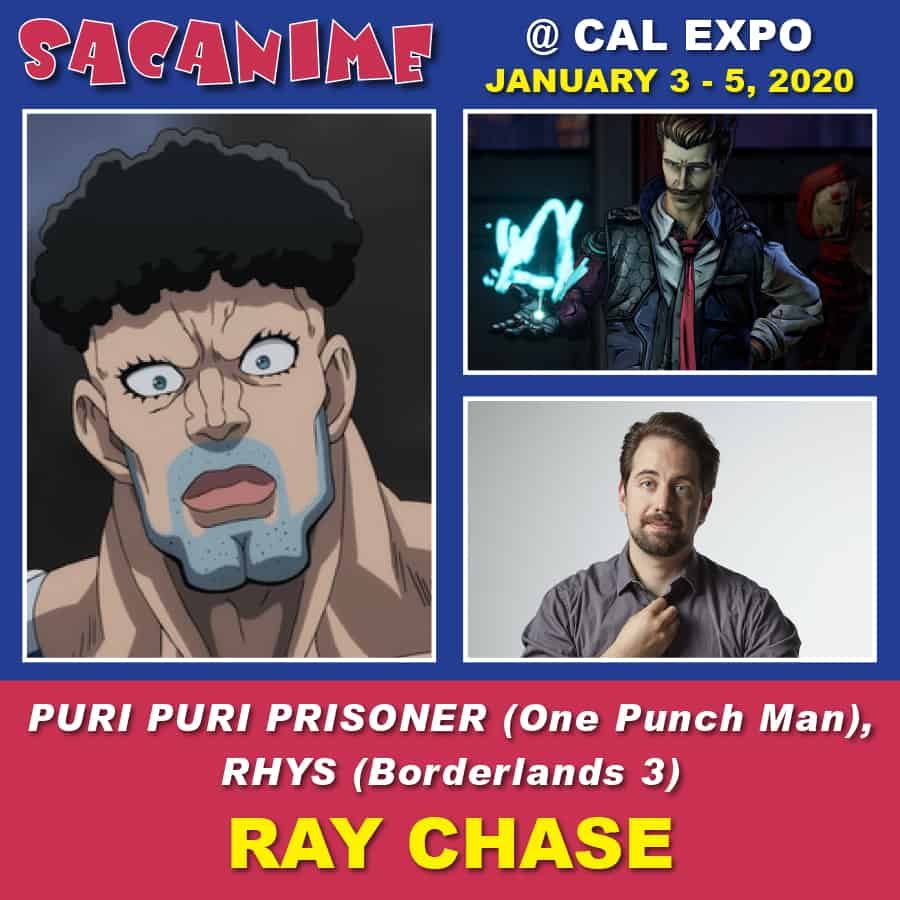 Ray Chase is an actor who has attached himself to a great many video games and anime in a very short amount of time. In the last few years, fans recognize him as the main character Noctis in FINAL FANTASY XV, the Male Player in ANTHEM, Master of Masters from KINGDOM HEARTS, Artorius from TALES OF BERSERIA, Roy/Gaius/Alphonse/Fernand from FIRE EMBLEM, Eve from NIER AUTOMATA, and his most celebrated role as the Subway Announcer in PERSONA 5. He's also made appearances in GOD OF WAR, MASS EFFECT ANDROMEDA, HORIZON: ZERO DAWN, DEUS EX: MD, XENOBLADE CHRONICLES X, and TYRANNY. His anime roles include Roswaal in RE:ZERO, Keith Flick in B: THE BEGINNING,, Puri Puri Prisoner in ONE PUNCH MAN, Yuu Otosaka in CHARLOTTE, Yukiatsu in ANOHANA: THE FLOWER WE SAW THAT DAY, Howzer in SEVEN DEADLY SINS, Hanzo/Squala in HUNTER x HUNTER, Rubber Soul in JOJO'S BIZARRE ADVENTURE, as well as joining the casts of YOUR NAME, BERSERK, MOB PSYCHO 100, GUNDAM: IRON BLOODED ORPHANS, BLUE EXORCIST, FAIRY TAIL, and many others! He is a proud founding member of the comedy and gaming troupe Loud, Annoying, and Very Annoying (LAVA), which he shares with fellow actors Max MIttelman and Robbie Daymond.