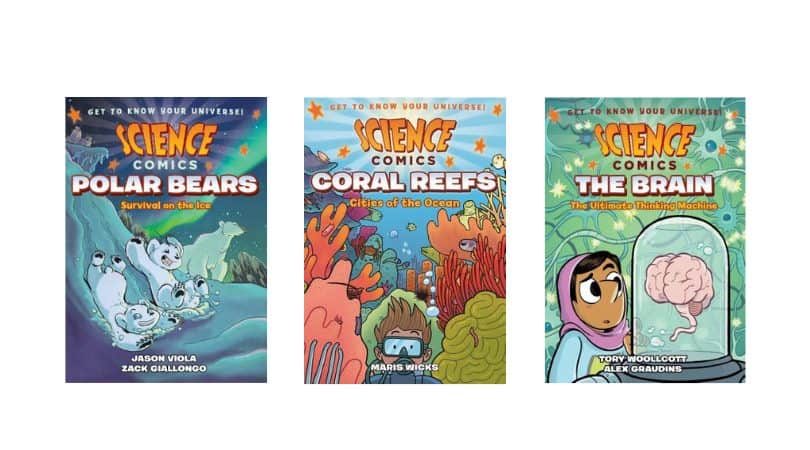 Join Belmont Books on Thursday, July 18, 2019 at 7 PM for an evening of educational comics with some great authors and illustrators! Featuring:
Alex Graudins, The Brain: The Ultimate Thinking Machine
Maris Wicks, Coral Reefs: Cities of the Ocean
Jason Viola & Zack Giallongo, Polar Bears: Survival on the Ice
Alex Graudins is a cartoonist and illustrator currently living in Rhode Island. She is a graduate of the School of Visual Arts' Cartooning class of 2016. Science Comics: The Brain is her first book!
Maris Wicks lives in sunny Somerville, Massachusetts. She is the author behind Human Body Theater, as well as the illustrator of New York Times Bestselling Primates, with Jim Ottaviani. Wicks has also created comics for Spongebob Comics, DC and Marvel. When Maris is not drawing comics, she can be found prepping slides for her collection of vintage microscopes.
Jason Viola grew up in small farm town in Massachusetts where he spent idle hours drawing comic strips about birds and cats. While his father's affinity for woodworking and storytelling encouraged his creativity, his mother managed a menagerie of pets which spurred an interest in animals that continues today. Continuing to find inspiration from biology and through the lens of pop culture, he has written about manatees, amoebas, and flowers with a modern, satiric twist.
Zack Giallongo is a professional cartoonist, cheese enthusiast, and amateur banjo-ist. His first solo graphic novel, Broxo, is about teenage barbarians and was published in 2012. It hit #4 on the New York Times Bestsellers list.
Belmont Books
79 Leonard St, Belmont, MA 02478
(617) 932-1496