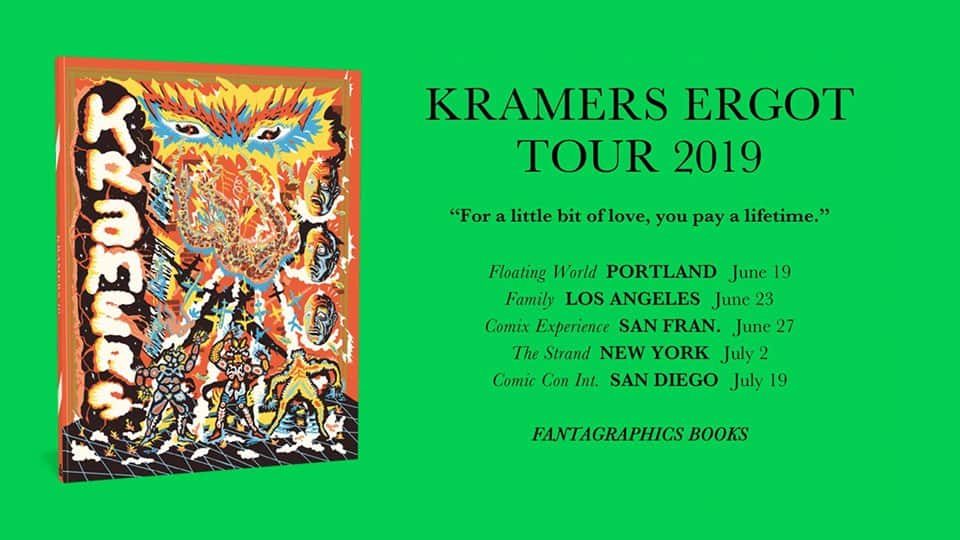 Sammy Harkham, Lale Westvind, Kim Deitch, Dash Shaw, David Collier, Christopher Forgues, and Connor Willumsen appear at the Strand Book Store on Tuesday, July 2, 2019 at 7 PM! They'll be joined in conversation by moderator Dan Nadel, founder of Picturebox and former editor of The Comics Journal.
Sammy Harkham is a cartoonist and editor based in Los Angeles. He has won numerous awards, including The Los Angeles Times Book Prize for Graphic Novel of the Year for his book, Everything Together. He draws the highly acclaimed comic book series, Crickets, and most recently edited, with Ronald Bronstein, the 500 page Complete Dream Diaries of Robert Crumb.
Lale Westvind is cartoonist and animator based in Philadelphia, PA. Her work has been published in comics and anthologies internationally such as Best American Comics, The Lifted Brow, Strapazin, Lagon Revue and The New York Times. She has self-published over a dozen comic books and two anthologies. She is the author of Hax (Breakdown Press, 2015), Now and Here #1-3, (Pegacorn Press, 2014) and Grip (Perfectly Acceptable Press, 2018). Her self-published comic Hot Dog Beach #2 won an Ignatz Award in 2012. Her animation work has shown internationally at festivals, galleries and the New Museum in New York City. Her music video for Lightning Bolt's Metal East won an award at Leeds International Film Festival in 2015. Lale Westvind is currently teaching in the illustration department at Parsons School of Design. The second issue of Grip will be released this summer and a collection her work published by 2dcloud is forthcoming
Kim Deitch has a reserved place at the first table of underground cartoonists. He got his start doing comic strips for the East Village Other in 1967 and in 1969 he succeeded Vaughn Bodé as editor of Gothic Blimp Works, the Other's underground comics tabloid.His Boulevard of Broken Dreams was named one of Time's "100 Best Graphic Novels Ever Written" and he has been awarded an Eisner and an Inkpot Award. Deitch remains a true cartoonists' cartoonist, adored by his peers as much as anyone in the history of the medium.
Dash Shaw is a cartoonist and animator. His graphic novel New School, about two brothers teaching English at a theme park, was named one of the best books of the year by NPR in 2013. His other recent books include Doctors, BodyWorld, and Bottomless Belly Button. He directed the critically-acclaimed, feature-length animated film, My Entire High School Sinking Into the Sea. His comics work can also be found in the acclaimed comics anthology NOW and the new IDW series Clue.
David Collier is considered one of the most idiosyncratic and singular voices in alternative comics. His first comic strip was published in the R. Crumb-edited magazine Weirdo, and has since been published in numerous anthologies, newspapers, and magazines. Most of this material was collected in Just the Facts: A Decade of Comic Essays. Since 1990, Collier has done comics and illustrations for Canadian newspapers such as The Globe and Mail and the Saskatoon StarPhoenix. He has illustrated stories for Harvey Pekar's American Splendor, most notably the three-issue American Splendor: Unsung Hero. The aptly named series Colliers, published by Fantagraphics and drawn and quarterly through the 90's and early 00's. Much of this material was reprinted in Portraits from Life. Collier's Surviving Saskatoon documents the true story of David Milgaard, a man who spent over 20 years in prison after he was wrongfully accused of the brutal rape and murder of a nurse in 1969. His latest books, Chimo and Morton, cover his experiences rejoining the army at 41, and riding the Canadian railways, respectively. Collier lives with his wife, Ontario artist Jennifer Hambleton, and son James, in Hamilton, Ontario.
Christopher Forgues, (also known professionally as C.F. and Kites), is considered one of the most influential cartoonists of the last 10 years. An artist and musician, he best known for his graphic novel series, Powr Mastrs. His most recent book, Pierrot Alterations, was released by Anthology.
Connor Willumsen is a cartoonist and multi-disciplinary visual artist. His work has has received various awards, honors, and scholarships, including a fellowship at The Center for Cartoon Studies. His work is featured in the Kramers Ergot anthology, Sharjah Biennial 14, is published by Breakdown Press, and his first major book, Anti-Gone, published by Koyama Press, was a finalist for an LA Times Book Prize, Doug Wright Award, Pingprizen Award, Ignatz Award, and was recently adapted into a mixed-reality play. He is based in Montréal, Canada.
Strand Book Store
828 Broadway, New York, NY, 10003-4805
(212) 473-1452