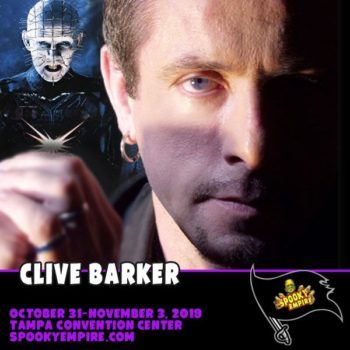 We are pleased to announce Horror Writer, Visual Artist, Director and creator of nightmares, CLIVE BARKER, will join us at Spooky Empire in Tampa, FL!
Be it his films, books and even his art, CLIVE BARKER has scared us in more ways then one…and we love him for it!
His never ending list of work includes films such as "Hellraiser", "Nightbreed", Candyman", "The Midnight Meat Train" and more, plus novels such as "Imajica", "Hellbound Hearts", "Absolute Midnight", "Galilee", "Abarat", "Cabal" are just a sliver of his resume of creativity.
Do not miss out on meeting CLIVE BARKER…plus what will be an incredibly over the top 4-day HALLOWEEN event, starting on Thursday, October 31 and celebrating through Sunday, November 3! The plans we have in store for you are endless!!
Get your tickets and reserve your rooms TODAY! A variety of ticket packages are available as are multiple hotel choices in the downtown Tampa area, all just walking distance from the TAMPA CONVENTION CENTER!
Visit us at spookyempire.com for all the info you need!