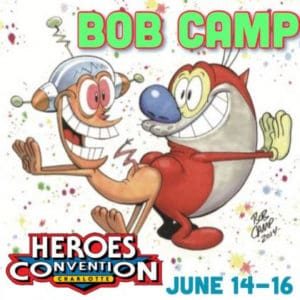 HeroesCon has announced even more guests for their 2019 show including Ivan Brandon, Bob Camp, Hy Fleishman, Nayoung Kim, Mike McKone, Rick Parker, Lisa Trusiani, Thom Zahler, Chrissie Zullo, and more! HeroesCon 2019 takes place on June 14-16, 2019 at the Charlotte Convention Center.
IVAN BRANDON | AA-TBA
Black Cloud, Drifter, Viking
BOB CAMP | AA-TBA
Ren & Stimpy, Thundercats
HY FLEISHMAN |AA-TBA
Pre-Comics Code Golden-Age Comic Artist 
NAYOUNG KIM | AA-TBA
The Beauty, Blackhand Ironhead, The Ghost in the Shell, Mr. and Mrs. X
MIKE MCKONE | AA-TBA
Justice League United, Avengers: Endless Wartime
RICK PARKER | AA-TBA
Beavis and Butt-Head, Tales from the Crypt, Deadboy 
LISA TRUSIANI | AA-TBA
Barbie Comics, Apartment 3-G
THOM ZAHLER | AA-TBA
Cupid's Arrows, Time & Vine, Love and Capes, Warning Label, My Little Pony
CHRISSIE ZULLO | AA-TBA
Fables, Rick and Morty, Star Wars: Forces of Destiny
Cancellations: Allen Bellman, Brendan Cahill, Eric Canete, Joey Ellis, Chris Giarusso, Gene Gonzales, Megan Levens, John McCrea, Tom Palmer, Joe Pekar, Ramon Perez, Zack Soto, John Van Fleet, Chip Zdarsky 
For the most up-to-date information, check our blog, or sign up for the weekly Heroes Hotline newsletter. You can also follow us on Twitter and Facebook!
BUYING AN ADVANCE PASS MEANS YOU'LL GET ANY ADVANCE INCENTIVES WE OFFER, FREE!
ENTRY WILL BE $25: FRI $25: SAT $20: SUN / AT THE SHOW ITSELF, SO YOU SAVE AS MUCH AS $20 BY PURCHASING ADVANCE PASSES TODAY! TICKETS ARE NOT REFUNDABLE, UNDER CERTAIN CIRCUMSTANCES WE MAY CREDIT AN UNUSABLE TICKET TOWARD FUTURE TICKET PURCHASES.
HEROES CONVENTION was founded in 1982 by Shelton Drum, owner of Charlotte's Heroes Aren't Hard To Find comics shop. Since then the convention has become famous for its comics-first and family-friendly atmosphere, where fans can mingle directly with professionals and exhibitors. Boasting an incredible guest list built mainly on reputation and goodwill, HeroesCon is known nationwide as a "must" on the summer schedule, drawing fans, exhibitors, and creators from all over the world to the Charlotte Convention Center.