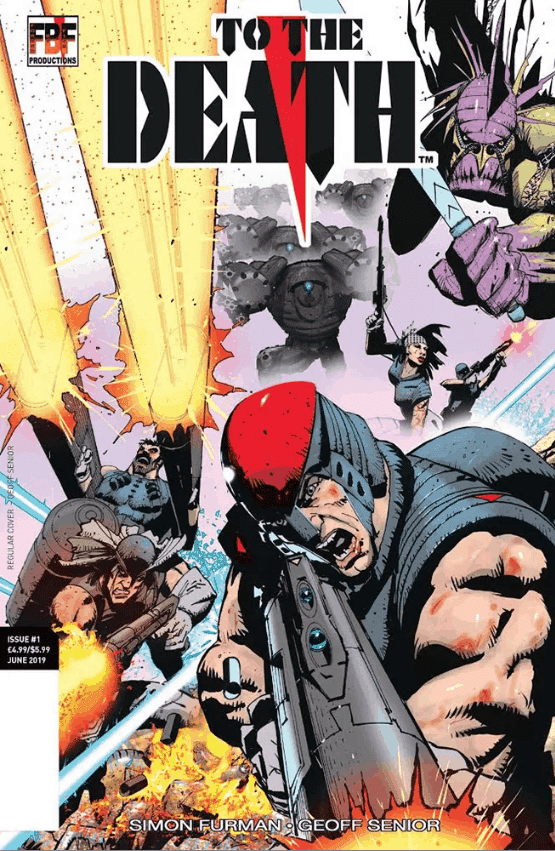 Writer Simon Furman and artist Geoff Senior will be launching their new comic, To The Death, at the Forbidden Planet London Megastore on Saturday 22nd June, starting at 1:00pm.
Earth, 2674: career soldier Aleksy Dryagin comes home to a hero's welcome… and a death sentence.
Thrust into a maelstrom of power plays, betrayal and entrenched last stands, Dryagin finds enemies at every turn, even within his own Pacifier squadron, and a malignant conspiracy that threatens the lives of his wife and son… and countless billions of others.
Simon Furman is a writer for comic books and TV animation, his name inextricably linked to Transformers, the 80s toy phenomenon. He has written literally hundreds of stories about the war-torn 'robots in disguise', for Marvel Comics (US and UK), Dreamwave and most recently for IDW Publishing. His other comic book credits include Doctor Who, Dragon's Claws, Death's Head, Alpha Flight, Turok, She-Hulk, Robocop and What If?
Geoff Senior has been a professional artist and illustrator for over 35 years. Although most notorious for his work on Transformers comic in the 1980s, he has provided artwork for many comic titles including Action Force, Dragon's Claws, and Judge Dredd. Geoff also created the Death's Head character for Marvel in 1987 with Simon Furman.
Forbidden Planet London Megastore
179 Shaftesbury Avenue, London, WC2H 8JR
0207 420 3666