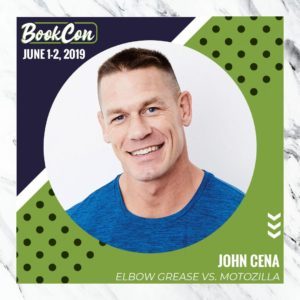 Press Release:
Global superstar and icon John Cena goes one-on-one with BookCon (fortunately on the stage, not in the ring!) on Saturday, June 1st at 2:00 PM. In this rare discussion, the beloved entertainer and dedicated philanthropist who's renowned for his humor, athleticism, and acting, shares insights and stories about his unique life in the ring, in front of the camera, and behind-the-scenes as a best-selling picture book author.
While he's increasingly known for his work in films such as Trainwreck, Ferdinand, and the Transformers spin-off Bumblebee, he's best known for being a 16-time WWE World Champion and five-time US Champion. But most importantly, he's the #1 requested Make-A-Wish granter, as he has made more than 500 Make-A-Wish visits. Please join John and he discusses Elbow Grease vs. Motozilla, a high-octane story all about teamwork, which is the second picture book in the #1 New York Times Bestselling series Elbow Grease.
John Cena will also appear from 11:30 AM – 1:30 PM in the River pavilion for a very special Photo-op Event to celebrate "Elbow Grease", a picture-book series all about perseverance and believing in yourself!
For this Photo-op event, fans will have their photo taken with John Cena when they purchase a pre-signed copy of "Elbow Grease" at the Javits Center. Book purchase required.
• All books will be pre-signed with an "Elbow Grease" branded bookplate.
• Photo with John Cena will be taken by professional photographer
• No personal photography
• No memorabilia please
For more information or to register, please visit www.bookexpoamerica.com.