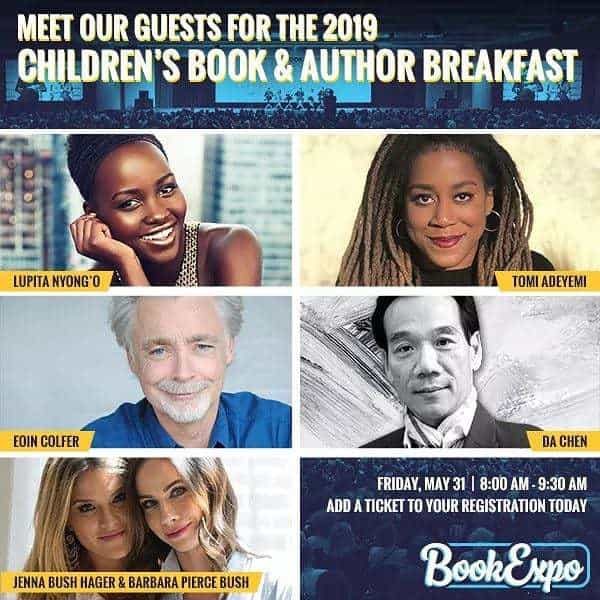 Press Release:
Jenna Bush Hager & Barbara Pierce Bush Take the BookExpo Stage with Lupita Nyong'o, Tomi Adeyemi, Eoin Colfer and Da Chen to Discuss Children's Literature and Their Upcoming Children's Works
ReedPOP's BookExpo has unveiled the lineup for the Children's Book & Author Breakfast, an event bringing together some of literature's most prominent Children's and Young Adult authors. The Children's Book & Author Breakfast continues to be one of the most sought-after events of the show, drawing over 1,000 attendees each year for a morning of lively conversation with literary giants.
The event will be co-hosted by sisters Jenna Bush Hager and Barbara Pierce Bush, daughters of former President George W. Bush and former First Lady Barbara Bush. Jenna Bush Hager is a correspondent for NBC's TODAY and Editor-at-Large for Southern Living magazine, while Barbara Pierce Bush is CEO and co-founder of Global Health Corps, a non-profit organization that mobilizes a global community of young leaders to build the movement for health equity. This November, they are releasing a picture book, Sisters First. Inspired by their 2017 memoir, Sisters First is a celebration of the bond between sisters.
BookExpo will welcome Academy Award-winner Lupita Nyong'o (Marvel's Black Panther, 12 Years a Slave) to discuss her debut children's book, Sulwe. Drawing inspiration from her own childhood, Sulwe follows a young girl in Kenya who feels self-conscious about her dark skin until she embarks on an adventure that will lead her to self-love and acceptance. Tomi Adeyemi, author of bestselling young adult fantasy novel Children of Blood and Bone, will take the stage to talk about the highly-anticipated second title in her Legacy of Orïsha trilogy, Children of Virtue and Vengeance. They will be joined by Eoin Colfer, author of the beloved Artemis Fowl series, who will discuss his buzzed about upcoming spin-off novel, The Fowl Twins. Additionally, Da Chen, bestselling author of Brothers and Colours of the Mountain, will preview his forthcoming work, Girl Under a Red Moon, which tells the story of his resolute older sister and their childhood growing up together during the Chinese Cultural Revolution.
Taking place Friday, May 31, the BookExpo Children's Book & Author Breakfast will kick off the final day of the 3-day event, further establishing BookExpo as the must-attend destination for the publishing industry.
"The Children's Book & Author Breakfast draws a huge audience of book lovers looking to discover breakout talent in the world of children's and young adult literature and we are excited to welcome this year's outstanding panelists," said Jennifer Martin, Event Director of BookExpo. "With an array of unique perspectives and works across multiple genres, this year's speakers are sure to offer a morning of exciting and meaningful conversation, as all of their works examine a variety of traditionally underserved populations."
Full program information can be found below:
FRIDAY, MAY 31
8:00AM – 9:30AM CHILDREN'S BOOK & AUTHOR BREAKFAST (Main Stage)
The Friday morning breakfast will feature Lupita Nyong'o, author of Sulwe (Simon & Schuster Books for Young Readers); Tomi Adeyemi, author of Children of Virtue and Vengeance (Henry Holt & Co.); Eoin Colfer, author of The Fowl Twins (Disney-Hyperion); and Da Chen, author of Girl Under a Red Moon (Scholastic Nonfiction). The event will be co-hosted by Jenna Bush Hager & Barbara Pierce Bush, co-authors of Sisters First (Little, Brown and Company).
The Children's Author breakfast compliments an exciting line-up of Children's publishers exhibiting on the show floor including Bonnier Publishing, Candlewick, Cottage Door Press, Disney, Lerner Publishing, Phidal, Phoenix International, Sleeping Bear Press, Sterling Publishing and Sourcebooks.
This year, Reed Exhibitions became the official sponsor of Children's Book Week. The sponsorship is supported by a donation to the Children's Book Council's Every Child a Reader program and includes the printing of 125,000 Book Week posters that will be distributed at 1,000 schools, libraries, and bookstores nationwide from April 29 to May 5, 2019, during the centennial celebration of Children's Book Week. In addition, Reed and Every Child a Reader staff will work jointly on promoting the Annual Silent Art Auction at BookExpo in conjunction with the ABA, organizing author and illustrator events at the Family HQ at BookCon with the support of CBC member publishers, and arranging Reed staff visits to schools.
For more information or to register, please visit www.bookexpoamerica.com.