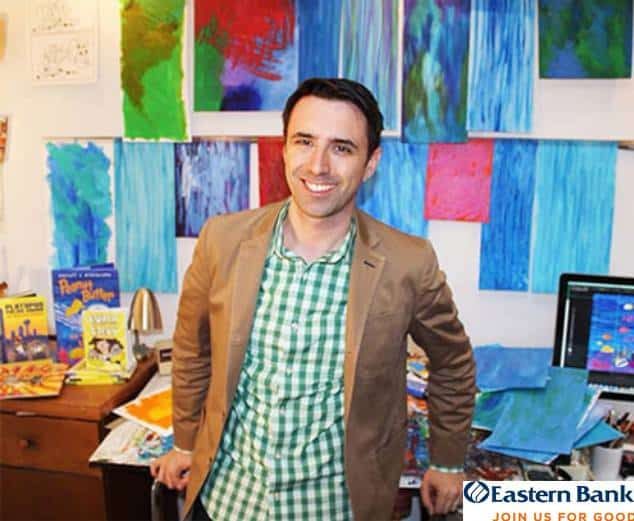 Press Release:
Please join Montserrat on Thursday, May 16, 2019 for a special lecture at the Cabot Theater by acclaimed artist Jarrett J. Krosoczka, Montserrat College of Art's 2019 Commencement Speaker. (Sponsored by Eastern Bank) (This is a free lecture, open to the public.)
6:00 – 7:00 PM Public Lecture, The Cabot (doors open at 6pm)
7:00 – 8:30 PM Artist Reception, Carol Schlosberg Alumni Gallery, 23 Essex Street
Krosoczka, a former Montserrat faculty member, creates books with humor, heart, and a deep respect for his young readers—qualities that have made his titles perennial favorites on the bookshelves of homes, libraries, and bookstores.
First published at the age of 23, Krosoczka has more than 30 published books to his credit. Titles include several picture books, his wildly popular Lunch Lady graphic novels, and the Platypus Police Squad middle-grade novels. He also recently launched a new story arc in the Jedi Academy series with Star Wars™: Jedi Academy: A New Class.
Krosoczka is a two-time winner of the Children's Choice Book Awards Third to Fourth Grade Book of the Year and has been a finalist for the prestigious Will Eisner Comic Industry Award. He has delivered two TED Talks, which have collectively accrued more than two million views online. Krosoczka has been featured on NPR and can be heard weekly on The Book Report with JJK on SiriusXM's Kids Place Live, a show focusing on books, authors, and reading. His Punk Farm, Lunch Lady, and Platypus Police Squad series are all currently in development for film.
Realizing that his stories can inspire young readers beyond the page, Krosoczka founded School Lunch Hero Day, a national campaign that celebrates school lunch staff, and Platypus Police Reading Squad, a program in which police officers read aloud to children in schools and libraries. A consummate advocate for arts education, Krosoczka also established the Joseph and Shirley Krosoczka Memorial Youth Scholarships, which fund art classes for underprivileged children, in his hometown of Worcester, Massachusetts.
Krosoczka lives in western Massachusetts with his wife and children, and their pugs, Ralph and Frank.
****The lecture is free but advance registration is required for planning purposes.