Cincinnati Comic Expo has announced several new additions to their 2019 guest list including Nichelle Nichols, Brent Spiner, Jewel Staite, Sean Maher, John Morton, Frank Tieri, and more for the convention on September 20-22, 2019!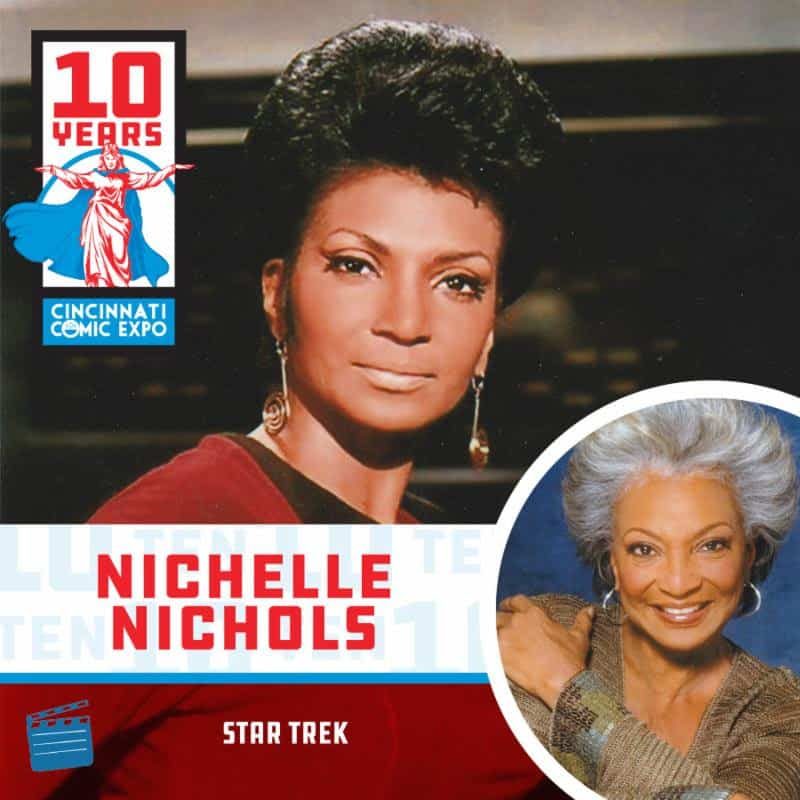 Nichelle Nichols is adding the 2019 Cincinnati Comic Expo as part of her final full year of convention visits!
Most recognized as Lt Uhura, she has been a starring fixture of the Star Trek franchise for decades. She has carried the role through television, films, video games, and more. Her casting broke barriers and made history.
Outside of her mission "to explore strange new worlds," Nichelle has appeared in Batman: The Animated Series, Gargoyles, Spider-Man: The Animated Series, Futurama as herself, Heroes, Sharknado 5: Global Swarming, and more. She will be appearing in upcoming features such as Star Trek First Frontier and other projects. Her profile as an actress gave her position to work and recruit with NASA for years and she became an influence on many astronauts and actresses for generations.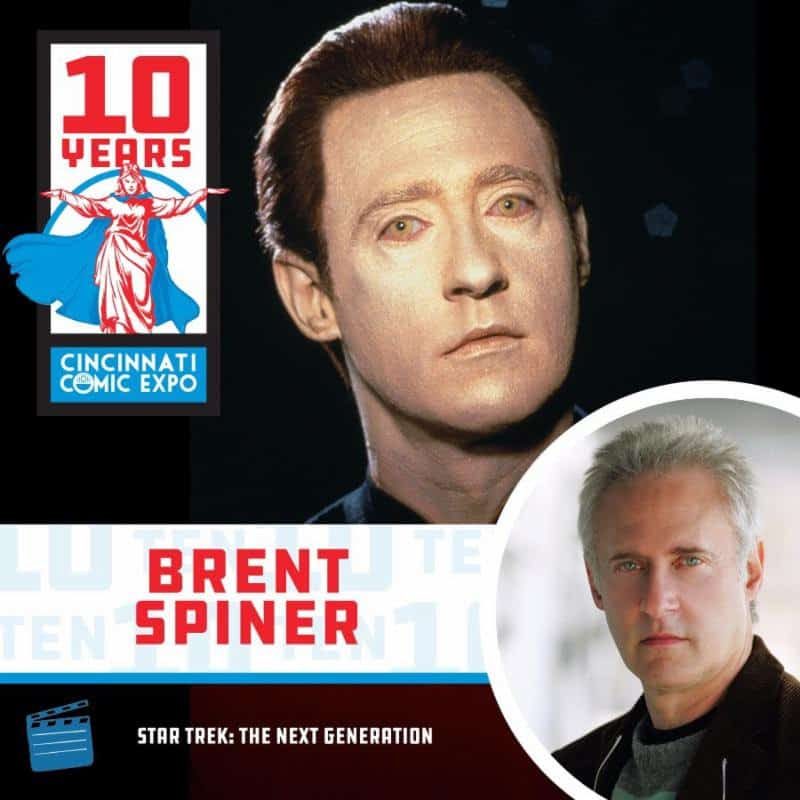 Brent Spiner is joining us this year for his first Cincinnati Comic Expo! Brent is most recognized for his role as the android Lt Cmdr Data from the Star Trek: The Next Generation television and film franchise. Brent is also known for his roles on Night Court, The Aviator, Superhero Movie, and in both Independence Day movies as Dr. Okun and much more. He has also appeared as himself on The Big Bang Theory. In addition to appearing on camera, Brent has voiced in numerous projects such as Gargoyles, Young Justice, The Simpsons, Robot Chicken, and more.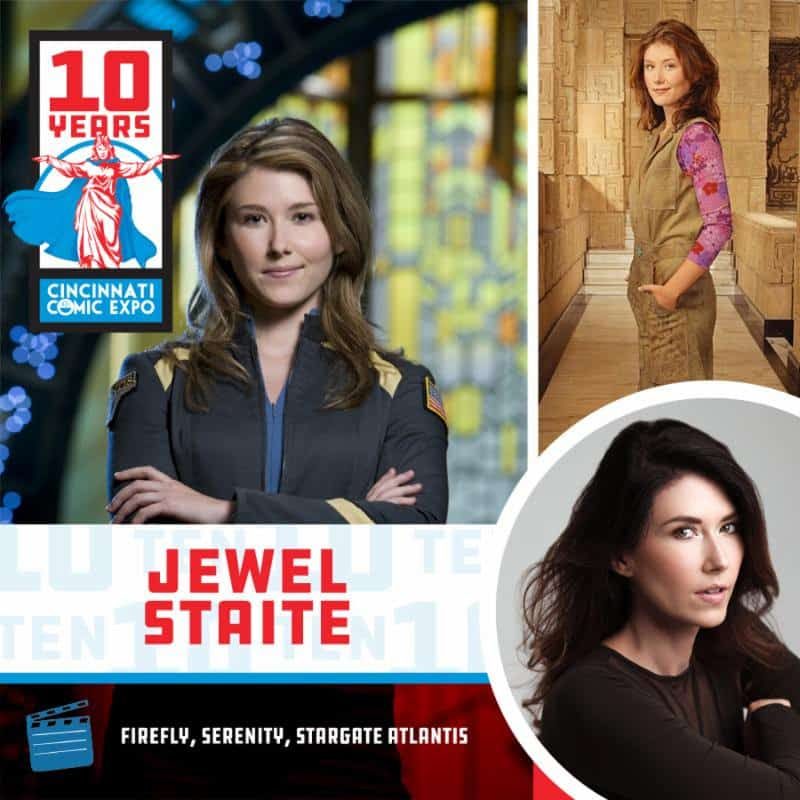 Jewel Staite is coming back to town for the 2019 Cincinnati Comic Expo! Jewel made her feature film debut with Serenity. Before the movie, Jewel portrayed the Serenity mechanic, Kaylee, through the Firefly series.
Prior to Firefly, Jewel's credit include The X-Files, Flash Forward, Honey, I Shrunk the Kids: The TV Show, Higher Ground, and more. Since 2005, Jewel has been in numerous projects such as Stargate: Atlantis, Warehouse 13, Supernatural, The L.A. Complex, Con Man, DC's Legends of Tomorrow, Castle, and Blindspot. Most recently, Jewel has appeared on The Order and The Magicians.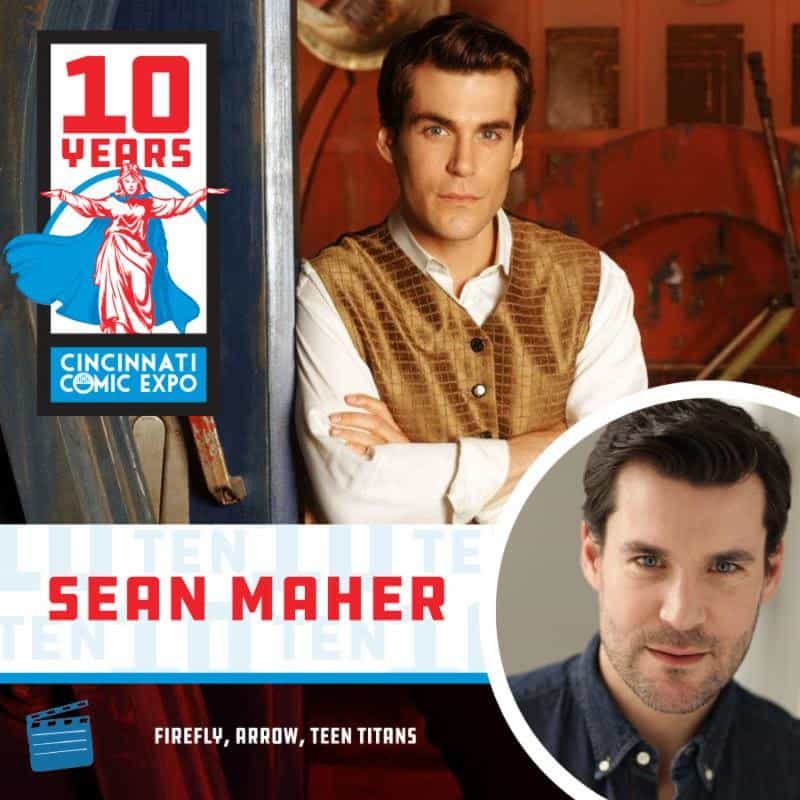 Sean Maher will be in the Queen City for the 2019 Cincinnati Comic Expo! Sean is recognized as Dr Simon Tam on Firefly and Serenity. Before then, he starred in Ryan Caulfield: Year One and appeared in FOX's Party of Five. Sean's other credits include Ghost Whisperer, The Mentalist, Human Target, Warehouse 13, The Playboy Club, Arrow, and others. Recently, he has voiced Nightwing/Dick Grayson in the DC animated video franchise on Son of Batman, Batman vs Robin, Batman: Bad Blood, and the upcoming Batman: Hush.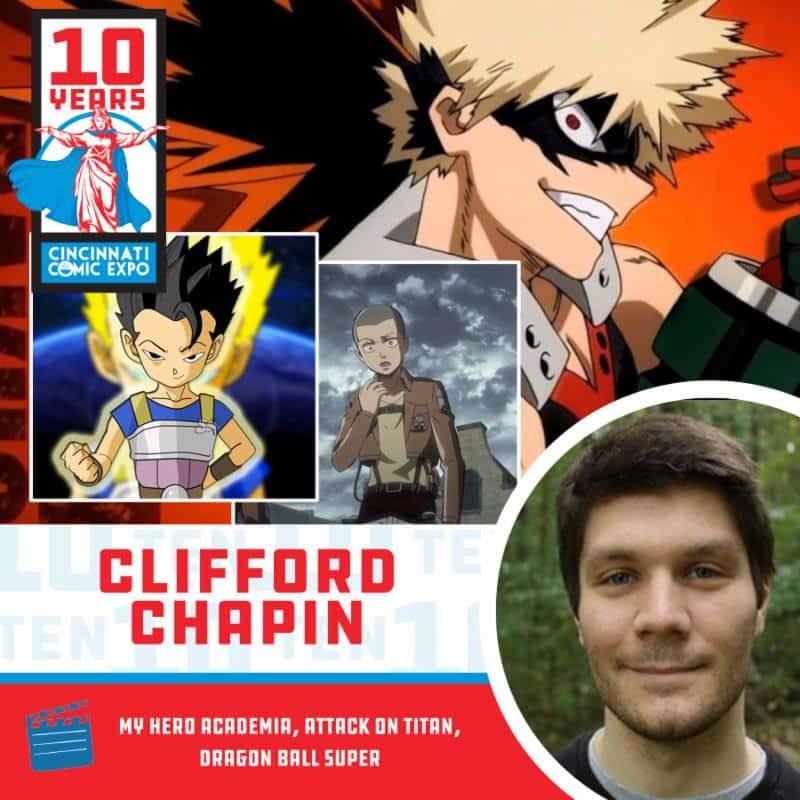 Voice actor Clifford Chapin will be attending the 2019 Cincinnati Comic Expo! Clifford is known and recognized for numerous projects and characters. Many know him from My Hero Academia, Attack on Titan, RWBY, Dragon Ball Super, Dragon Ball Z Kai, and over 100 other shows, movies, and games. Clifford can be currently heard on YIIK and upcoming in the Mix television series and Folk Tale video game.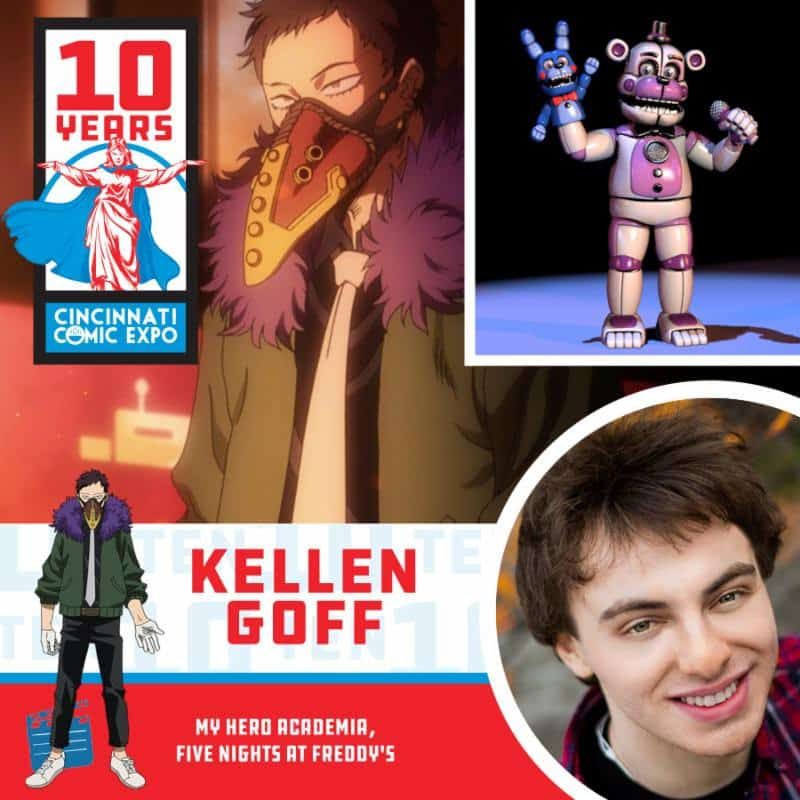 Voice actor Kellen Goff is the newest addition to the lineup for the 2019 Cincinnati Comic Expo! Though he is known for his work as Funtime Freddy, Molten Freddy, and Fredbear in the Five Nights at Freddy's series, Kellen also has roles in My Hero Academia, Blizzard's Hearthstone, Warframe, and JoJo's Bizarre Adventure. Kellen has also contributed to projects such as Blue Exorcist, Marvel's Avengers Academy, Star Trek Online, Family Guy: The Quest for Stuff, and dozens of others.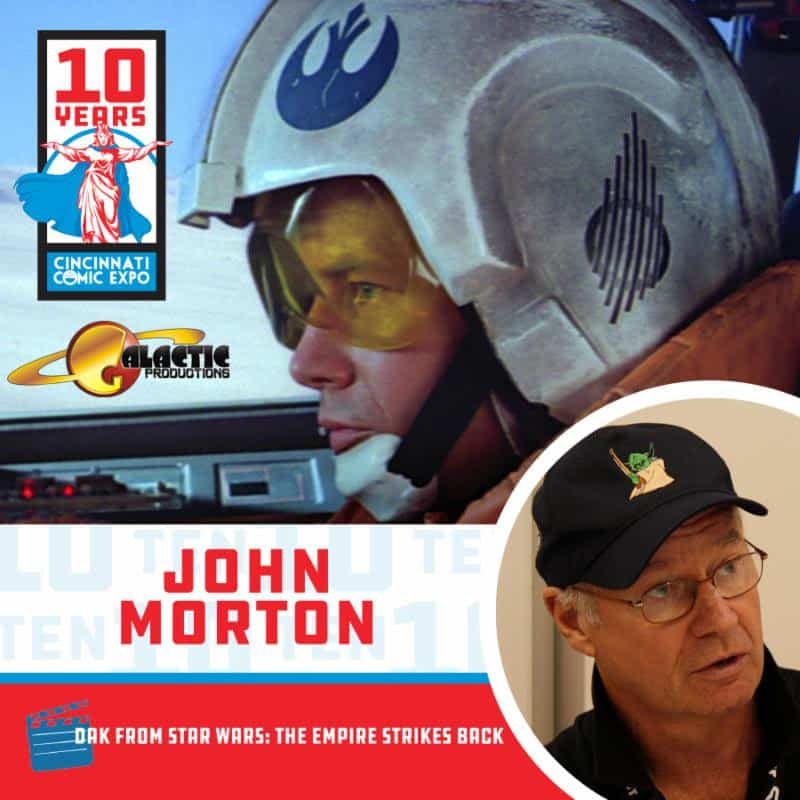 John Morton is returning to town for the 2019 Cincinnati Comic Expo! John is known for his portrayal as Dak Ralter in The Empire Strikes Back and his uncredited scenes as Boba Fett later in the same film. After appearing in and doing stunts in The Gumball Rally, John's credits include A Bridge Too Far, Flash Gordon, Oppenheimer, and Superman II.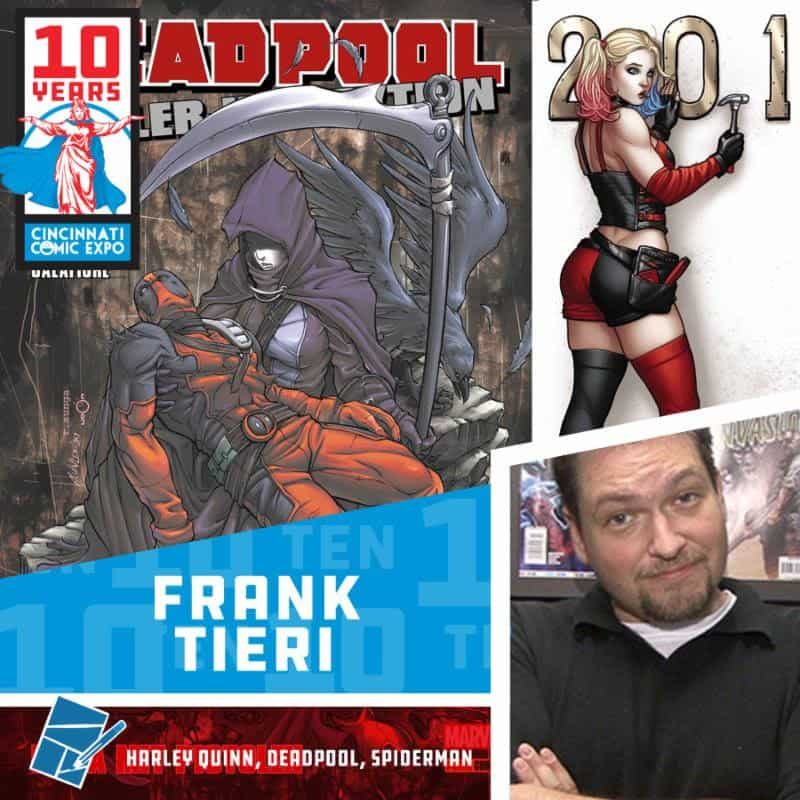 Writer Frank Tieri is joining us at the 2019 Cincinnati Comic Expo! Frank Tieri is an award winning writer and creator working in comics, video games, animation and television. Tieri has worked on some of the biggest franchises in the industry including WOLVERINE, X-MEN, DEADPOOL,SPIDER-MAN, IRON MAN, HULK, PUNISHER, CAPTAIN AMERICA & AVENGERS for MARVEL, BATMAN, HARLEY QUINN, JLA, CATWOMAN, SUICIDE SQUAD, HAWKMAN & JSA for DC, RED SONJA for DYNAMITE, JUGHEAD: THE HUNGER & THE HANGMAN for ARCHIE, PESTILENCE for AFTERSHOCK, DIE HARD for INSIGHT and THE DARKNESS for TOP COW. He has also been involved in many of the comic book industry's biggest events, such as SECRET WARS, AXIS, INFINITY, CIVIL WAR, WORLD WAR HULK, DARK REIGN, MARVEL NOIR and FEAR ITSELF for Marvel and DC's DARK KNIGHTS: METAL, CONVERGENCE, COUNTDOWN, VILLAINS MONTH, BATMAN RIP and BATMAN: ENDGAME.
In addition to comics, he has written for a number of major video game franchises, including MARVEL PUZZLEQUEST, and MARVEL VS CAPCOM 3 & its sequels, ULTIMATE MARVEL VS CAPCOM 3 & MARVEL VS CAPCOM INFINITE.
In animation, Tieri has worked on Disney XD's ULTIMATE SPIDER-MAN series
Now celebrating 10 years! Cincinnati's largest Comic Con and Pop Culture Expo has been around for a decade in the Queen City. The annual event brings together the best artists, publishers, actors, writers, cosplayers, and fans from across the world. September 20-22, 2019, in downtown Cincinnati.
For further information please go to the website: cincinnaticomicexpo.com