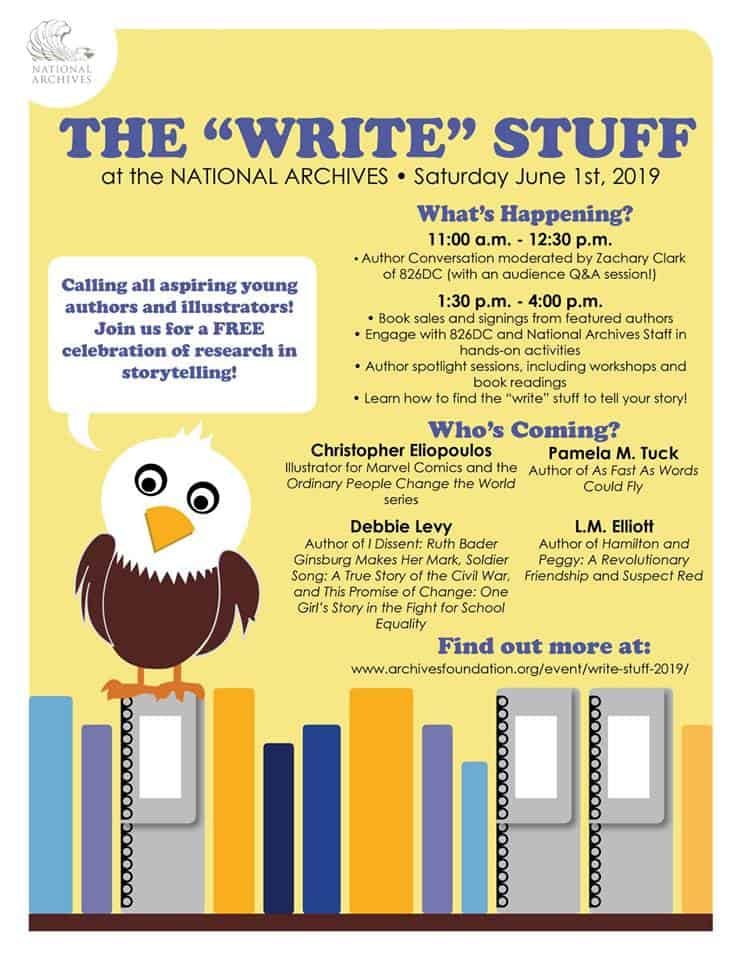 Embark on a quest to find the "Write" Stuff! You are invited to join award-winning authors and illustrators at the National Archives on Saturday, June 1st, 2019 to learn about the writing, illustration, and research that go into making a book.
The "Write" Stuff is FREE and open to the public! Aspiring authors and illustrators of all ages are encouraged to join the celebration of using research for storytelling. If you are unable to attend in person, you can stream the morning author conversations on YouTube and Facebook Live.
This year, we are excited to be joined by L. M. Elliott (Hamilton and Peggy: A Revolutionary Friendship, Suspect Red), Christopher Eliopoulos (the Ordinary People Change the World series), Debbie Levy (I Dissent: Ruth Bader Ginsburg Leaves Her Mark, Soldier Song: A True Story of the Civil War, This Promise of Change: One Girl's Story in the Fight for School Equality), and Pamela M. Tuck (As Fast As Words Could Fly). The day will start in the McGowan Theater for the Author Conversations session where moderator Zachary Clark (of 826DC) will ask the authors about the role of research in their work. This will be followed by an audience Q&A session where you can ask your own questions and find out everything you want to know about writing and illustration!
National Archives
700 Constitution Ave NW Washington, DC 20408