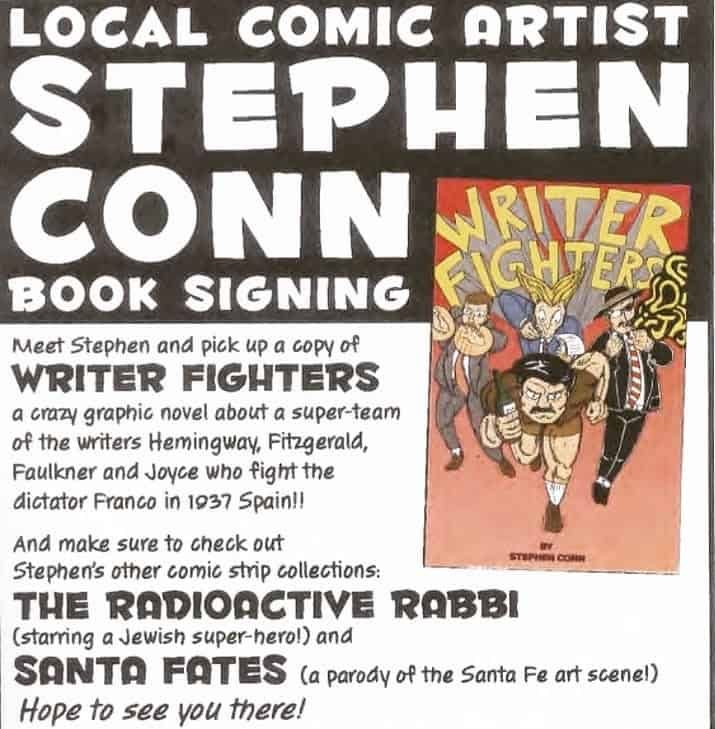 Press Release:
The Cartoon Art Museum welcomes Stephen Conn, creator of Writer Fighters, on Saturday, May 25, 2019, from 1pm to 4pm as part of its visiting artist program Cartoonist IRL (In Real Life).
Conn will be set up in the front lobby area of the museum signing books, drawing, answering questions, and hanging out. He will also have copies of Writer Fighters available for purchase.
About Stephen Conn
Stephen Conn is a lifelong cartoonist whose studies in illustration include New York's School of Visual Arts and The Academy of Art of San Francisco. In addition to his comic-strip collections The Radioactive Rabbi (about a Jewish Super-hero) and Santa Fates (a parody of the Santa Fe, New Mexico lifestyle), he recently completed a five + year labor of love, Writer Fighters, his action/comedy graphic-novel about the imaginary super-team of Hemingway, Fitzgerald, Faulkner and Joyce, assembled by the U.S. government to combat the dictator Franco in 1937 Spain. His work has been published in such alternative weeklies as The Newport Mercury and Santa Fe's THE magazine. Samples of his work can be found at his website, www.radioactiverabbi.com.
Cartoon Art Museum
781 Beach Street, San Francisco, CA 94109
(415) 227-8666