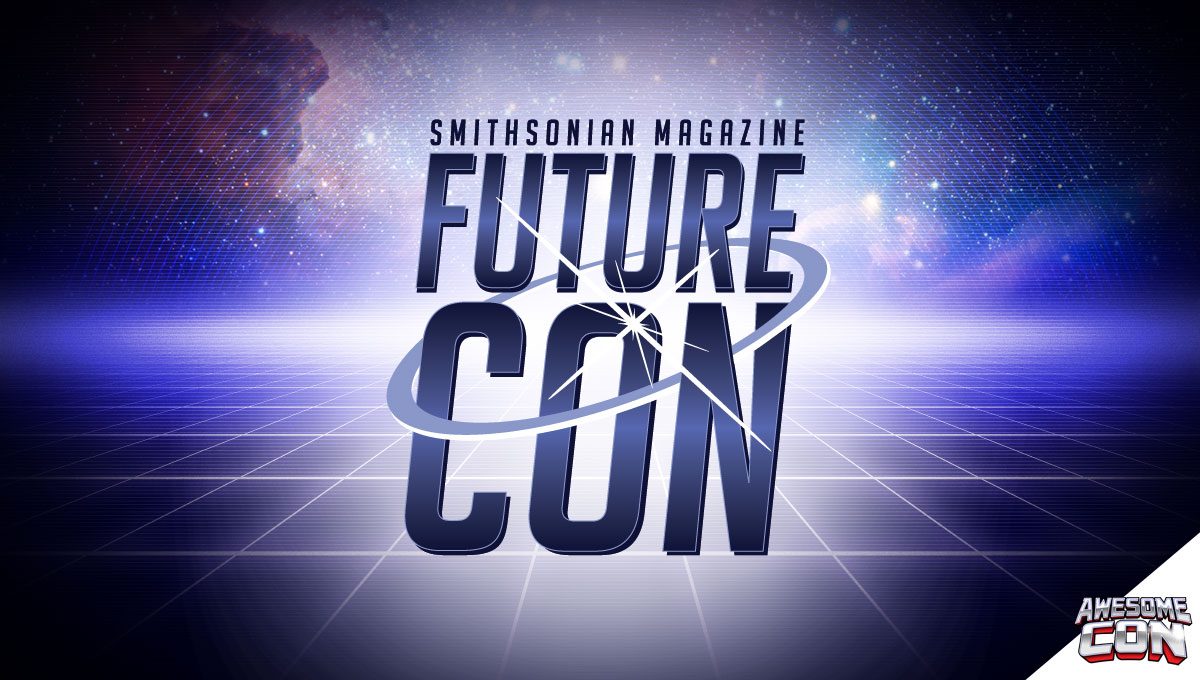 Press Release:
The Smithsonian magazine Future Con returns as part of the region's premier comic and pop culture convention, Awesome Con, Friday, April 26 – Sunday, April 28 at the Walter E. Washington Convention Center. Scientists and entertainers will come together at the themed pavilion and on stage to connect science and technology with science fiction and fantasy. Future Conpresents three days of special programming that will include tech demos, meet-and-greet opportunities with prolific thought leaders and the opportunity to dive into the stimulating and fantastical overlaps between real-world science and the science of the future. Attendees of all ages will be able to engage at panel Q&As and discussions as well as hands-on tech demos and workshops, all focused on fostering awareness and enthusiasm for science, technology, engineering, and math (STEM).
Awesome Con, now in its seventh year, is thrilled to welcome a range of leaders and experts from organizations that represent scientific advancement and education across numerous industries. Representatives from the National Science Foundation, National Geographic, NASA Goddard Space and Flight Center, APS Physics, Nova Labs, Central Intelligence Agency, and the American Association for the Advancement of Science will lead programs and workshops throughout the weekend.
"It's a great cross-section of science and science fiction, and what we celebrate is a lot of great cross pollination" says Michael Caruso, Future Con founder and Smithsonian magazine Editor in Chief and Vice President of Live Events. "We get about 70,000 people to the Con and in the past have welcomed everyone from Patrick Stewart and William Shatner, to people from DARPA and NASA and IBM."
Among highlights of this year's Future Con programming, NASA Administrator Jim Bridenstine will join commercial space leaders for a discussion of exciting new developments at NASA and in the growing space industry.
Guests can explore space with Dr. Erin Macdonald, who will guide a panel dubbed Astronomy 101, blazing through the science of planets, the solar system and stars. Looking to dive a little deeper? Dr. Macdonald will explore the science of gravitational waves, the collision of black holes and a neutron star merger with fun stories and a conversation about what these discoveries mean as we move forward.
The Central Intelligence Agency will demystify the Agency in several sessions that showcase intelligence work. Guests will work through actual operations officer tests, hear about the U-2 and A-12 spy planes and Area 51, the testing site that made them famous, and will learn how eccentric billionaire Howard Hughes contributed to one of the most audacious CIA missions of the Cold War. And, in the grand tradition of Madam Pince in Harry Potter, Giles in Buffy the Vampire Slayer, and Dr. Barbara Gordon in Batman, the curious can learn what it is like to be a librarian working in espionage and why some heroes wear cardigans.
As true crime gains a mainstream following in the US, Future Con will explore technological advancements in criminal investigation, and the fight against the same technology being used in sinister ways. U.S. intelligence experts focused on digital and physical 3D modeling will demonstrate tools used on national security missions, including imagery and geospatial information used to visualize human activities that occur on the surface of the Earth.
Future Con will also explore the possible realities that exist in popular comics as well. Two panels will highlight the science of Voltron: Legendary Defender, and Aquaman. Attendees will learn about wormholes, crystals, the future of flight, life in the extremes of the deep ocean, and bio-inspired technologies that could one day allow humans to take on superhero abilities.
For more information on Future Con, please visit www.awesomecon.com/future-con, or follow Awesome Con onFacebook, Twitter, and Instagram and search for #FutureCon.